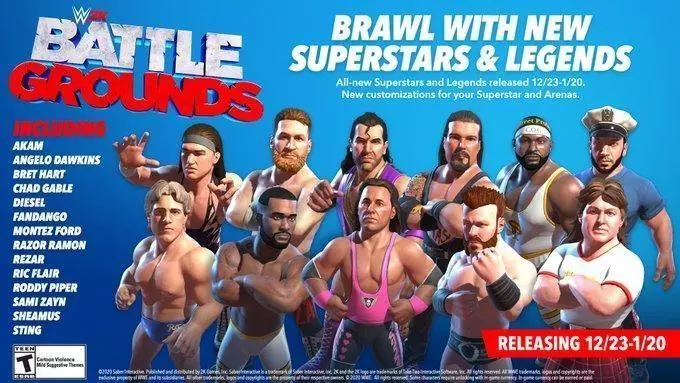 Just recently 2K Battlegrounds have announced the third batch of free DLC for Battlegrounds.
In this article, we will show what you can expect over the next 5 weeks beginning the 23rd.
First Drop: 23/12/20
The first drop will have four new superstars and they are as followed:
Ric Flair

Sheamus

Montez Ford (Unlocked from start)

Sting (Unlocked from start)
During this week there will also be a new holiday-themed arena unlocked for the player just in time for Christmas.
Second Drop: 30/12/20
The second drop will have three new playable stars in it and they are as listed below:
Diesel

Razor Ramon

Angelo Dawkins (Unlocked from start)
Like the previous week, a new arena will be added with this one being a winter bear one.
Third Drop: 06/01/21
The third drop will only include two new playable characters with them being as shown below:
Fourth Drop: 13/01/21
Just like the last drop this one will only have two more characters in the update and they as seen below:
Chad Gable

Akam (Unlocked from start)
Final Drop: 20/01/21
The final drop will have the last three playable superstars which includes as followed:
Rezar (Unlocked from start)

Fandango

Rowdy Roddy Piper
What do you guys think about the third batch of Battlegrounds content?
Leave a comment below and thanks for reading.