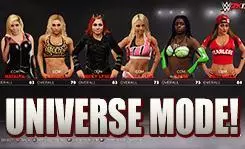 WWE 2K has just revealed some huge news about WWE 2K17 Universe Mode! Many improvements have been made on this game mode and here's a detailed post by Cristo Kyriazis, designer in charge of WWE 2K17's Universe Mode, explaining how the Universe Mode will work in WWE 2K17!
Hey guys, I'm Cristo Kyriazis, designer in charge of WWE 2K17's Universe Mode. If you're not familiar with it, Universe Mode is an experience based on the WWE shows and events, with WWE Superstars competing against each other in rivalries and for championships, in settings where anything can happen all year round. Alongside the results you would expect to see on TV, we want players to also experience the "what-if" and fantasy scenarios that could happen in WWE. This could include things like a surprise underdog earning a title shot and winning the gold against the odds; a fan-favorite Superstar turning against the crowd and doing everything he or she can to make them hate him or her; or even watching tag team partners compete against each other to see if their comradery will endure the rivalry or if they'll go their own separate ways.
What makes Universe Mode really stand out is the huge level of customization we support for the players who want to take control with their own ideas. You can create your own roster of WWE and custom Superstars, choose the championships they compete for, change up the shows and PPVs they compete on – or even create your own! The WWE 2K17 Creation Suite and Community Creations options unlock a huge level of potential for WWE Universe that are unlike anything else.

More Universe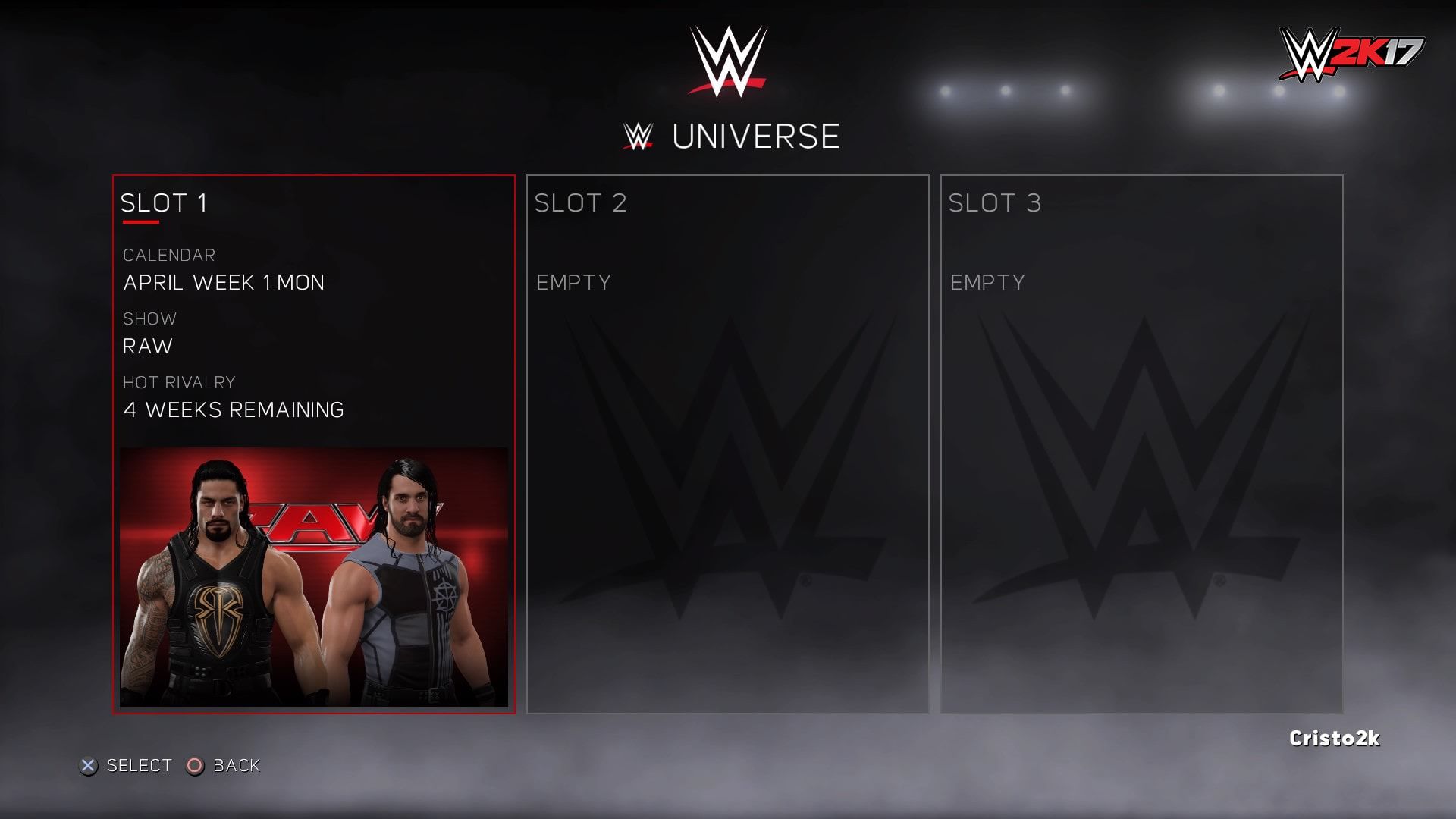 There are many ways players can set up their own Universe. You might want to rearrange things to have your favorite Superstars as the champions in your own fantasy WWE Universe or maybe relive the past with our roster of WWE Legends in a retro Universe. Or maybe you want to create your own promotion with your own custom Superstars? It's hard to choose just one style to play, so we're making it easier by giving you three save slots this year! Now you'll have the freedom to bounce back and forth between different Universe styles without losing your work each time. I think this encourages more creative freedom now that you can experiment with changes in one save without losing an awesome Universe setup in another save. I'm excited to hear how you guys use these different saves; let us know what you're planning to do!

Time For a New Look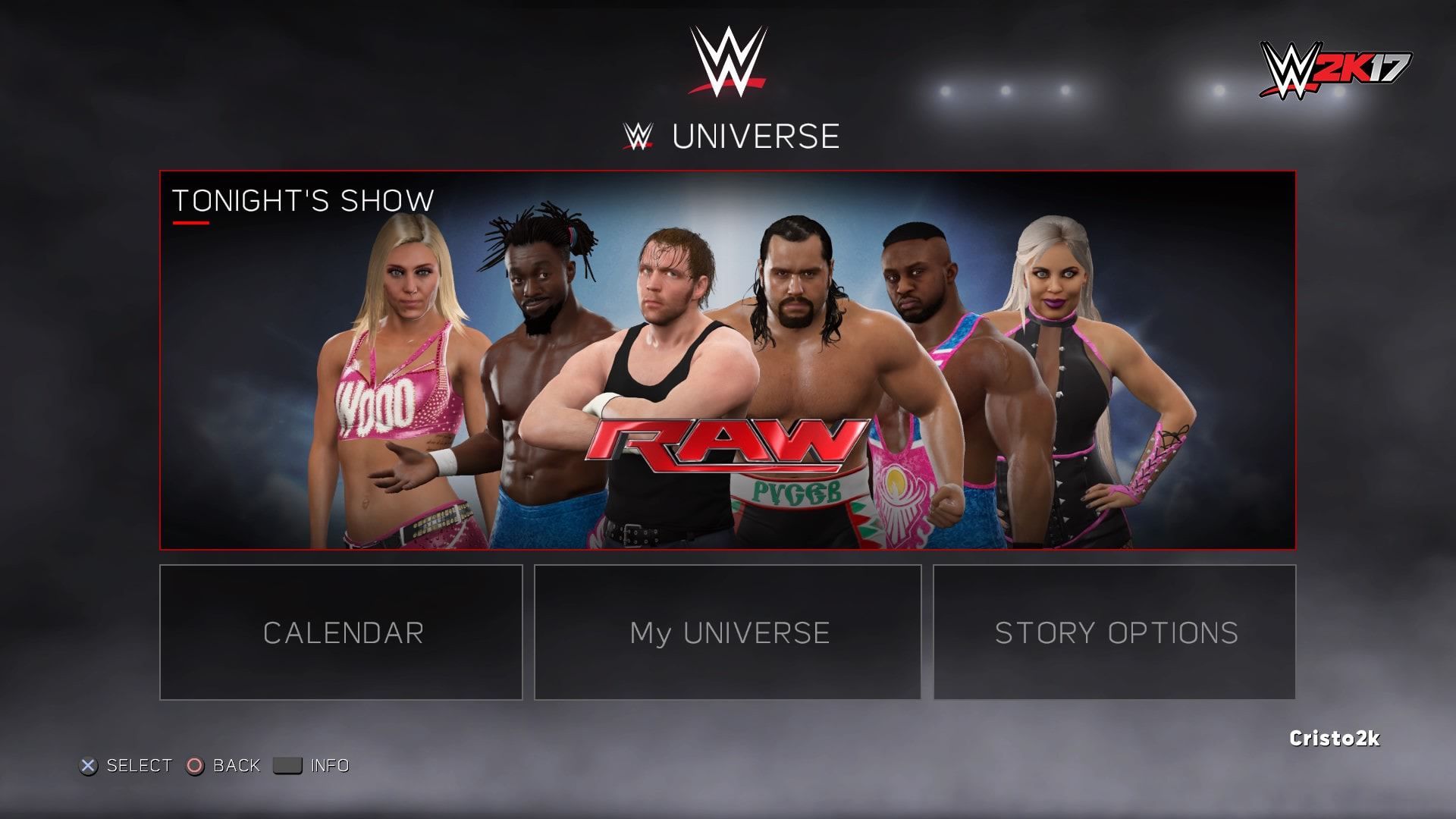 If you're a long-time fan of WWE Universe, you've probably recognized the layout has gone through some changes. We wanted the look and feel of our interface for this year's Universe to really emphasize what I think is the most important part of Universe: the shows. We want players to feel like they're heading into a Raw show when they see the show's Champions and Superstars in the front of the menu. We want the identity of the show to be expressed through more of its unique graphics and presentation. There's a certain sense of pride you see in WWE's broadcasting when those Superstars compete for their brands that we want to captured in our game, and we want players to experience that kind of pride when they see their own custom shows and Superstars fill the menus in their own Universe scenarios. Let's take a further look of what our Monday night Raw might look like: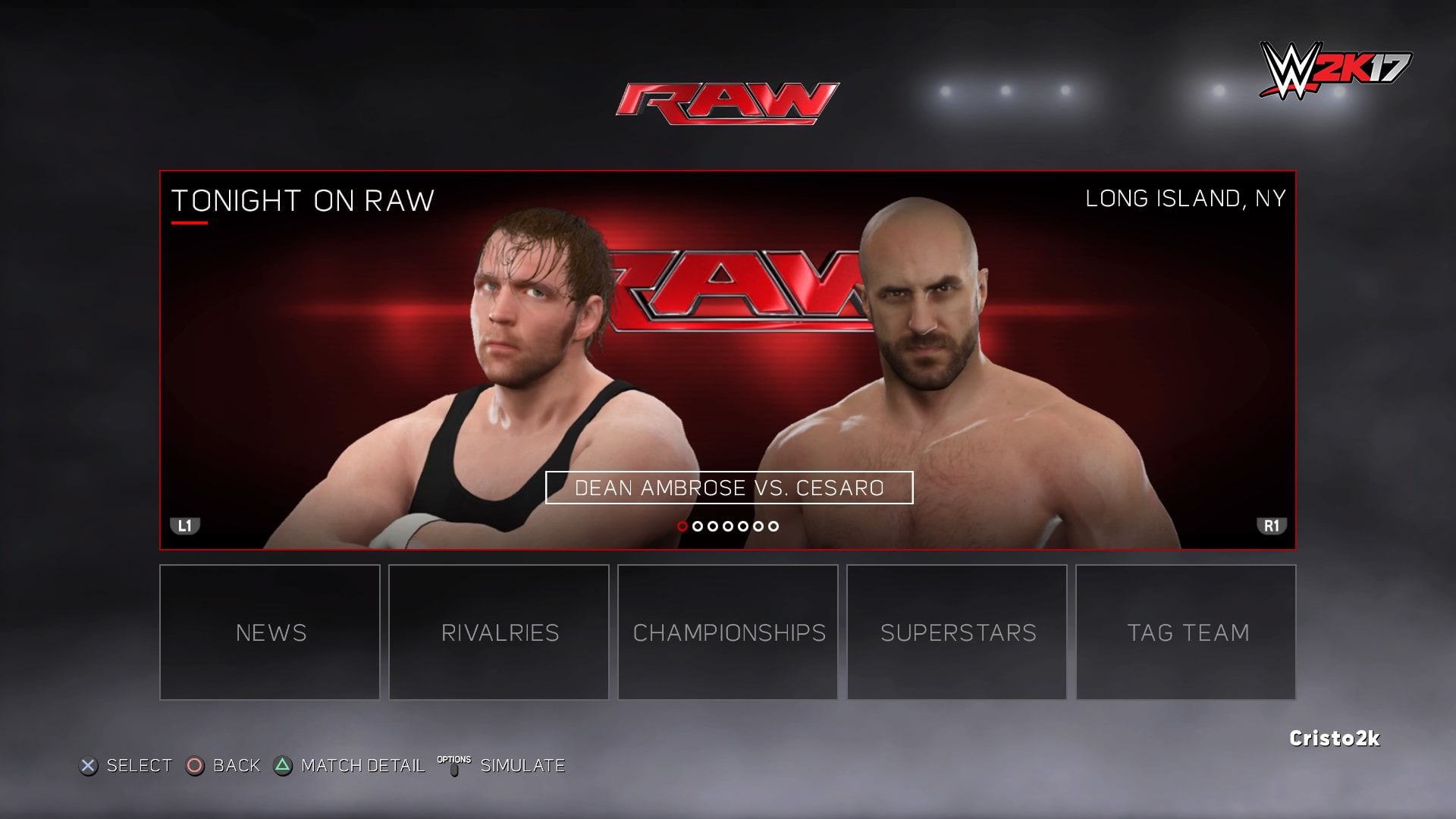 Take a look at the show menu. Here we have a preview of the show's match card, where we can tab through each of the matches scheduled for the night. Our matchmaking system is designed to pick the most important Superstars at the time, with a chance of adding a surprise or two. Now let's get the show started.

Welcome to Monday Night Raw!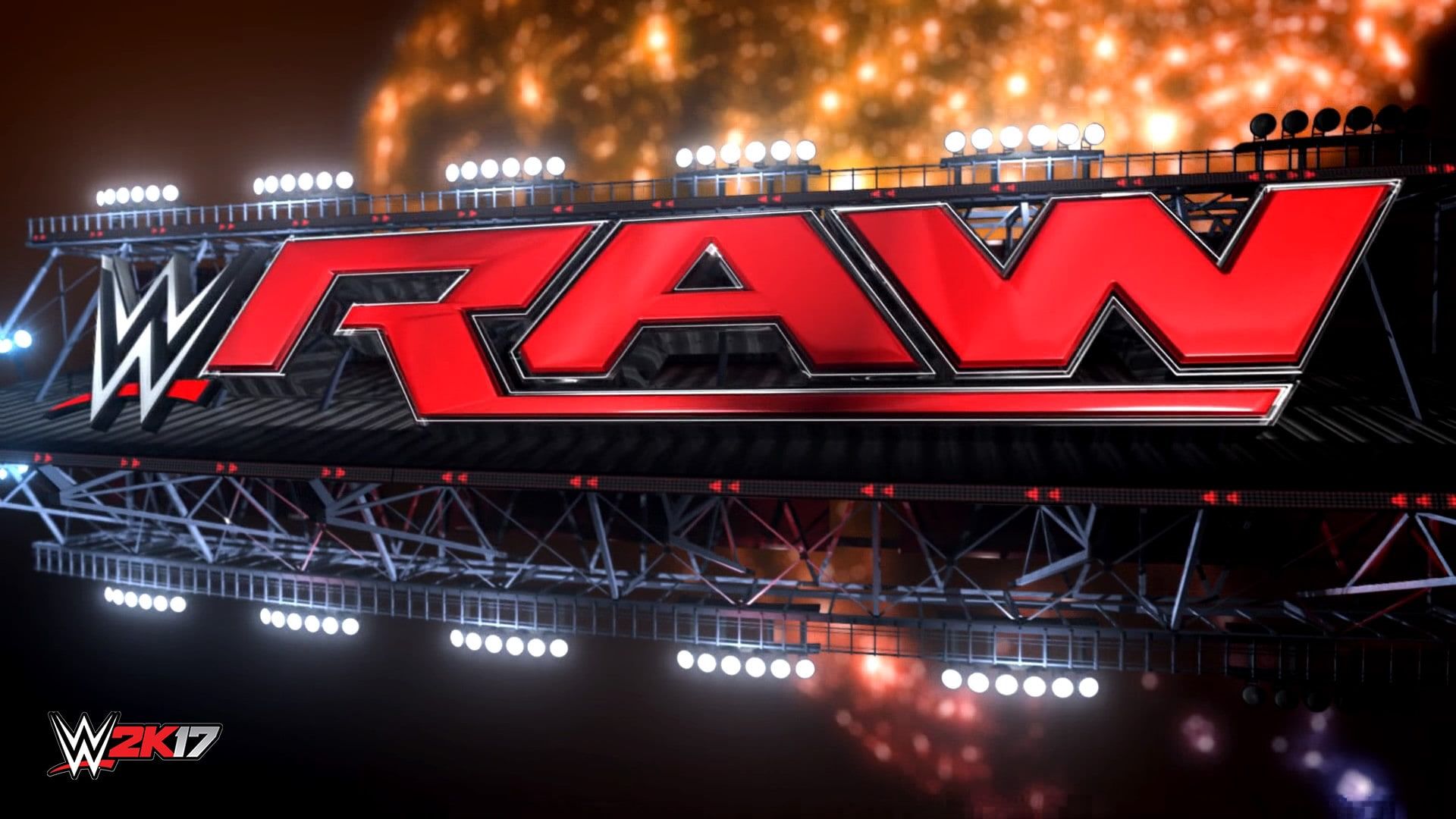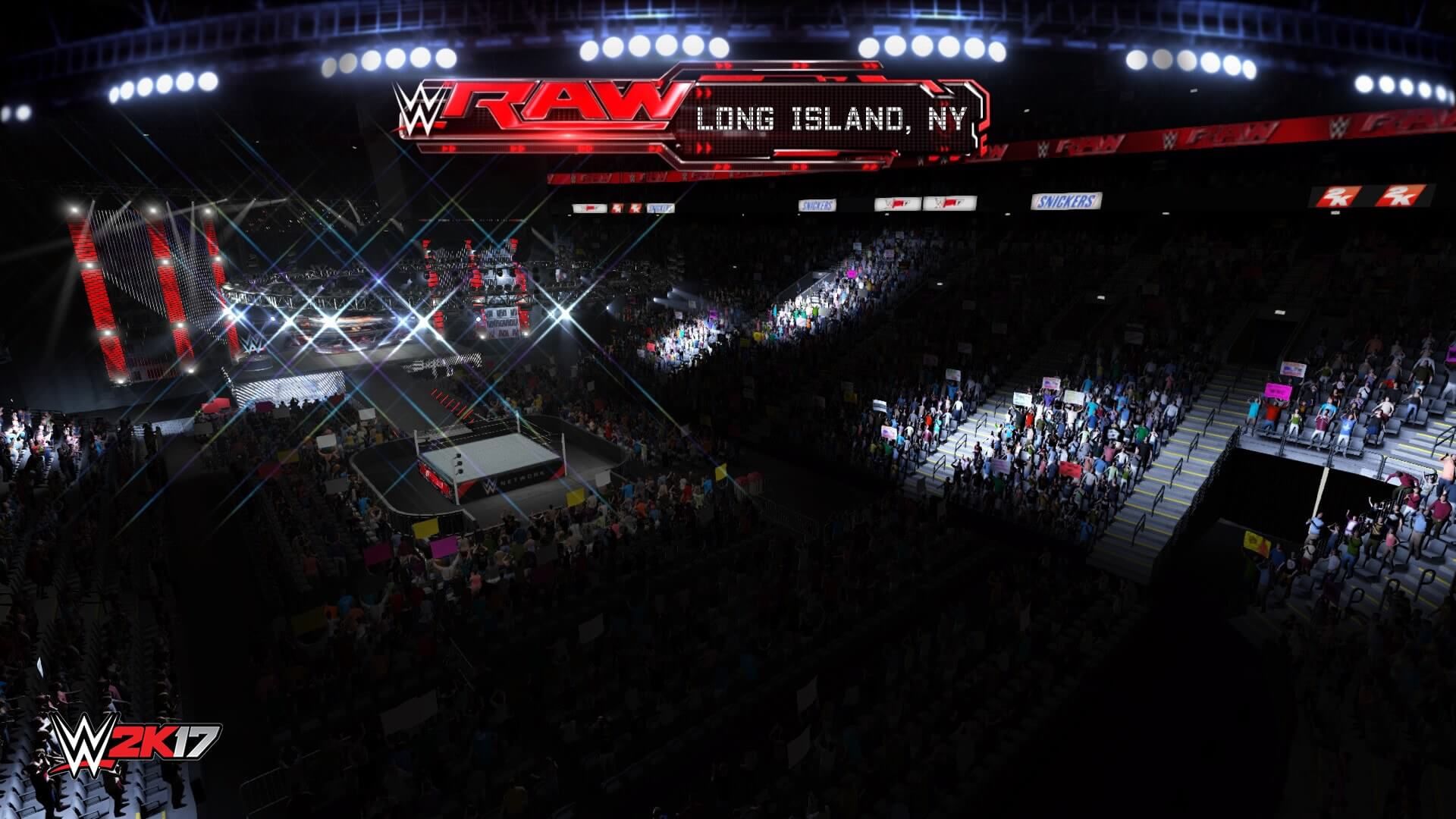 From the intro video to the soundtrack, the pyro, an arena packed with a roaring crowd and the opening lines from Michael Cole, we have it all! We wanted to step up the presentation for every show in Universe to get as close as the WWE TV experience as possible – not just for the WWE shows, but for your own custom shows as well. Our team put a lot of work into this presentation, and I think it really shows.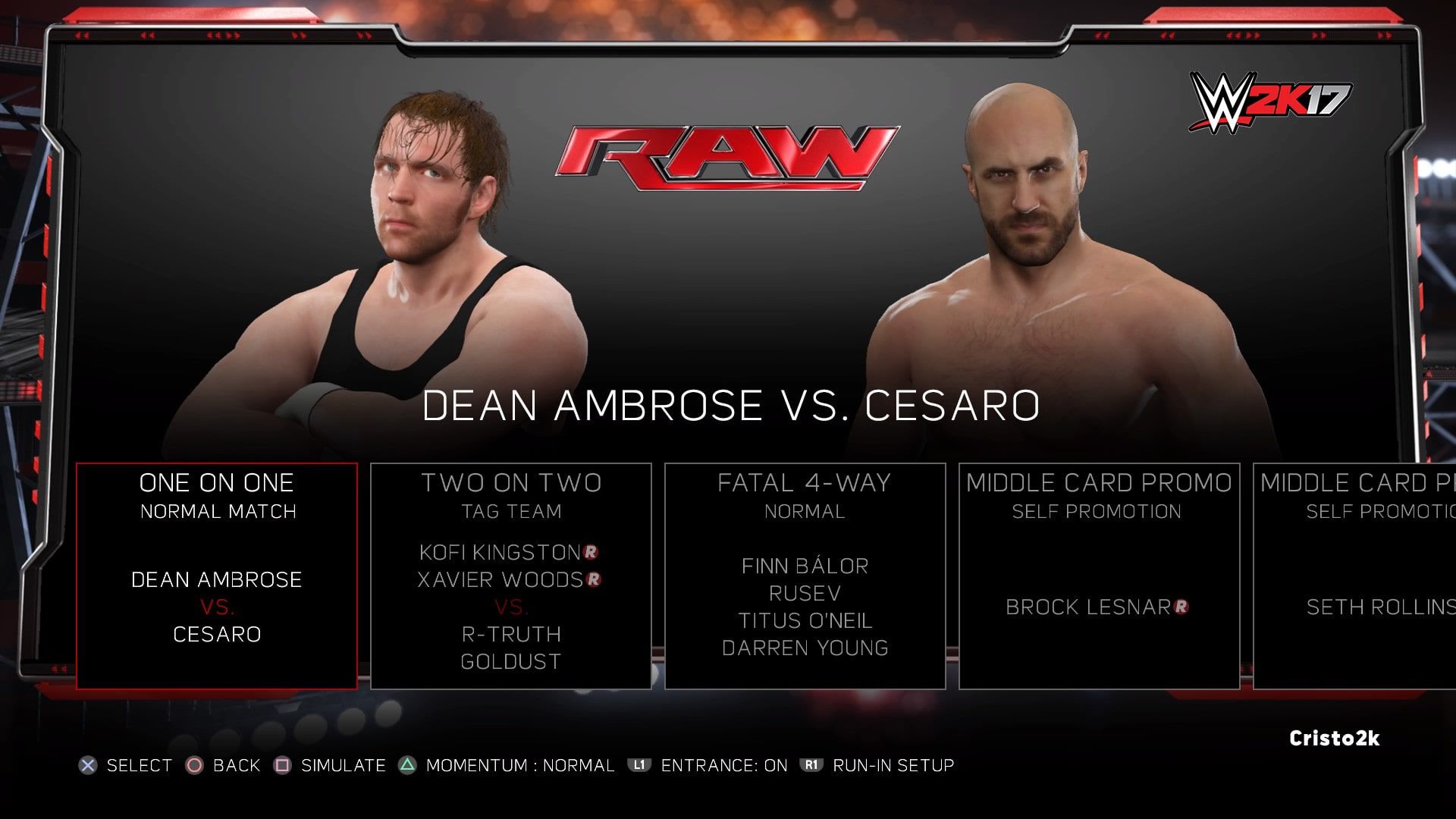 Here's the match card of the show, fitting right in with broadcast graphics straight out of Raw. This is where you guys get to decide which matches you want to play or simulate. One notable change we've made here is that you have to proceed through the match card in the order it's presented. This might change the way our Universe veterans go through their matches, but it really lets our commentary shine as the team talks about what's happened and what's coming next throughout the show.
You've probably noticed the "R" symbols next to some of the Superstars' names. This is a new graphic that indicates if a Superstar is in a rivalry. Keep an eye on the matches that feature these Superstars to experience storylines that unfold between the rivals.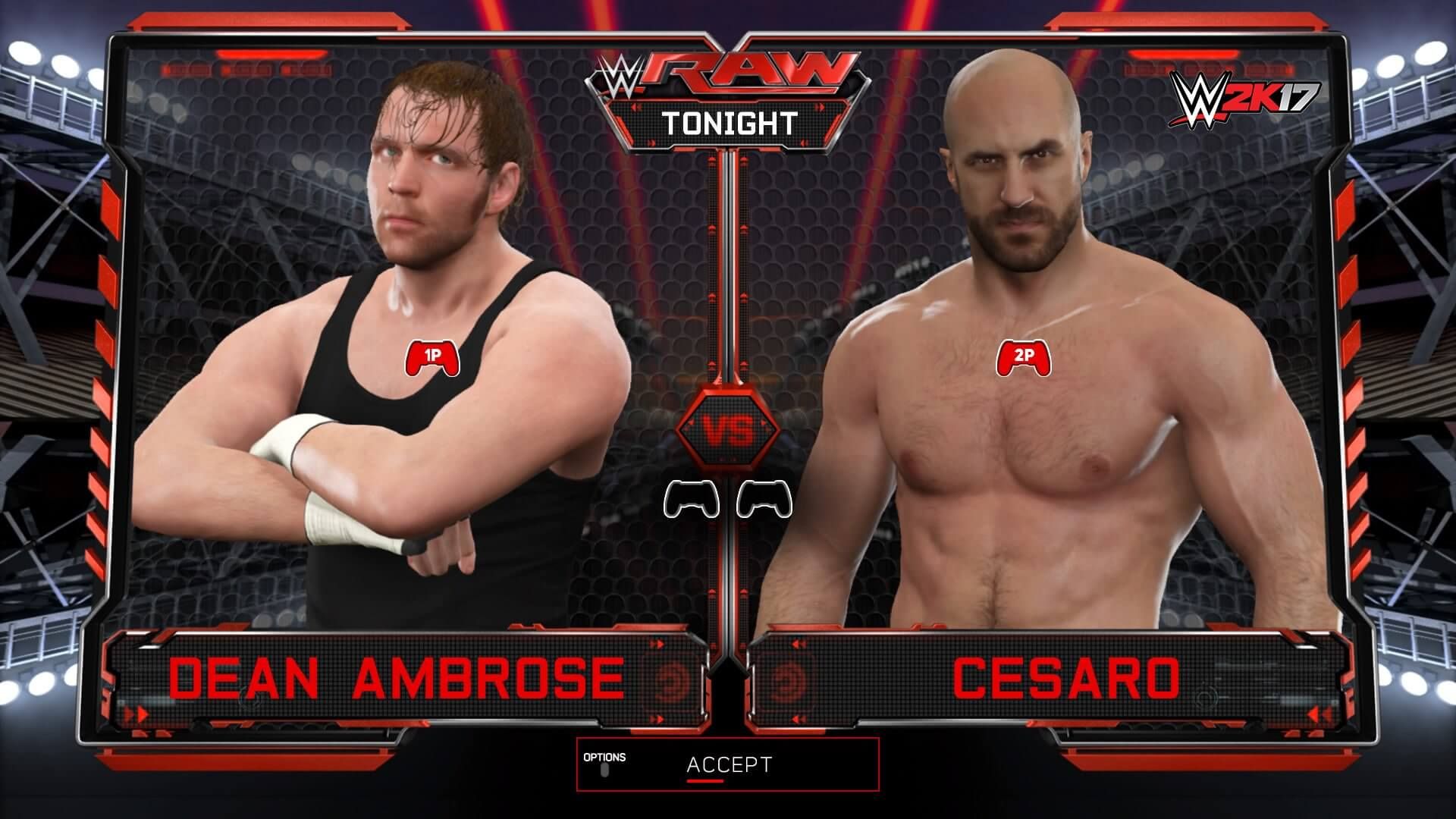 Pick a match, and you'll get to the match-up screen, which is accompanied with a breakdown by our commentary team. In our past games, you would usually pick which Superstar you control right as the match started. We've moved that decision to our match-up screen this year, letting players jump straight into the action once that bell rings.

Universe Gameplay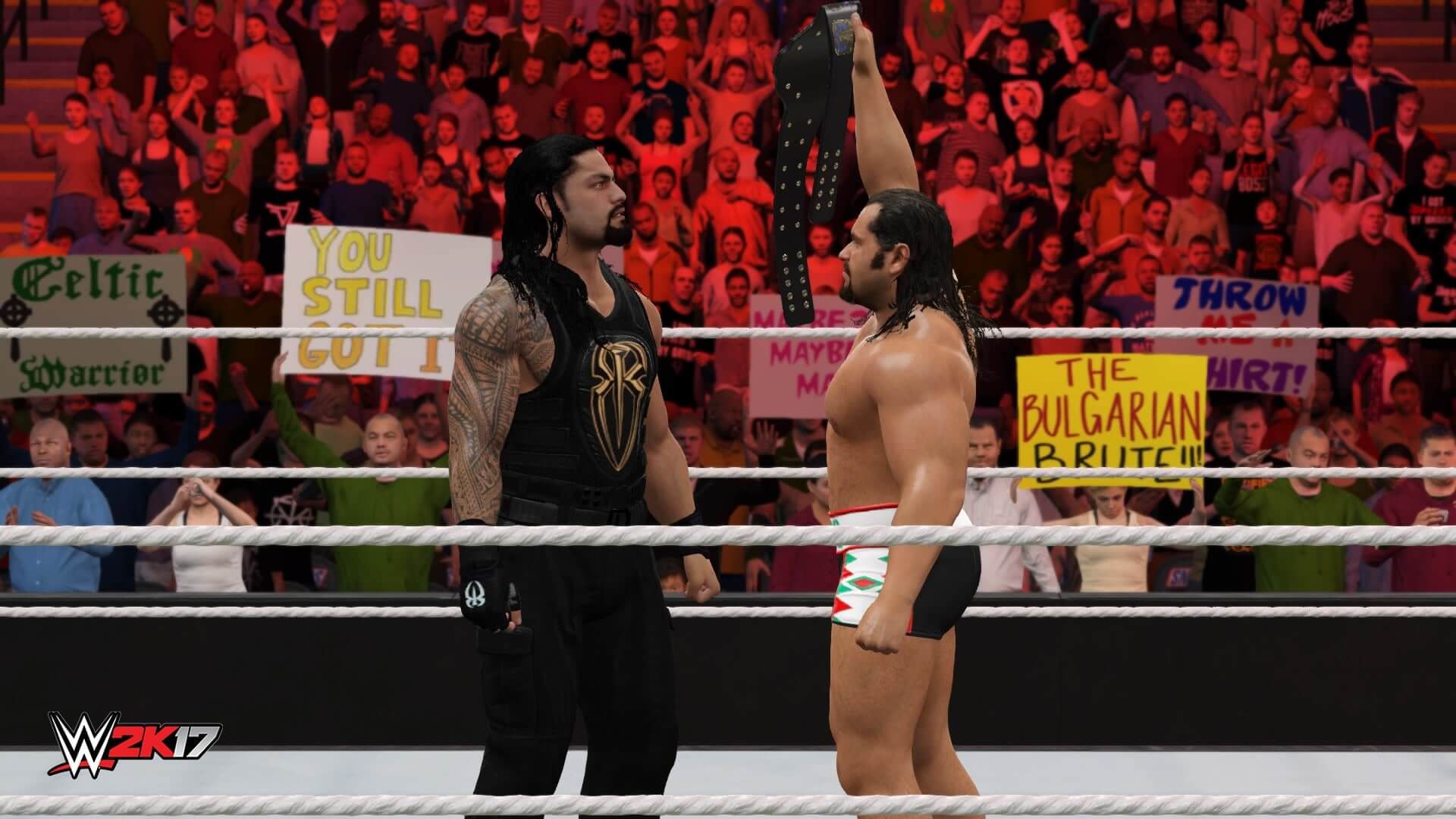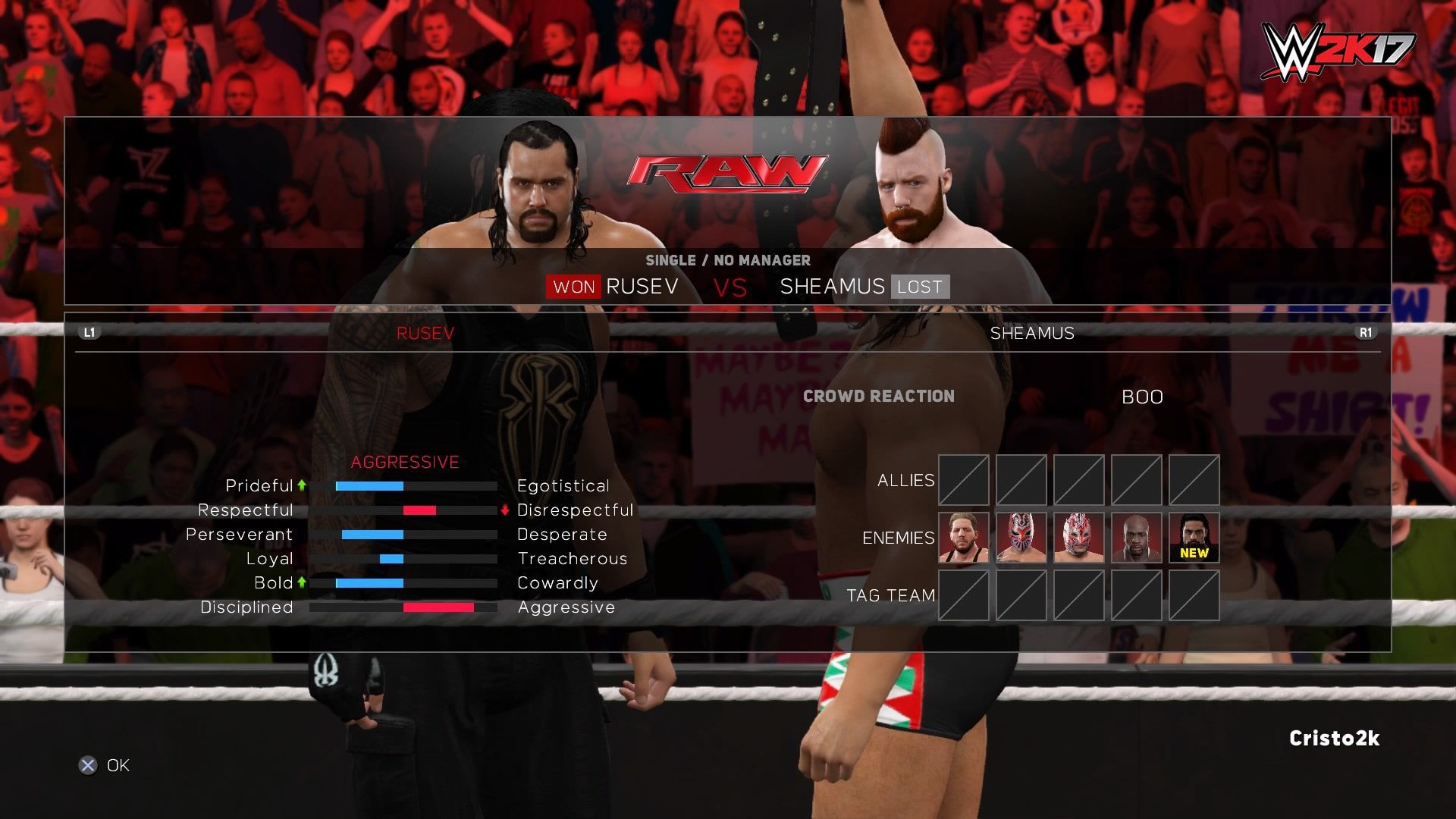 There are surprises waiting for you as you play through Universe. You'll never know how a Superstar is going to react to losing his or her match, how desperate a Superstar is to win that coveted championship, what a Superstar will do when confronted by his or her hated rival and so on. Here we find Rusev celebrating his win against Sheamus and being confronted by Roman Reigns afterwards in a staredown over the WWE United States Championship. Storylines between rivals will develop constantly in Universe, featuring cutscenes during their matches. Our talented mocap and animation teams have done an amazing job updating the majority of our cutscenes, so expect to see a lot of new content in your play-throughs.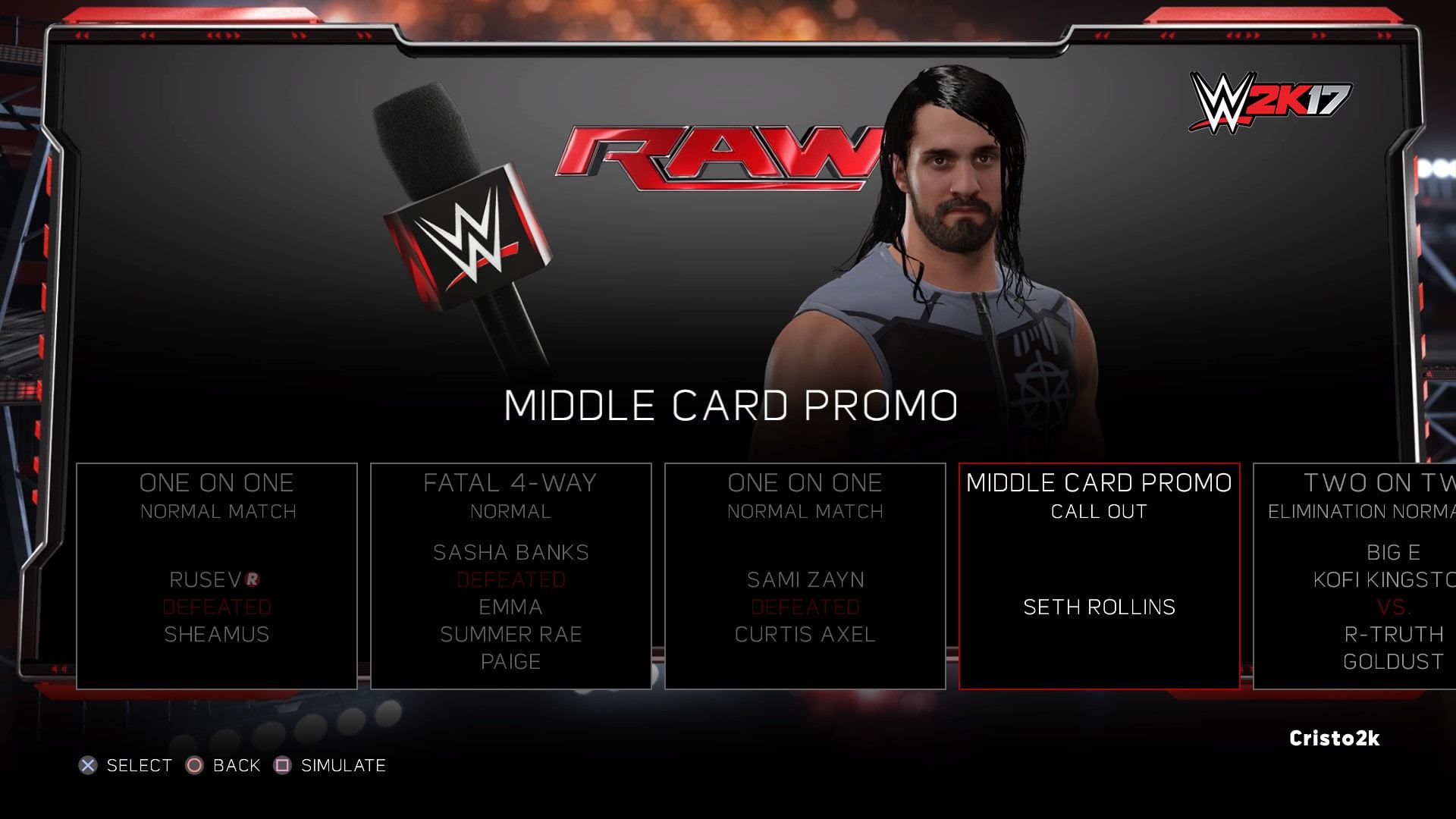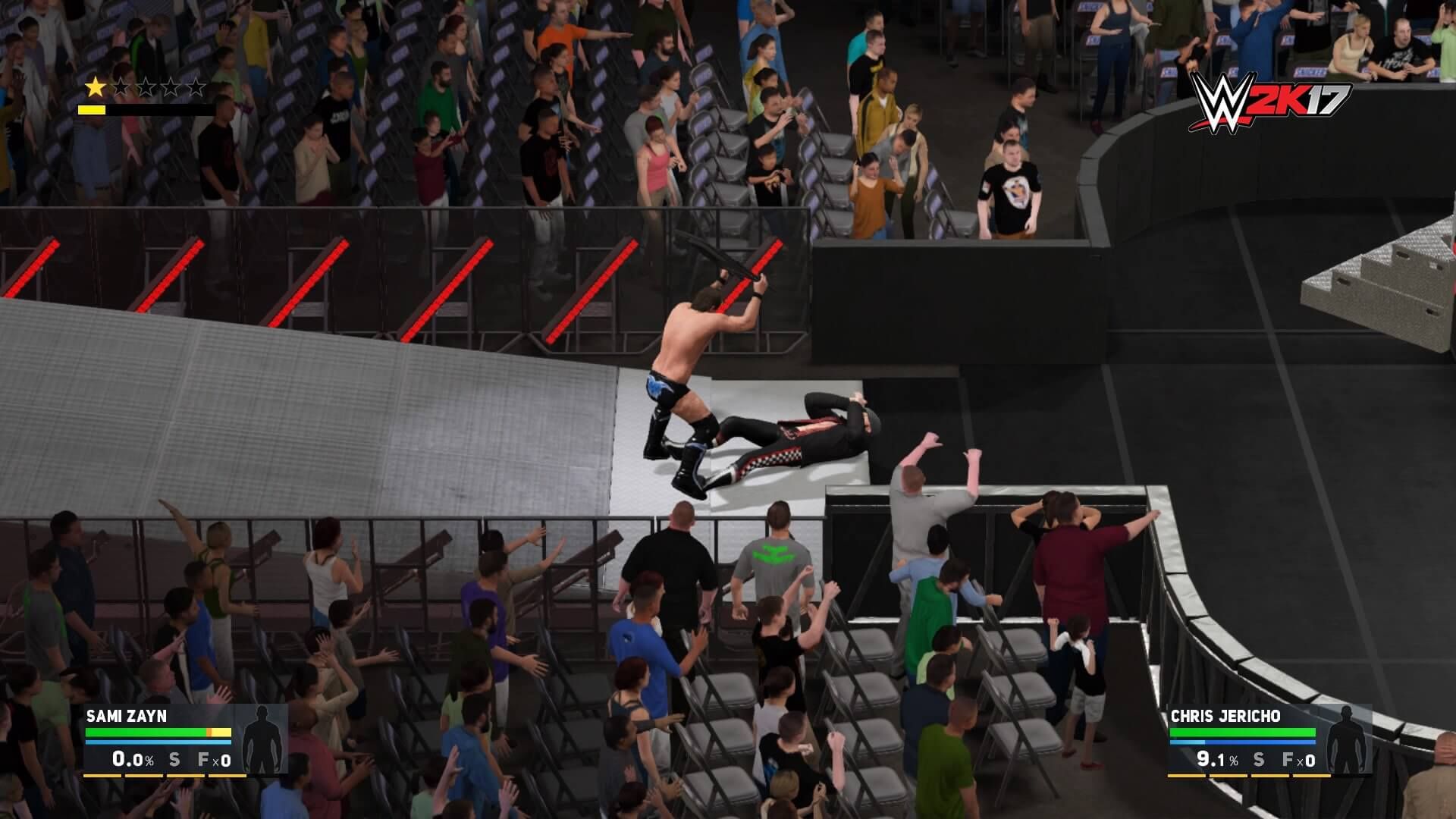 There are more to just matches in a show, though. Promos are also a part of Universe, where Superstars can speak their minds to the crowd or lay the verbal smackdown on their rivals. We've also listened to your feedback from last year, and we've added support for Run-Ins in WWE 2K17, letting you choose which matches you want a run-in to happen on and even when in the match you want the run-in to happen. Be warned that you're not the only ones making the choices; you never knew when a Superstar might take matters into his or her own hands!

Another Look at the Show Menu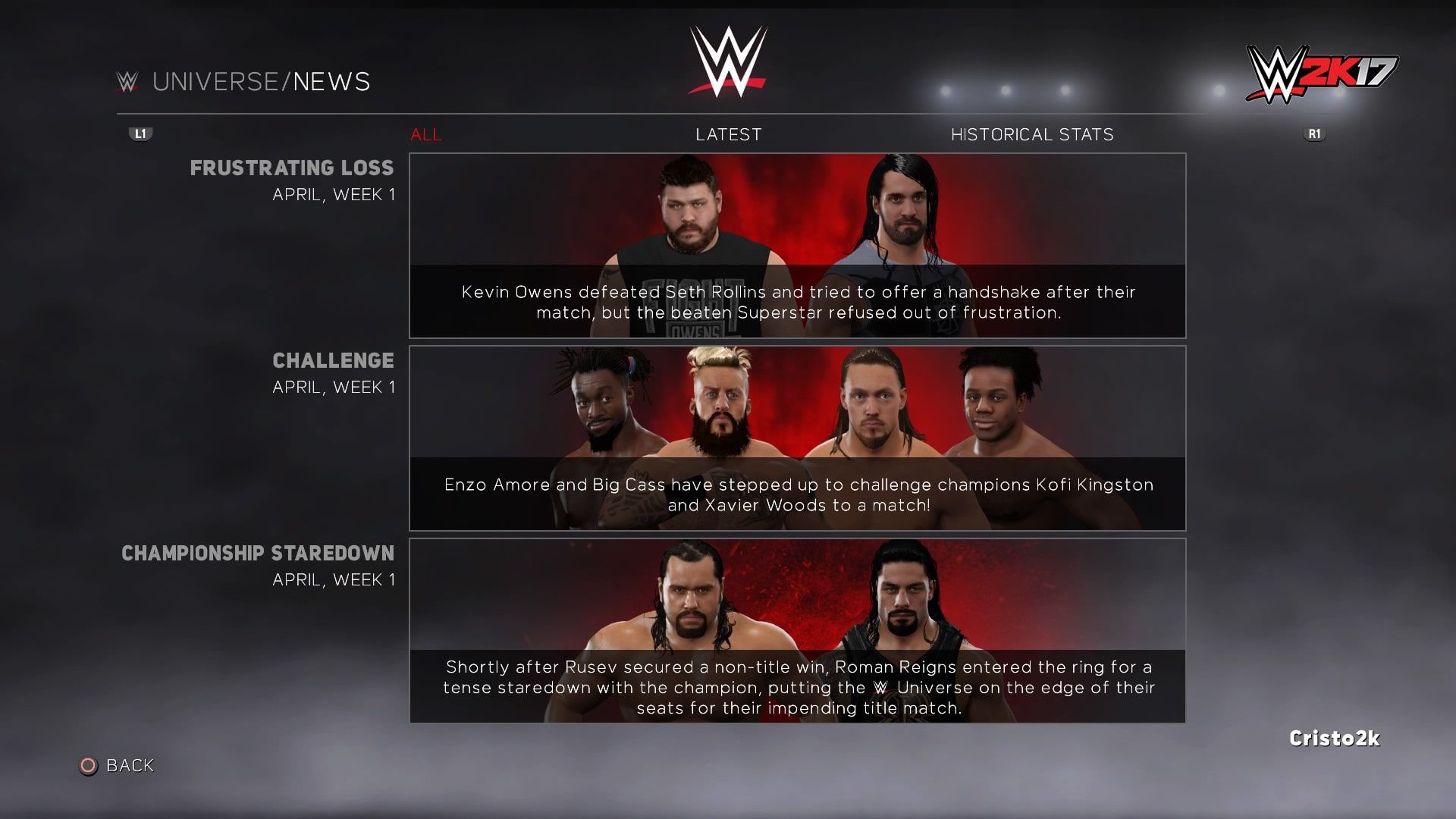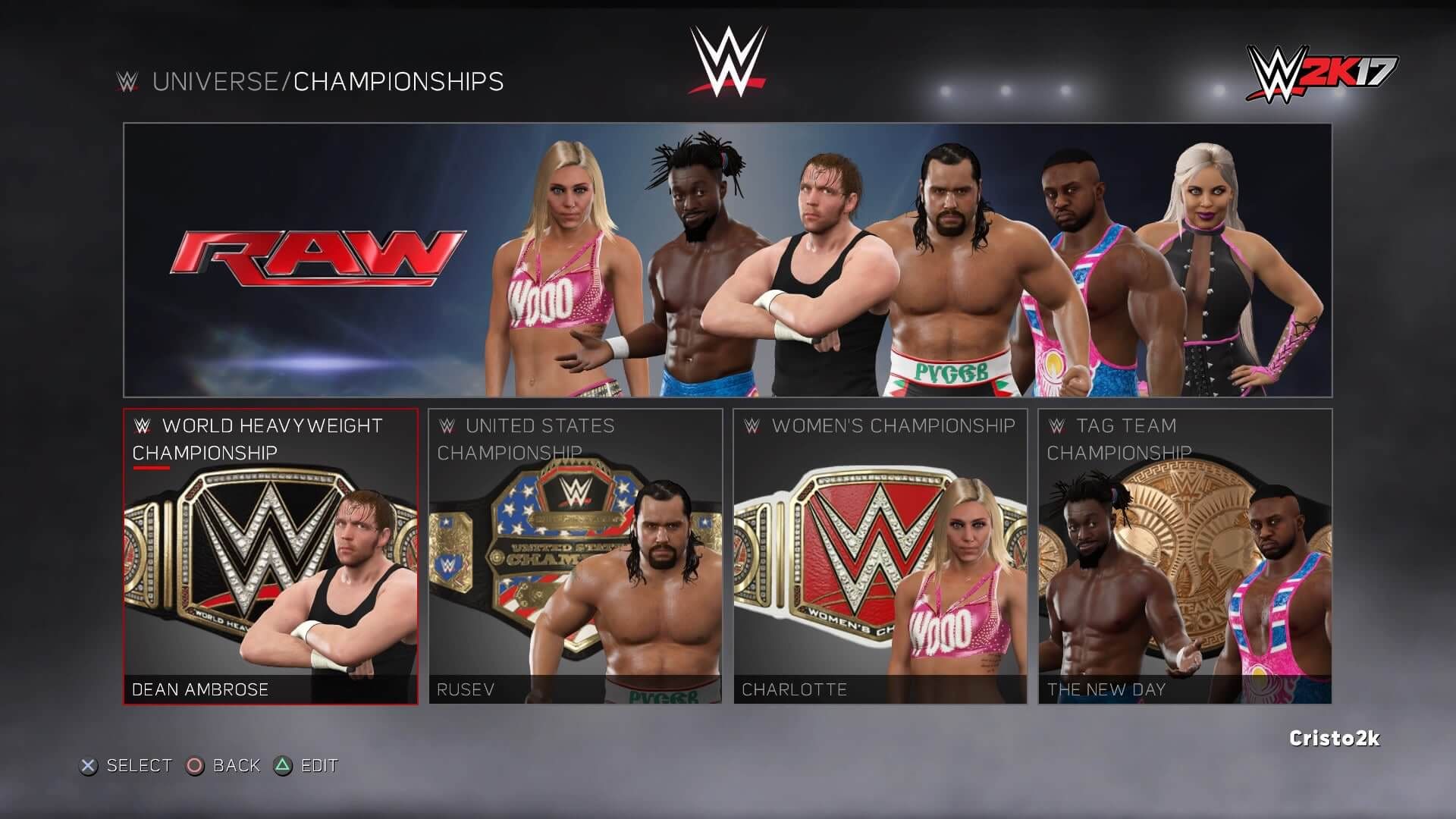 Once you've wrapped up all the matches of the show, let's head back to the show menu, where we can dig into some more details. Access the News option to recap the exciting moments of the show or catch up on dramatic events between rivals that you might've missed in a simulated match. Enter the Championships menu to see the prestigious titles of the show and where each Superstar ranks for his or her shot at the gold. Superstars and Teams is where you'll find the ratings, stats and news of the show's competitors. These menus bring you info related only to the show you're on, which I think helps emphasize the brand identity by removing clutter of other shows.

Calendar and My Universe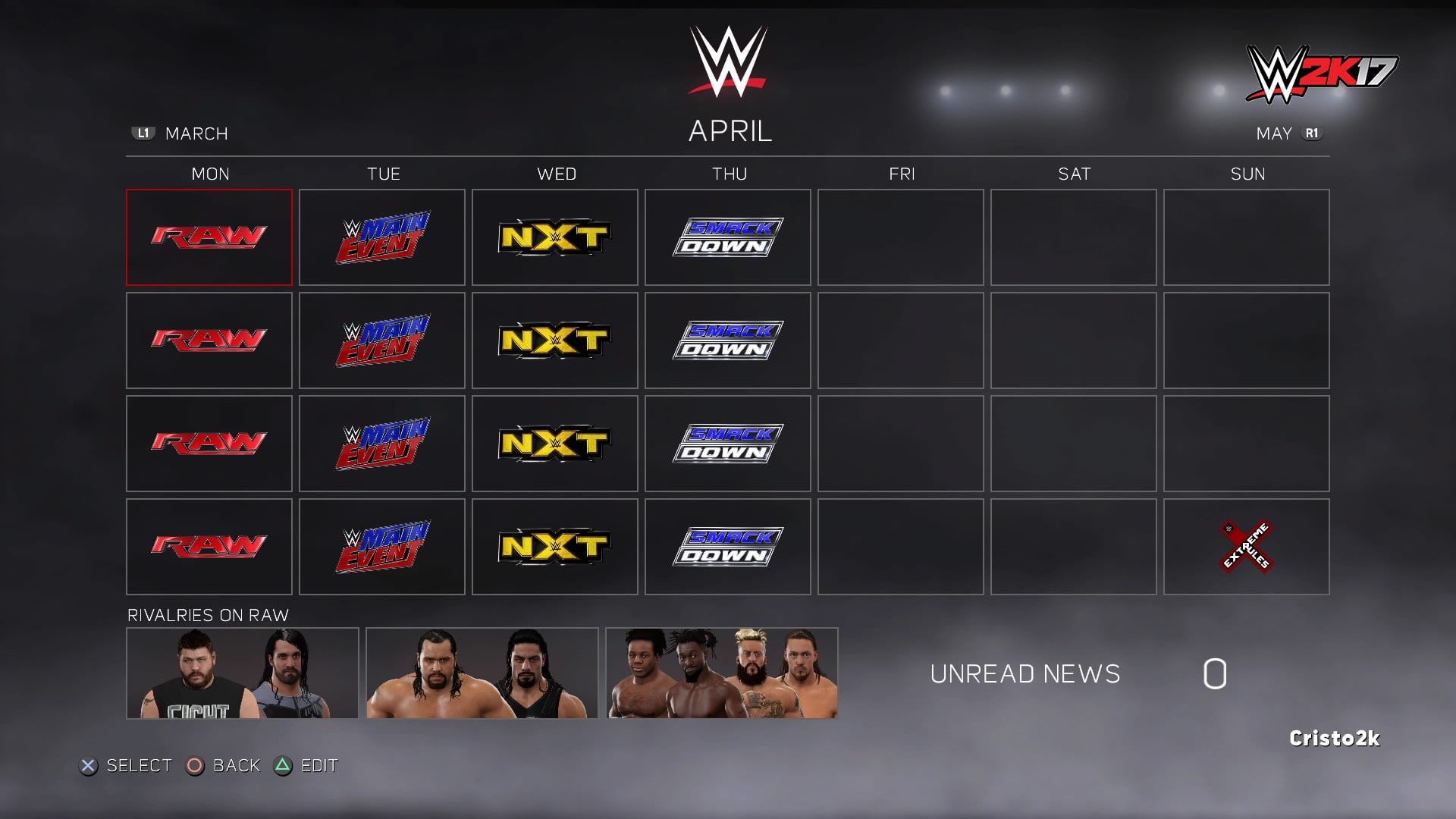 We've gone through what a Monday Night Raw looks like, but there are still more shows to be played through! You can find all of these shows when you enter the Calendar menu. This will give you an idea of how far into the month or the year you're in, and you can decide to jump weeks or even months ahead by selecting the show of your choice.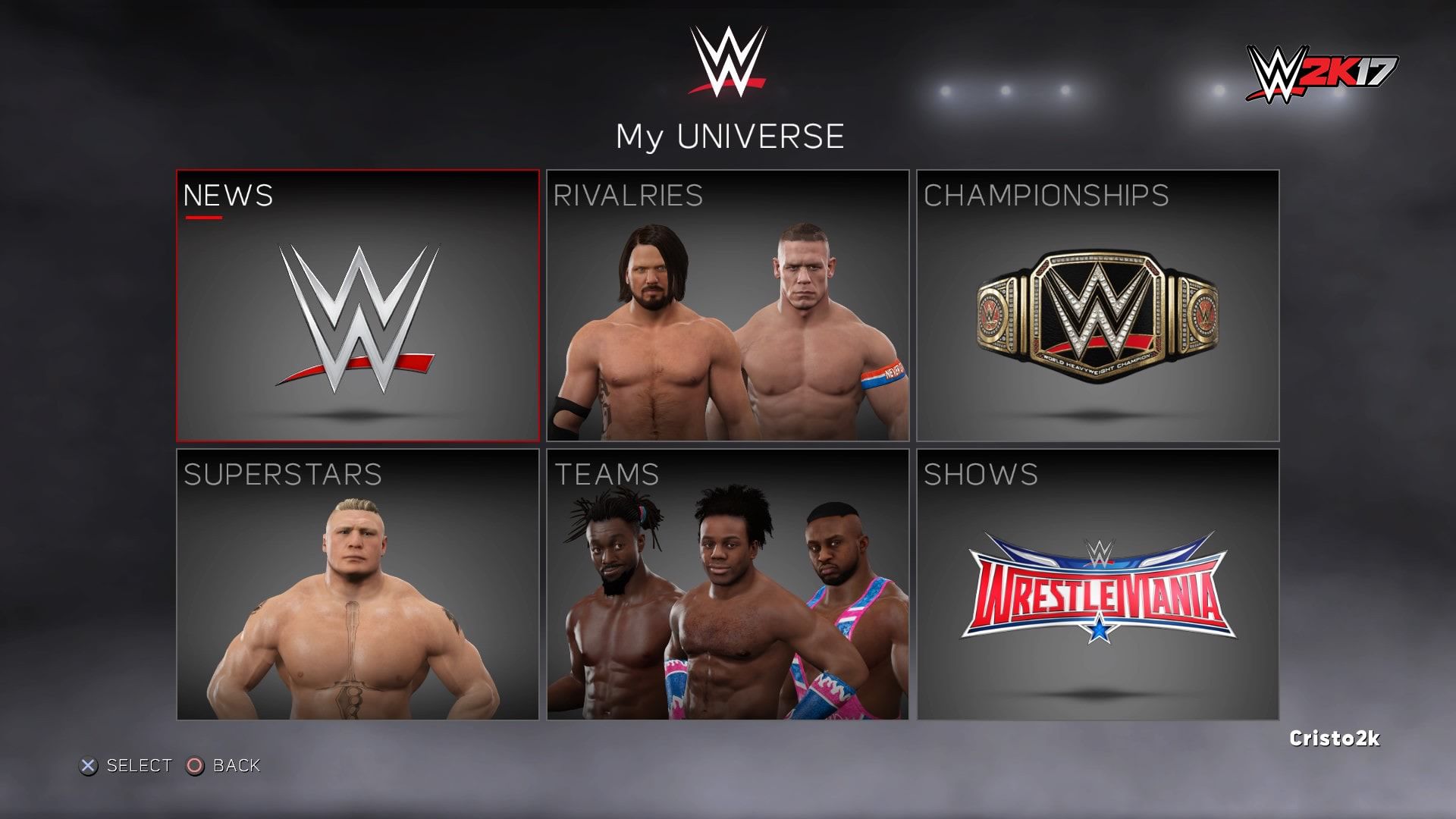 My Universe is the place where you'll find details about everything in your current Universe. Some of these options look familiar from the show menu, but they only display things related to the show; if you go into Superstars in Raw, then it only displays Superstars who compete on Raw. The same option in My Universe will display ALL the Superstars available for Universe, regardless of their brands. The same applies for News, Championships and Teams. Shows will display your weekly Monday through Saturday lineup.

Customization
It wouldn't be Universe Mode without all of its customization! This is the part that some players find the most depth in the mode and where they can really tailor their Universe experiences just the way they want by using our Creation Suite. I haven't touched on the customization much in the walkthrough above, and you may not have seen much of it in the screens shown, but don't worry – it's all still there.
There is no main "Edit Universe" option anymore; instead you'll find an "Edit" option available on screens where you can customize something. The idea behind this was that we don't need separate "View Superstars" and "Edit Superstars" menus, for example. If you're looking at something you want to change, you shouldn't have to leave that menu to go do it. If I'm looking at Superstars and I want to customize something about one of them, I should be able to go into an edit mode straight from there.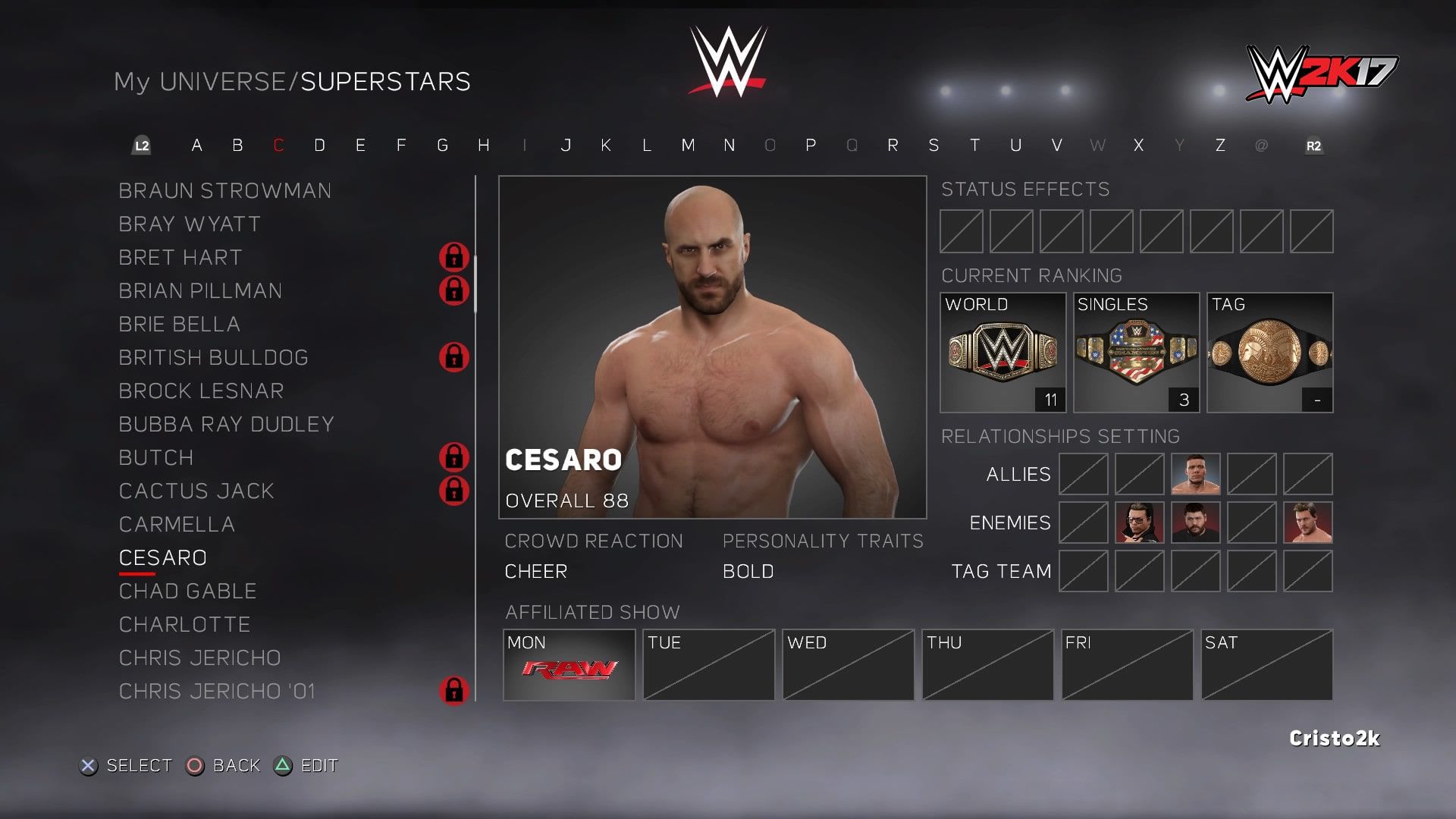 Superstars can be changed around in a variety of ways: their skills, attributes and personality can all be adjusted. You can choose their enemies and their allies, what championships they're competing for, which attires they compete in and how the crowd responds to them.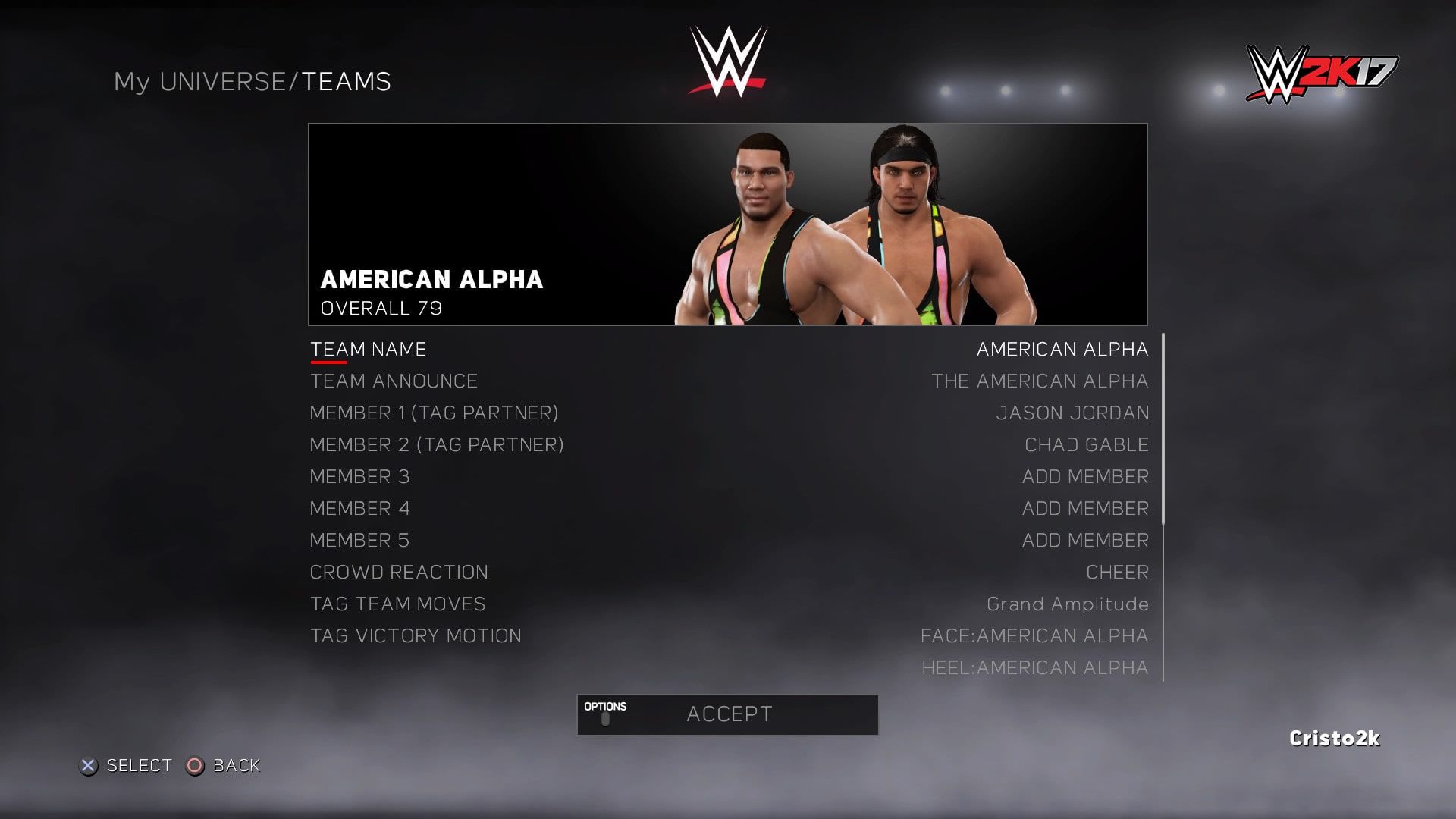 Teams can be customized, whether you're adding or removing members to an existing team or making a team of your own creation. Why not add Kane to the Wyatt Family and show what would've happened if he had been converted? Or you could pick Superstars of your choice to join Finn and really establish the Balor Club.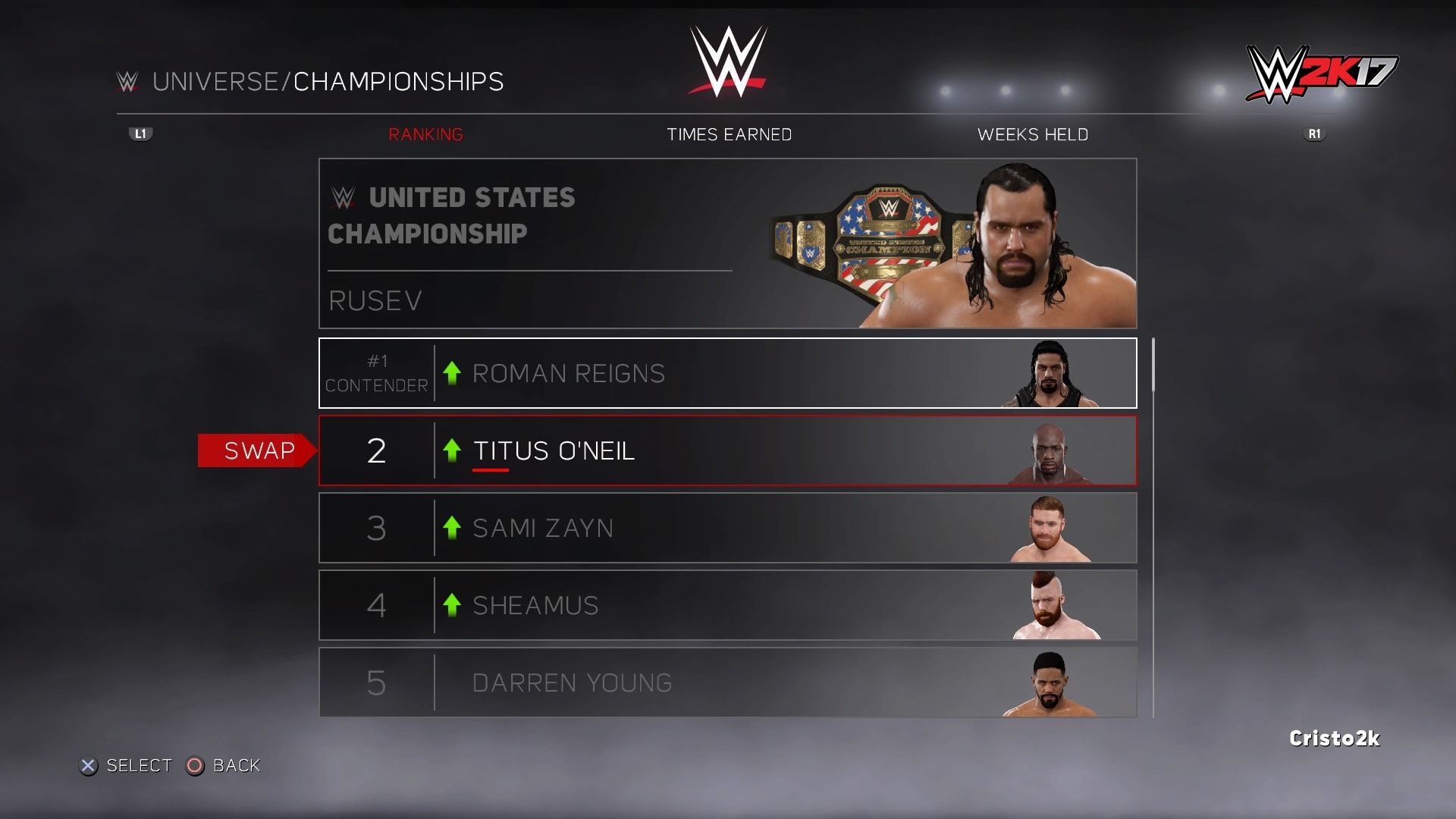 Championships will show you which Superstar has which title and let you edit the rankings around if you like. Access Shows and modify a specific show if you want to change which championships are featured on it. You can also change the Superstars who compete on that show, how many matches it runs and even its presentation.

Making Our Own Brand Split
WWE's draft between Raw and SmackDown was a huge deal, but unfortunately it happened too late in our development to get those changes into WWE 2K17. However, our Creation Suite and Community Creations will make it possible for you to get your Universe lined up to match the brand changes. I'll walk you guys through some of the ways you can make these changes:
Create a new Universe save. I don't want to interrupt my first Universe already in progress, so I'll create a new save that we want to customize.
Assign Superstars to SmackDown. We were able to get most of the Superstars assigned to their drafted shows, but some were up in the air at the time of the draft, and I wasn't sure where they would end up going. Let's head into My Universe > Superstars and highlight Heath Slater. Pressing Y/Triangle enters the Edit Mode for Heath Slater. Selecting Affiliated Show lets us decide which shows he will participate on. Let's uncheck Raw and check SmackDown, and Slater's ready to go. I'll also make sure we have other Superstars on the blue brand, like Nikki Bella.
Assign the new Championship to Raw. One of my favorite parts about the brand split is the new championships. I went through our Custom Championships to see how close I could get to recreating the new titles with the options straight out of the box, and turns out it's pretty close! With my titles ready, I'll go into My Universe > Shows and choose Raw. I'll swap out the WWE World Heavyweight Championship with our own Universal Championship and hand it to Kevin Owens. I'll go into SmackDown and remove the Tag Team and Women's Championship titles, but I won't add the new titles just yet. I think it would be fun to recreate those title matches in our own Backlash PPV to see who comes out as the new champions.
Create a custom PPV. Let's get our SmackDown-exclusive PPV ready. I'll go into Calendar, press Y/Triangle to enter Edit Mode and pick an empty Sunday for our Backlash. The important thing we want is to set our Host Show to SmackDown. PPV Match Theme determines what kinds of match types we'll expect, which we'll leave alone since I want to customize the matches to be close to Backlash's match card. Show Details takes us to Custom Show, where we can edit all sorts of new details in the new Custom Show menu in the Creation Suite. I have my Backlash logo imported through Community Creations via our Logo Importer, so we're almost finished setting everything up.
Customizing matches. With my Backlash PPV setup, I'll quit out of Edit Mode and select Backlash on the Calendar to simulate straight to it. I can start customizing my matches by selecting the match card and choosing Edit Show. Our first match is going to be for the SmackDown Women's Championship. I'll highlight the first match, hit RB/R1 for Edit and choose Customize Match since we're changing the match type completely. From there, I choose 6-Man > Battle Royal and pick SmackDown's women's division competitors. For the finishing touches, I'll open Match Options and pick Title Match, placing our SmackDown Women's Championship on the line. The process is similar for setting up the rest of our matches, and then my custom PPV is ready to go!
Finishing Touches. I've finished my PPV and I havemy new SmackDown champions, so now it's time to assign the new titles to SmackDown. Using the same process as we did with Raw, we'll go into My Universe > Shows > SmackDown and assign our SmackDown Tag Team and SmackDown Women's Championships to the show so that the Superstars on the big blue can compete for these titles in future PPVs.
This wraps up my look into WWE Universe, and I hope you guys enjoyed it. I'm excited for everyone to get into Universe and hear your stories and creations! Also, in case you're wondering, here's how my championship matches turned out in my simulated Backlash PPV. Until next time!