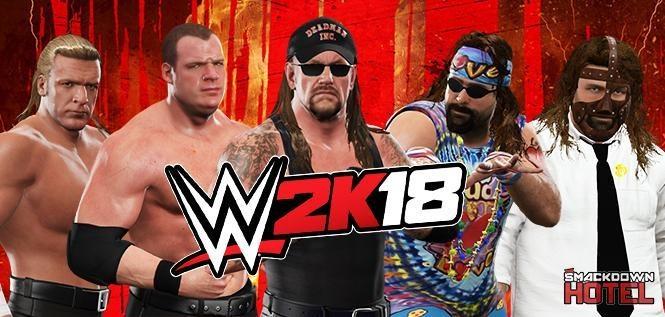 WWE 2K has just revealed on the official forum the Alternate Versions of the Superstars confirmed so far for WWE 2K18.
They have also clarified which are different Character Slots and which are different Attires.
Each Line = Different Slot
"/" = Different Attire
[UPDATE] We now updated this list with additional Alternate Version revealed subsequently.
Big Boss Man '91
Big Boss Man '99


Big Show (current)
Big Show '00


Bret "Hitman" Hart '97
Bret "Hitman" Hart '98


Cactus Jack '92
Cactus Jack '98
Dude Love
Mankind


DDP '92
DDP '98


Chris Jericho (current)
Chris Jericho '00


Finn Balor

Finn Balor Demon


Kane / Corporate Kane (current)
Kane '98


Kevin Nash
Diesel


Michael "PS" Hayes '86 / Michael "PS" Hayes '92


Ric Flair '88
Ric Flair '91


Ricky Steamboat '91
Ricky Steamboat '94


Scott Hall
Razor Ramon


The Godfather
Papa Shango


The Rock
The Rock '01


Triple H (current)
Triple H '01
Triple H' 98


The Undertaker (current)
Undertaker '91 / Undertaker '98 / Undertaker '99 Ministry of Darkness
Undertaker '00
We will be adding all these Confirmed Characters Profiles to our
Roster Section
soon.
In regards to
Mick Foley
, it's still unclear whether the regular version of "Mick Foley" is playable or not.
For more info on WWE 2K18 check out the
News Section
and the WWE 2K18
Roster Page
!