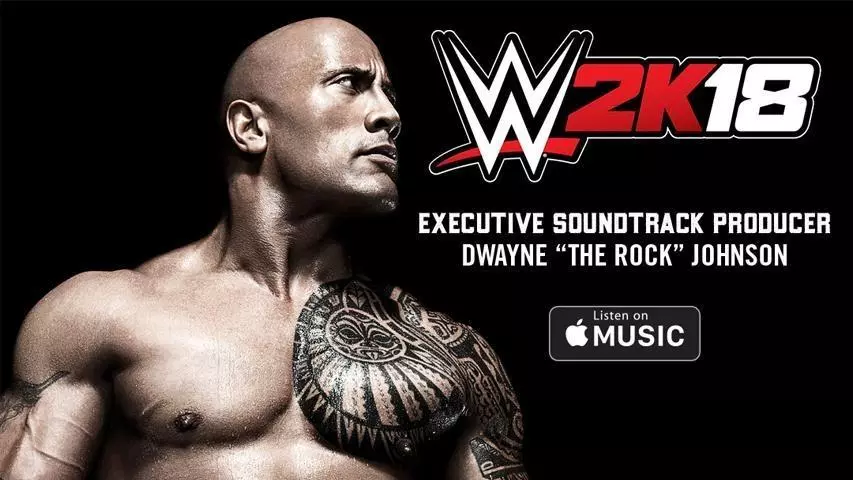 Legendary WWE Superstar and global icon Dwayne "The Rock" Johnson, is set to mark his return to wrestling… in video game form. The People's Champion has personally hand selected the tracklist that will feature in WWE 2K18, comprised of high profile artists from several music genres.
The soundtrack will feature 11 unique songs that represent many of Johnson's favorite artists and music genres, including hip-hop, classic rock, hard rock, blues, R&B and soul. In addition, Apple Music will serve as the premier streaming provider for the WWE 2K18 in-game soundtrack, which is available now for streaming at apple.co/wwe2k.
"Music is one of my soul's anchors. All genres. I'm excited to celebrate my WWE roots by partnering with the 2K and Apple Music teams and share some of my favorite hardcore training songs with fans all over the world", said Johnson.
The WWE 2K18 in-game soundtrack, executive produced by Johnson, will include the following artists and songs:

Blues Brothers – "Soul Man";
Boston – "Smokin'";
Bruno Mars – "Runaway Baby";
Disturbed – "Down With The Sickness";
Eazy-E – "Boyz-N-The-Hood";
George Thorogood & The Destroyers – "One Bourbon, One Scotch, One Beer";
Joe Walsh – "Rocky Mountain Way";
Kanye West – "Black Skinhead";
Kid Rock – "You Never Met a White Boy Quite Like Me";
¡MAYDAY! (feat. Tech N9ne) – "Last One Standing";
Tech N9ne (feat. Krizz Kaliko, Serj Tankian) – "Straight Out The Gate".
"Over the years we have collaborated with some of the world's most popular artists, including Florida Georgia Line, Metallica, The Weeknd and Diddy to name a few, but partnering with one of our own is always special", said Neil Lawi, Senior Vice President and General Manager, WWE Music Group. "Working with Dwayne is always a creative and inspirational experience, and we are thrilled to partner with him on this year's WWE 2K18 soundtrack, and bring his diverse selection to our fans around the world."
"For the past few years, we have presented music as an integral part of both WWE and WWE 2K culture by aligning with several big names in music and entertainment, from Sean Combs a.k.a. Puff Daddy for WWE 2K17 to our WWE Superstar John Cena® and Wiz Khalifa collaboration for WWE 2K15", said Chris Snyder, Vice President of Marketing at 2K. "The opportunity to work with an individual as accomplished, down-to-earth and respected as Dwayne – our inaugural WWE 2K cover Superstar for WWE 2K14 – significantly complements the gameplay content and overall experience we look to deliver every year."

Developed collaboratively by Yuke's and Visual Concepts, a 2K studio, WWE 2K18 is currently scheduled for worldwide release on October 17, 2017 for the PlayStation 4 nd Xbox One, as well as in Fall 2017 for Nintendo Switch™. Players who purchase the WWE 2K18 Cena (Nuff) Edition at participating retailers or the WWE 2K18 Deluxe Edition will receive Early Access to their game copies and in-game bonuses beginning four days early on Friday, October 13, 2017 for the PS4™ system and Xbox One.