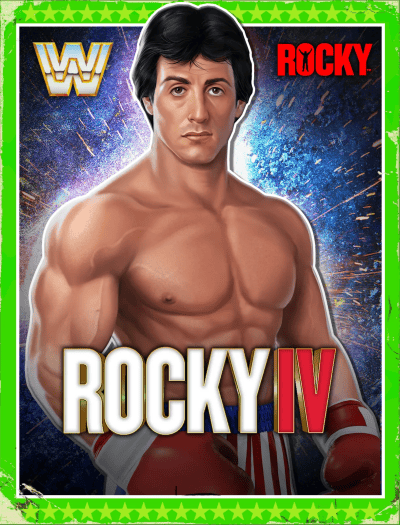 Rocky Balboa is featured as a playable character in the WWE Champions Roster in the Legends Era.
Rocky Balboa is classed as a Chaotic Technician in the game.
PROFILE INFO
Gender

Male

Nickname / Version

Rocky IV

Era

Legends Era

Superstar Class

Technician

Ability Style

Chaotic

Superstar Tier

S Tier

Promoter

Trainer

Alternative Versions

Rocky Balboa '76
Based off of Sylvester Stallone's appearance in Rocky IV released in 1985, and is a crossover character.
Rocky Balboa holds the world heavyweight championship, but a new challenger has stepped forward: Ivan Drago, a six-foot-four, 261-pound fighter who has the backing of the Soviet Union. This time, Rocky's training regimen takes him to Siberia, where he prepares for a globally televised match in the heart of Moscow. But nothing can truly prepare him what he's about to face -- a fight to the finish, in which he must defend not only himself, but also the honor of his country!
The Stallion's SPECIALS: Rapid Jab Combo, Rushing Body Combo, Desperate Haymaker, Heavy Right Hook, Corner Barrage, Clinch and Repel, Taunt and Punish
The Stallion's FINISHER: Savage Uppercut
The Stallion's TAG LINKS: Legends Era, ROCKY