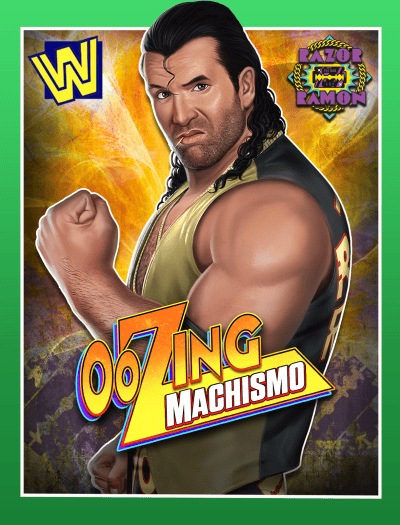 Gender

Male

Nickname / Version

Oozing Machismo

Alternative Versions

Razor RamonScott HallScott Hall '14

Era

New Generation

Superstar Tier

S Tier

Superstar Class

Technician

Ability Style

Chaotic

Promoter

Trainer

Alternate Gear

Red Razor
First cutting his teeth in the AWA and WCW under personas like The Diamond Studd and Starship Coyote, the big man joined WWF in 1992 as Razor Ramon. Donning gold chains and flicking toothpicks at anyone that crossed his path, "The Bad Guy" made a splash shortly after his debut by helping Ric Flair defeat "Macho Man" Randy Savage for the WWF Title. The Bad Guy remained a top Superstar throughout his WWF tenure and was usually carrying (or on the hunt for) the Intercontinental Title.
SPECIALS: Bulldog, Fallaway Slam, Slaps, Discus Punch, Toothpick Flick, Belly to Back Superplex
FINISHERS: Razor's Edge, Abdominal Stretch
TAG LINK: New Generation