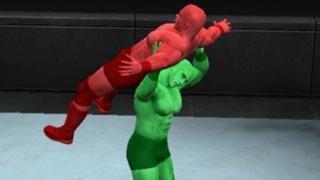 Full list of Preset Move-sets for WWE SmackDown! Here Comes The Pain! (PS2)
Basic Move Sets:
These are the base moves sets you can assign created wrestlers, and are assignable as soon as you begin playing.
Average - Maven
Powerful - "Big" John Studd
Speedy - Grand Mastah Sexay/Brian Christopher
Technial - Susumu Yokosuka
Roughneck - Jerry Lynn

Unlockable Move Sets:
These moves sets must be bought during Season Mode, in the Shopzone. Each Set, seven in all (four U.S.A. Sets, two Japan Sets, and one etc. Set), cost SD$2500.
Moves Set 01 WWR - William Regal (U.S.A. Set 1)
Moves Set 02 WAS - Al Snow (U.S.A. Set 1)
Moves Set 03 WSD - Spike Dudley (U.S.A. Set 1)
Moves Set 04 WBR - Bradshaw (U.S.A. Set 1)
Moves Set 05 WFA - Farrooq (U.S.A. Set 1)
Moves Set 06 WBG - Billy Gunn (U.S.A. Set 1)
Moves Set 07 WCP - Chuck Palumbo (U.S.A. Set 1)
Moves Set 08 WBK - Billy Kidman (U.S.A. Set 1)
Moves Set 09 WS2H - Scottie 2 Hottie (U.S.A. Set 1)
Moves Set 10 WTA - Tazz (U.S.A. Set 1)
Moves Set 11 WHH - Hardcore Holly (U.S.A. Set 2)
Moves Set 12 WJN - Jamie Noble (U.S.A. Set 2)
Moves Set 13 WRJ - Rosie (U.S.A. Set 2)
Moves Set 14 WTD - Tommy Dreamer (U.S.A. Set 2)
Moves Set 15 WBD - Bill DeMott (U.S.A. Set 2)
Moves Set 16 WFU - Funaki (U.S.A. Set 2)
Moves Set 17 WCR - Crash Holly (U.S.A. Set 3)
Moves Set 18 OJH - Jeff Hardy (U.S.A. Set 3)
Moves Set 19 ORA - Raven (U.S.A. Set 3)
Moves Set 20 OXP - X-Pac/Sean Waltman/Syxx-Pac (U.S.A. Set 3)
Moves Set 21 ODD - Diamond Dallas Page (U.S.A. Set 3)
Moves Set 22 ODL - D'Lo Brown (U.S.A. Set 3)
Moves Set 23 OJC - Justin Credible (U.S.A. Set 3)
Moves Set 24 OGF - The Godfather (U.S.A. Set 3)
Moves Set 25 OSB - Steve Blackman (U.S.A. Set 3)
Moves Set 26 WSM - Shane McMahon (U.S.A. Set 2)
Moves Set 27 WBB - Big Bossman (U.S.A. Set 3)
Moves Set 28 NJPS - Perry Saturn (U.S.A. Set 4)
Moves Set 29 AJMA - Mike Awesome (U.S.A. Set 4)
Moves Set 30 ODM - Dean Malenko (U.S.A. Set 2)
Moves Set 31 OMP - "Mr. Perfect" Curt Hennig (U.S.A. Set 4)
Moves Set 32 OMF - Mick Foley (U.S.A. Set 4)
Moves Set 33 CBH - Bret Hart (U.S.A. Set 4)
Moves Set 34 ZAG - Andre the Giant (U.S.A. Set 4)
Moves Set 35 ZBB - Bob Backlund (U.S.A. Set 4)
Moves Set 36 OER - Essa Rios (U.S.A. Set 3)
Moves Set 37 ORD - Road Dogg (U.S.A. Set 3)
Moves Set 38 DLTF - Terry Funk (U.S.A. Set 4)
Moves Set 39 CRR - Razor Ramon/Scott Hall (U.S.A. Set 3)
Moves Set 40 CST - Sting (U.S.A. Set 4)
Moves Set 41 LKS - Ken Shamrock (Japan Set 1)
Moves Set 42 CJJ - Jeff Jarret (U.S.A. Set 4)
Moves Set 43 KTM - TAKA Michinouku (Japan Set 5)
Moves Set 44 WJKS - Kensuke Sasake (Japan Set 1)
Moves Set 45 AJKM - Keiji Mutoh (Japan Set 5)
Moves Set 46 NJMC - Masahiro Chono (Japan Set 1)
Moves Set 47 NJHT - Hiroyoshi Tenzan (Japan Set 1)
Moves Set 48 NJMN - Manabu Nakanishi (Japan Set 1)
Moves Set 49 NJYN - Yugi Nagata (Japan Set 1)
Moves Set 50 NJJL - Jushin "Thunder" Lyger (Japan Set 1)
Moves Set 51 AJKK - Kendo Ka-Shin (Japan Set 5)
Moves Set 52 AJTK - Toshiaki Kawada (Japan Set 5)
Moves Set 53 FRGT - Genichiro Tenryu (Japan Set 1)
Moves Set 54 WJVD - Vader (Japan Set 1)
Moves Set 55 NOMM - Mitsuharu Misawa (Japan Set 5)
Moves Set 56 NOKK - Kenta Kobashi (Japan Set 5)
Moves Set 57 NOJA - Jun Akiyama (Japan Set 5)
Moves Set 58 PAI - Antonio Inoki (Japan Set 1)
Moves Set 59 ZONO - Naoya Ogawa (Japan Set 1)
Moves Set 60 ZOSH - Shinya Hashimoto (Japan Set 1)
Moves Set 61 MGS - The Great Sasuki (Japan Set 5)
Moves Set 62 JAO - Atsushi Onita (Japan Set 5)
Moves Set 63 WIV - Ivory (etc. Set)
Moves Set 64 MS - Fred Durst (etc. Set)
Moves Set 65 PAT - Misc. Shoot 1 (Attacker) (etc. Set)
Moves Set 66 PGP - Misc. Shoot 2 (Grappler) (etc. Set)
Moves Set 67 JIDA - Misc. Joshi 1 (etc. Set)
Moves Set 68 JIDB - Misc. Joshi 2 (etc. Set)
Moves Set 69 MEX - Mics. Lucha (etc. Set)
Moves Set 70 OHH - Hulk Hogan (U.S.A. Set 4)
Moves Set 71 OUW - The Ultimate Warrior (U.S.A. Set 4)

Credits: Gerald "Motosada" Bocook