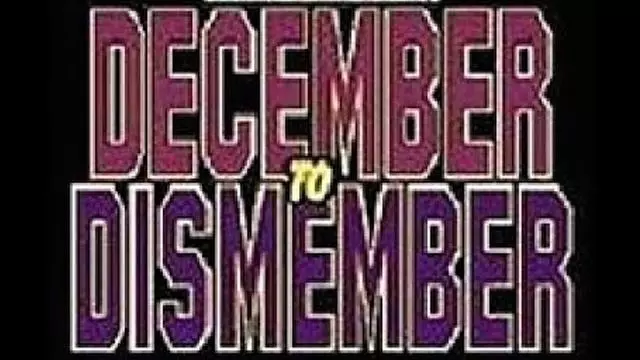 ECW December to Dismember 1995 was a Special Event produced by Extreme Championship Wrestling, which took place on December 9, 1995, at the ECW Arena in Philadelphia, Pennsylvania.
The event had an attendance of 1,000 fans. The main event of the show was The Pitbulls (#1 and #2), The Public Enemy (Johnny Grunge and Rocco Rock) and Tommy Dreamer vs. Raven's Nest (Raven, The Heavenly Bodies (Jimmy Del Ray and Tom Prichard), The Eliminators (Perry Saturn and John Kronus) and Stevie Richards).
Below you can find the full match card and results of ECW December to Dismember 1995, and more information about the event.
Event Info
ECW December to Dismember 1995 Results
The Dudleys (Buh Buh Ray & Dances with Dudley) defeat The Bad Crew (Dog & Rose)
Taz defeats El Puerto Riqueño
Hack Meyers defeats Bruiser Mastino
The Eliminators (Perry Saturn & John Kronus) defeat The Pitbulls (#1 & #2)
Raven defeats Tommy Dreamer via KO
J.T. Smith defeats The Broad Street Bully

ECW World Heavyweight Championship 3-Way Dance

The Sandman defeats Mikey Whipwreck (c) and Steve Austin to win the title
The Public Enemy (Rocco Rock & Johnny Grunge) defeat The Heavenly Bodies (Jimmy Del Ray & Tom Prichard)

Ultimate Jeopardy Steel Cage Match

"Who pins Raven gets Beulah for a week; if Dreamer loses his head gets shaved; if Public Enemy lose they must face each other; if Pitbulls lose they must split up and who pins them gets Francine for a week; if Eliminators lose they must leave ECW and Jason's head gets shaved; if Richards loses winning team gets 5 minutes in the cage with him; if Heavenly Bodies loses all stipulations for their side get enforced"
Tommy Dreamer, The Public Enemy (Rocco Rock & Johnny Grunge) & The Pitbulls (#1 & #2) defeat Raven's Nest (Raven, Stevie Richards & The Heavenly Bodies (Jimmy Del Ray & Tom Prichard)) & The Eliminators (Perry Saturn & John Kronus)