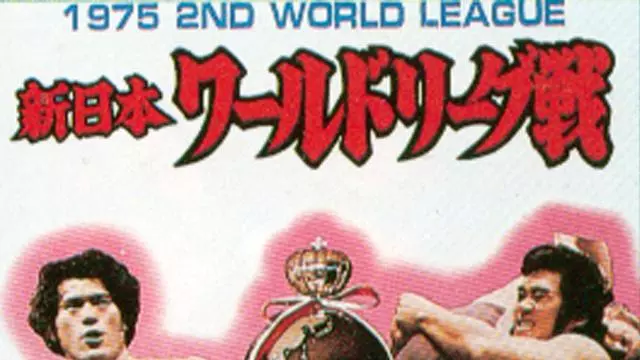 NJPW 2nd World League Finals was a Special Event and Tournament produced by New Japan Pro Wrestling, which took place on May 16, 1975, at the Nippon University Auditorium in Tokyo, Japan.
It's the 2° edition of the G1 Climax / IWGP League / MSG League / World League event series, after NJPW The 1st World League Finals.
The event had an attendance of 8,500 fans. The main event of the show was Antonio Inoki vs. Killer Karl Krupp.
Below you can find the full match card and results of NJPW 2nd World League Finals, and more information about the event.
Event Info
NJPW 2nd World League Finals Results
Makoto Arakawa defeats Kotetsu Yamamoto
Tatsumi Fujinami & Little Hamada vs. Masashi Ozawa & Takashi Kimura ends in a Draw via Time Limit
Ivan Gomes defeats Yoshiaki Fujiwara
Osamu Kido defeats Sangre Fria
John Gagne defeats Haruka Eigen via DQ
Masa Saito & Kantaro Hoshino defeat Super Destroyer & Man Mountain Mike

2nd World League - Quarterfinal

Seiji Sakaguchi vs. Kintaro Oki ends in a No Contest via Double Count-out

2nd World League - Quarterfinal/Semifinal

Antonio Inoki defeats Strong Kobayashi

2nd World League - Final

Antonio Inoki defeats Killer Karl Krupp
WORLD LEAGUE 1975 PARTICIPANTS
Killer Karl Krupp [13.5]
Antonio Inoki [12.5]
Seiji Sakaguchi [12.5]
Kintaro Ohki [12.5]
Strong Kobayashi [12.5]
Super Destroyer [10.5]
Masa Saito [9]
Kotetsu Yamamoto [8]
Kantaro Hoshino [7]
Man Mountain Mike [7]
Haruka Eigen [5]
Katsuhisa Shibata [3]
John Gagne [2]
Sangre Fría [2]
Father Singh [2]
Osamu Kido [1]