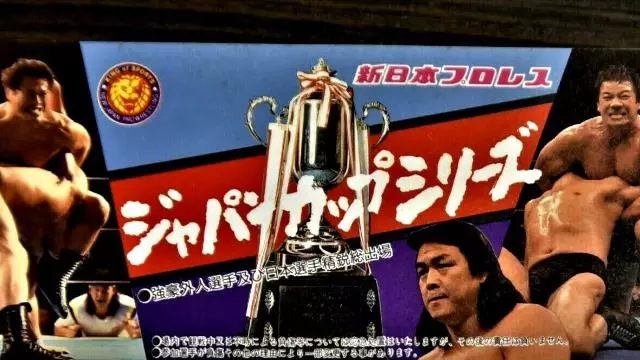 NJPW Japan Cup Series 1988 was a Special Event and Tournament produced by New Japan Pro Wrestling, which took place on December 7, 1988, at the Osaka Prefectural Gymnasium in Osaka, Japan.
The event had an attendance of 5,740 fans. The main event of the show was Antonio Inoki, Riki Choshu & Kantaro Hoshino vs. Tatsumi Fujinami, Masahiro Chono & Shinya Hashimoto.
Below you can find the full match card and results of NJPW Japan Cup Series 1988, and more information about the event.
Event Info
NJPW Japan Cup Series 1988 Results
Kensuke Sasaki defeats Minoru Suzuki
Hiro Saito defeats Akira Nogami
Manny Fernandez defeats George Takano
The Grappler defeats Super Strong Machine

Japan Cup Elimination Tag League - Playoff Elimination Match

Scott Hall, Bob Orton & Dick Murdoch defeat Masa Saito, Seiji Sakaguchi & Tatsutoshi Goto
Survivor: Murdoch
Kengo Kimura & Yoshiaki Fujiwara defeat The Southern Boys (Steve Armstrong & Tracy Smothers)

Japan Cup Elimination Tag League - Playoff Elimination Match

Antonio Inoki, Riki Choshu & Kantaro Hoshino defeat Scott Hall, Bob Orton & Dick Murdoch
Survivors: Inoki & Chosu
The Von Erichs (Kerry & Kevin von Erich) defeat Kuniaki Kobayashi & Shiro Koshinaka

Japan Cup Elimination Tag League - Final Elimination Match

Antonio Inoki, Riki Choshu & Kantaro Hoshino defeat Tatsumi Fujinami, Masahiro Chono & Shinya Hashimoto
Survivor: Inoki