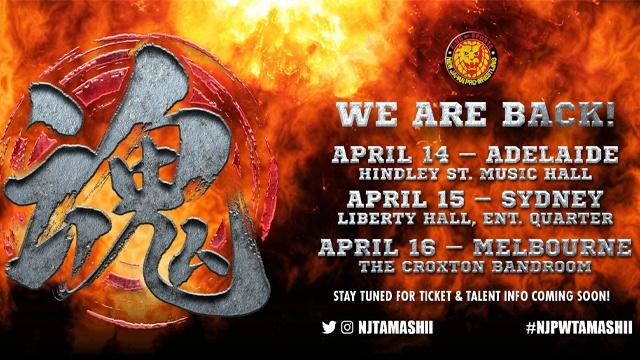 NJPW TAMASHII (V, VI & VII) was a Special Event produced by New Japan Pro Wrestling, which took place from April 14, 2023 to April 16, 2023, at the Hindley Street Music Hall - Liberty Hall - The Croxton in Adelaide, Australia - Sydney, Australia - Melbourne, Australia.
It's the 3° edition of the TAMASHII event series, after NJPW TAMASHII (III & IV).
The main event of the show was Hirooki Goto vs. Chris Basso (Adelaide); Shingo Takagi vs. Jack Bonza (Sydney); Shingo Takagi vs. Robbie Eagles (Melbourne).
Below you can find the full match card and results of NJPW TAMASHII (V, VI & VII), and more information about the event.
Event Info
Promotion

New Japan Pro Wrestling

Event Type

Special Event

Start Date

April 14, 2023

Event Date

April 16, 2023

Year

2023

Event Series

TAMASHII

Country

Australia

Network

NJPW World

Main Event

Hirooki Goto vs. Chris Basso (Adelaide); Shingo Takagi vs. Jack Bonza (Sydney); Shingo Takagi vs. Robbie Eagles (Melbourne)
NJPW TAMASHII (V, VI & VII) Results
V - ADELAIDE (04/14)
Delta Brady defeats Amber
Dean Brady & Corndog defeat Robbie Heart & Wrecking Ball
The Parea (Eli Theseus & Gabriel Aeros) defeat Purgatory (Barren & Einar the Strange)
Grimm Basso defeat Joey Graham
Rogue Army (Bad Luck Fale & Jack Bonza) defeat The Party Guys (Party Guy Ty & Banjo Powers)
Robbie Eagles defeats Link Barnett
Shingo Takagi defeats Punch-Drunk Istria
Hirooki Goto defeats Chris Basso
VI - SYDNEY (04/15)
Ben Braxton defeats Adam Hoffman
Jessica Troy defeats Cherry Stephens
The VeloCities (Jude London & Paris De Silva) defeat MK+ Ultra (Kai Drake & Michael Spencer)
Carter Deams defeats Mick Moretti
Mat Boyton & Backman defeat SMS (Aaron Jake & Unsocial Jordan)
Robbie Eagles defeats Andrew Villalobos
Hirooki Goto defeats Richard Mulu
Shingo Takagi defeats Jack Bonza
VII - MELBOURNE (04/16)
The VeloCities (Jude London & Paris De Silva) defeat The Parea (Eli Theseus & Gabriel Aeros)
Richard Mulu defeats Jake Taylor
Emman Azman defeats Jarvis
Rogue Army (Bad Luck Fale & Jack Bonza) defeat The Natural Classics (Tome & Stevie Filip)
Slex defeats Edward Dusk
Hirooki Goto defeats Mick Moretti
Shingo Takagi defeats Robbie Eagles