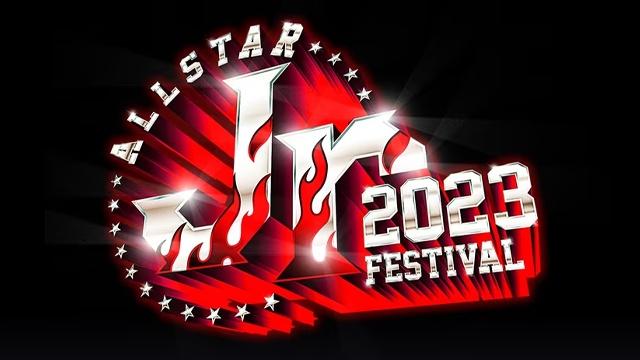 All Star Junior Festival 2023 was a Pay Per View event produced by New Japan Pro Wrestling, All Japan Pro Wrestling, Big Japan Pro Wrestling, Consejo Mundial de Lucha Libre, Dragon Gate, Michinoku Pro Wrestling, Pro Wrestling NOAH and Pro Wrestling Zero1, which took place on March 1, 2023, at the Korakuen Hall in Tokyo, Japan.
This was a special interpromotinal event produced by NJPW wrestler Hiromu Takahashi, with the participation of junior heavyweight wrestlers from over 20 different promotions from around the world.
The event had an attendance of 1,381 fans. The main event of the show was Master Wato vs. Atsuki Aoyagi.
Below you can find the full match card and results of All Star Junior Festival 2023, and more information about the event.
Event Info
All Star Junior Festival 2023: Results
[Pre-show]
YOH [NJPW], Soma Watanabe [GLEAT] & Kazuma Sumi [DDT] defeat Fuminori Abe [BASARA], Ryo Hoshino [Zero1] & Akira Jumonji [JTO]
Hiromu Takahashi [NJPW], Fujita "Jr." Hayato [Michinoku] & AMAKUSA [NOAH] defeat HAYATA [NOAH], YAMATO [Dragon Gate] & Kazuki Hashimoto [BJW]
Isami Kodaka [BASARA] & Mao [DDT] defeat SHO [NJPW] & Onryo [666]
"Support Shinjiro Otani Match"
TAKA Michinoku [JTO], Yoshinobu Kanemaru [NJPW], Minoru Tanaka [GLEAT], Tatsuhito Takaiwa [Free] & Jun Kasai [FREEDOMS] defeat MUSASHI [Michinoku Pro], Shoki Kitamura [Zero1], LEONA [DRADITION], Chicharito Shoki [2AW] & Kota Sekifuda [BJW]
Ryusuke Taguchi [NJPW], Hikaru Sato [PANCRASE MISSION] & Yumehito Imanari [Ganbare Pro] defeat Great Sasuke [Michinoku Pro], Tigers Mask [Osaka Pro] & Batten×Burabura [Kyushu Pro]

3-Way Match

El Desperado [NJPW] & Volador Jr. [CMLL] defeat El Lindaman [GLEAT] & Yuuki Ueno [DDT] and Los Japoneses Del Mal (DOUKI [NJPW] & HANAOKA [SECRET BASE])
"Masked Tag Match"
Místico [CMLL], Billy Ken Kid [Osaka Pro], Alejandro [NOAH] & Gurukun Mask [Ryukyu Dragon] defeat BUSHI [NJPW], Dragon Kid [Dragon Gate], Atlantis Jr. [CMLL] & Black Menso-re [AJPW]
CIMA [GLEAT] defeats Kazuki Hirata [DDT]

5-Way Match

Taiji Ishimori [NJPW] defeats Soberano Jr [CMLL], Shun Skywalker [Dragon Gate], Ninja Mack [NOAH] and Junta Miyawaki [NOAH]
Master Wato [NJPW] defeats Atsuki Aoyagi [AJPW]