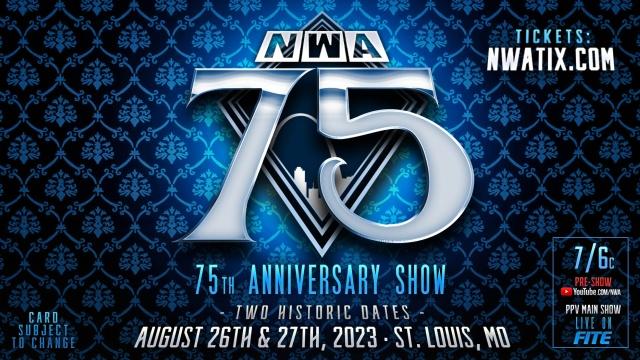 NWA 75 was a Pay Per View event produced by National Wrestling Alliance, which took place from August 26, 2023 to August 27, 2023, at the Chase Ballroom in St. Louis, Missouri.
The main event of the show was Kamille vs. Natalia Markova [Night 1] - Tyrus vs. EC3 [Night 2].
Below you can find the full match card and results of NWA 75, and more information about the event.
Event Info
NWA 75 Results
NIGHT 1
[Pre-show]
Robert Anthony defeats Jake Dumas
[Pre-show]

#1 Contenders (NWA United States Tag Team Championship) Showdown - Final

Daisy Kill & Talos defeat The Fixers (Jay Bradley & Wrecking Ball Legursky)
[Pre-show]
Zyon defeats Jordan Clearwater
[Pre-show]

#1 Contender (NWA World Junior Heavyweight Championship) 5-Way Jubilee Jamboree Match

Jack Cartwheel defeats Alex Taylor, Eric Jackson, Koa Laxamana and Matt Vine

NWA World Women's Television Championship

Max the Impaler defeats Kenzie Paige (c) to win the title

NWA National Heavyweight Championship Triple Threat Match

Silas Mason defeats Kratos and Odinson to win the vacant title

No DQ Match

Joe Alonzo defeats Homicide
The Brothers of Funstruction (Yabo the Clown & Ruffo the Clown) defeat Magnum Muscle (Dak Draper & Mims)

NWA World Junior Heavyweight Championship

Colby Corino defeats Kerry Morton (c) to win the title

No DQ Match

Jax Dane defeats Tim Storm via Referee's stoppage

#1 Contender (NWA World Women's Championship) Mildred Burke Invitational Gauntlet Match

Winner: Kenzie Paige
Participants: Kenzie Paige, Allysin Kay, Max the Impaler, MJ Jenkins, Samantha Starr, Heather Monroe, CJ, Labrava Escobar, Ruthie Jay, Sierra, Taylor Rising, The WOAD

Open Challenge

Matt Cardona defeats Ricky Morton

NWA World Tag Team Championship

Blunt Force Trauma (Carnage & Damage) defeat La Rebelión (Bestia 666 & Mecha Wolf) (c) to win the titles

NWA World Women's Championship No Limits Match

Kamille (c) defeats Natalia Markova to retain the title
NIGHT 2
[Pre-show]

#1 Contender (NWA National Heavyweight Championship) 23-Man Austin Idol's National Championship Battle Royal

Winner: Jordan Clearwater
Participants: Jordan Clearwater, Blake Troop, Brady Pierce, Cody James, Dak Draper, Gaagz the Gymp, Jake Dumas, Jax Dane, Jay Bradley, Joe Alonzo, Judais, Koa Laxamana, Matt Vine, Mims, Robert Anthony, Rolando Freeman, Rush Freeman, Sal the Pal, Truth Magnum, Turbo Floyd, Wrecking Ball Legursky, Zicky Dice, Zyon
[Pre-show]
Natalia Markova defeats Taylor Rising
[Pre-show]

NWA United States Tag Team Championship

Daisy Kill & Talos defeat The Country Gentlemen (AJ Cazana and Anthony Andrews) (c) to win the titles

NWA World Television Championship

"Winner can invoke the Lucky Seven Rule to challenge for the NWA Worlds Heavyweight Championship"
Thom Latimer (c) defeats Chris Adonis to retain the title

NWA World Women's Tag Team Championship

Pretty Empowered (Ella Envy & Kylie Page) defeat M95 (Madi Wrenkowski & Missa Kate) (c) to retain the titles

NWA World Junior Heavyweight Championship

Colby Corino (c) defeats Jack Cartwheel to retain the title

NWA World Women's Television Championship

Max the Impaler (c) defeats Ruthie Jay to retain the title
La Rebelión (Bestia 666 and Mecha Wolf) defeat The Brothers of Funstruction (Yabo the Clown & Ruffo the Clown)
Kerry Morton defeats Matt Cardona

NWA National Heavyweight Championship

Silas Mason (c) defeats Jordan Clearwater to retain the title

NWA World Tag Team Championship

Blunt Force Trauma (Carnage & Damage) (c) vs. Knox & Murdoch (Mike Knox & Trevor Murdoch) to retain the titles

NWA World Women's Championship

Kenzie Page defeats Kamille (c) to win the title

NWA Worlds Heavyweight Championship Bull Rope Match

"If Tyrus loses he retires"
EC3 defeats Tyrus (c) to win the title