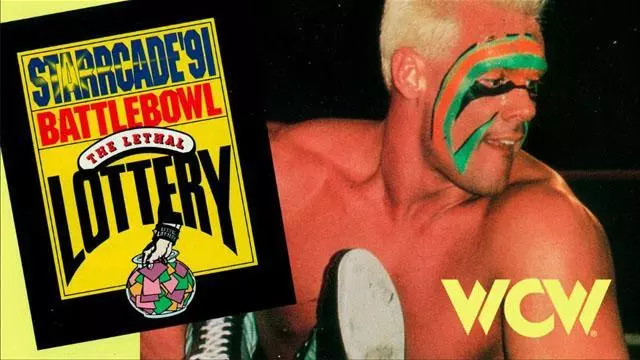 WCW Starrcade 1991 was a Pay Per View event produced by World Championship Wrestling, which took place on December 29, 1991, at the Norfolk Scope in Norfolk, Virginia.
It's the 9° edition of the Starrcade event series, after WCW Starrcade 1990.
The event had an attendance of 9,000 fans. The main event of the show was Battlebowl Battle Royal.
Below you can find the full match card and results of WCW Starrcade 1991, and more information about the event.
Event Info
WCW Starrcade 1991 Results
"Lethal Lottery" BattleBowl - Qualifying Match

Jimmy Garvin & Marcus Bagwell defeat Michael Hayes & Tracy Smothers

"Lethal Lottery" BattleBowl - Qualifying Match

Steve Austin & Rick Rude defeat Van Hammer & Big Josh

"Lethal Lottery" BattleBowl - Qualifying Match

Dustin Rhodes & Richard Morton defeat Larry Zbyszko & El Gigante

"Lethal Lottery" BattleBowl - Qualifying Match

Bill Kazmaier & Jushin Thunder Liger defeat Diamond Dallas Page & Mike Graham

"Lethal Lottery" BattleBowl - Qualifying Match

Lex Luger & Arn Anderson defeat Terrance Taylor & The Z-Man

"Lethal Lottery" BattleBowl - Qualifying Match

Ricky Steamboat & Todd Champion defeat Cactus Jack & Buddy Lee Parker

"Lethal Lottery" BattleBowl - Qualifying Match

Sting & Abdullah the Butcher defeat Brian Pillman & Bobby Eaton

"Lethal Lottery" BattleBowl - Qualifying Match

Big Van Vader & Mr. Hughes defeat Rick Steiner & The Nightstalker

"Lethal Lottery" BattleBowl - Qualifying Match

Scott Steiner & Firebreaker Chip defeat Arachnaman & Johnny B. Badd

"Lethal Lottery" BattleBowl - Qualifying Match

Ron Simmons & Thomas Rich defeat Steve Armstrong & PN News

BattleBowl Battle Royal

Winner: Sting
Participants: Sting, Abdullah the Butcher, Jimmy Garvin, Marcus Bagwell, Steve Austin, Rick Rude, Dustin Rhodes, Richard Morton, Bill Kazmaier, Jushin Thunder Liger, Lex Luger, Arn Anderson, Ricky Steamboat, Todd Champion, Big Van Vader, Mr. Hughes, Scott Steiner, Firebreaker Chip, Ron Simmons, Thomas Rich