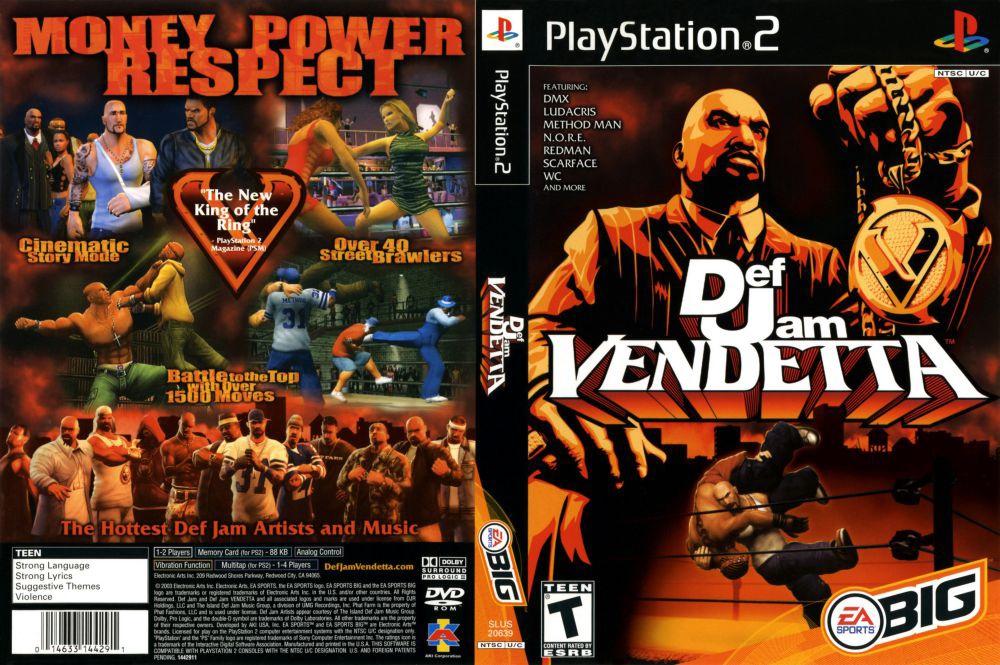 Game Series

Independent Games

Release Date

January 31, 2003

Additional Releases

February 23rd, 2003 (PAL); March 21st, 2003 (JPN)

Platforms

PlayStation 2GameCube

Publisher

EA Sports

Developer

AKI Corporation
It's been three years since D-Mob chased you out of the New York fight circuit and you swore you'd never go back. Now your pal Manny is in trouble, and he needs you to bail him out. Your only chance to get the money is to settle a score with the Def Jam crew, including DMX, Ludacris, Joe Budden, and Method Man. While listening to the tracks and beats from Def Jam artists, you can fight or play as over 40 combatants, each with special moves, combos, and taunts.
"...Used to be, you wanted to make yourself known, you prove your worth as a street fighter or a hustler. We don't fight out in the streets no more. We're organized now; we...too gangsta for the gardens--so we've taken it underground...inside. I'm a business man, and this is my 'biznez'. My soldiers are legion--METHOD MAN, NORE, CAPONE, LUDA', REDMAN, DMX. If you wanna shot at me, you gotta make it past these brothas. It's a dangerous world out here; seems every time I turn around there's another young buck wantin' to take me on. I lay down for no man. You wanna take what's mine, you gotta beat me. ...But NOBODY...EVER...beats ME..." -D-Mob, 2003
Modes
STORY is the Single Player mode where you play as Briggs, Tank, Spider, or Proof, and strive to reclaim Angel Rodriguez. You'll unlock characters, attires, and venues here, as well as leveling up your chosen wrestler.
BATTLE is the Exhibition Mode where up to 4 players can play. Choose from a Singles match (1v1), a Free for All (3-Way and 4-Way), Tag Team (2v2), and Handicap (1v2, and 1v3).
SURVIVAL is a Single Player mode where you face off against an endless stream of opponents. You'll gain cash here to spend on leveling up your Story protagonists (Recommended that you do this first.)
TUTORIAL is a series of videos that'll educate you on the controls. Manny will be your teacher.
GALLERIES allows you to look at some photos of Deja, Angel, Opal, T'ai, and Penny. Additional photos can be bought with cash that you earn in game, but save those for last.
Aside from the OPTIONS, there's also HIGH SCORES, where you can check out the leaderboards for various things. Good luck getting to the top.
Roster
Arii Samsonov
Mathew "Briggs" Elam
Kiam Akasi "Capone" Holley [NA/PAL Exclusive]
Carla Gutierrez
Ray "Chukklez" Williams
Luis De la Cruz
Daisuke "Dabo" Ashida [JPN Exclusive]
Daniel G. "Dan G" Anderson
Devon "Deebo" Ranford
Paige "Deja" Gray
Darrell "D-Mob" Lewis
Earl "DMX" Simmons
Drake Evans
Aston George "Funkmaster Flex" Taylor Jr.
Dennis David "Ghostface Killah" Coles [NA/PAL Exclusive]
DeMarcus P. "Headache" Johnson
Anslem "House" Jackson
Mack "Iceberg" Parker
Joe Budden
Keith Omar Murray
Christopher Brian "Ludacris" Bridges
Manny Gray
Masakazu "Masa" Ninagawa
Clifford "Method Man" Smith Jr.
Moses
Victor "N.O.R.E." Santiago Jr.
Andre "Nyne" Wallace
Omar Peebles
Opal Tavares
Aaron "Peewee" Walker
Penny Phang
Sharif "Pockets" Hayek
Erick "Proof" Jackson
Ray "Razor" Armstrong
Reginald "Redman" Noble
Red "Ruffneck" Easton
Bradley Terrence "Scarface" Jordan
Sketch
Sean "Snowman" Scott
Rafael "Spider" Oliveras
Tyrone "Steel" Dreyson
S-Word [JPN Exclusive]
T'ai Monique
Takeshi "Tank" Arakawa
William Lashawn "WC" Calhoun Jr.
Desmond "Zaheer" Hughes
Arenas
The Bounty Club
Club Luda
Da Bridge
Def Jam
Def Jam (Vendetta)
The Dragon House
The Face Club
The Face Club (After Hours)
Grimeyville
The Junkyard
Sanctuary
The Warehouse
Soundtrack
"Nothin'" - N.O.R.E. featuring Pharrell
"Smash Sumthin'" - Redman featuring Adam F.
"Fight the Power" - Public Enemy
"The Grain" - Ghostface Killah featuring RZA
"X Gon' Give It to Ya" - DMX
"Bring the Pain" - Method Man
"Uh Huh!" - Method Man
"Saturday (Oooh! Oooh!)" - Ludacris featuring Sleepy Brown
"Focus" - Joe Budden
"In Cold Blood" - Scarface
"Get Away" - Christina Milian featuring Ja Rule
"Do Sumthin" - Comp
"Throw Ya Gunz" - Onyx
"The Streets" - WC featuring Nate Dogg
"Oh My Goodness" - Keith Murray
"Yeah Yeah U Know It" - Keith Murray featuring Erick Sermon and Redman
"Intro" - DMX
"Party Up" - DMX
"Stick 'em" - Comp
"Stomp" - C-N-N featuring M.O.P.
"Its My Turn (Fight)" - Dabo [JPN version]
"Kross Over" - S-Word [JPN version]