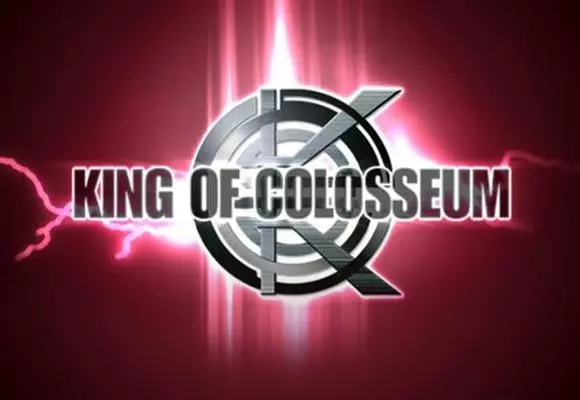 Description
King of Colosseum (Red): Shin Nippon x Zen Nippon x Pancrase Disc is a Sports game, developed and published by Spike, which was released in Japan in 2002. This is a spinoff of the Fire Pro Wrestling series.
All the 96 characters here can be imported into the sequel, King of Colosseum Green, to combine both rosters.
Game Modes
TRIAL MODE is the single player season mode of the game with RPG-like mechanics thrown in. You'll unlock bonus wrestlers, head parts, costumes, championships, and edit points as you play through this mode. You'll need to complete all four scenarios to unlock everything.
ONE NIGHT MATCH is your standard Exhibition mode with many customizable rules. 1v1, 1v2, and 2v2 matches can be played here.
TITLE MATCH becomes available once you win some titles in TRIAL MODE. You can fight for or defend the IWGP World Heavyweight, AJPW Triple Crown, King of Pancrasist Heavyweight, IWGP World Tag Team, AJPW World Tag Team, IWGP Junior Heavyweight, AJPW Junior Heavyweight, All Asia Tag Team, King of Pancrasist Middleweight, or King of Pancrasist Welterweight Championships.
SERIES MODE allows players to play Leagues and Tournaments either solo, or as a team. You can play through the Championship Carnival, Best of Super Jr., G1 Climax, G1 Tag, Real World Tag, or your own custom tournaments!
BATTLE ROYAL allows up to 4 wrestlers to compete where the last surviving wrestler wins.
5x5 ELIMINATION allows two teams of five to face off in Singles matches. The first team to eliminate the other, will win.
EDIT allows players to create their own wrestler, and edit any existing wrestlers and organizations in the game. You'll find 110 exclusive characters here.
Roster
New Japan Pro Wrestling
Tatsumi Fujinami

Kensuke Sasaki

Power Warrior

Yuji Nagata

Manabu Nakanishi

Shiro Koshinaka

Takashi Iizuka

Yutaka Yoshie

Osamu Nishimura

Junji Hirata

Kengo Kimura

Super Strong Machine

Togi Makabe

Kenzo Suzuki

Hiroshi Tanahashi

Blue Wolf

Super J

Dan Divine

Kazuo Yamazaki

Osamu Kido

Seiji Sakaguchi

Masa Saito

Kuniaki Kobayashi

Black Cat

NJPW Juniors
Jushin "Thunder" Liger

El Samurai

Minoru Tanaka

Masayuki Naruse

Masahito Kakihara

Wataru Inoue

Katsuyori Shibata

Katsushi Takemura

Dr. Wagner Jr.

Norio Honaga

Team 2000
Masahiro Chono

Hiroyoshi Tenzan

Hiro Saito

Tatsutoshi Goto

Scott Norton

Giant Silva

Giant Singh

Team 2000 Juniors
Koji Kanemoto

AKIRA

Jado

Gedo

Black Tiger III

Goku-Do

All Japan Pro Wrestling
Giant Baba

Keiji Mutoh

Great Muta

Kokushi-Muso

Toshiaki Kawada

Satoshi Kojima

The Great Koji

Taiyo Kea

Hiroshi Hase

Mitsuya Nagai

Hideki Hosaka

Shigeo Okumura

Tomoaki Honma

Kazushi Miyamoto

Stan Hansen

"Dr. Death" Steve Williams

Johnny Smith

Mike Barton

Abdullah the Butcher

George Hines

Mike Rotundo

Jim Steele

Kimala II

AJPW Juniors
Masanobu Fuchi

Kendo Ka-Shin

Tokimitsu Ishisawa

Kaz Hayashi

Jimmy Yang

Pro Wrestling WAR
Genichiro Tenryu

Arashi

Nobutaka Araya

Nobukazu Hirai

Hybrid Wrestling Pancrase
Masakatsu Funaki

Yuki Kondo

Yoshiki Takahashi

Minoru Suzuki

Kiuma Kunioku

Osami Shibuya

Ikuhisa Minowa

Kengo

Kei Yamamiya
Grabaka
Sanae Kikuta

Akihiro Gono

Yuki Sasaki

U-File Camp
Kiyoshi Tamura
Freelance
Riki Choshu

Tadao Yasuda

Michiyoshi Ohara

Don Frye

EDIT Exclusives
Power Warror
Kazuo Yamazaki
Osamu Kido
Seiji Sakaguchi
Masa Saito
Kuniaki Kobayashi
Black Cat
Super Strong Machine
Norio Honaga
Tokimitsu Ishizawa
Great Muta
Stan Hansen
Akira Nogami
Tiger Hattori
Masao Tayama
Hiroyuki "Red Shoes" Unno
Kyohei Wada
Wally Yamaguchi
Fumihito Kihara
Hidekazu Tanaka (Kero)
Soichi Hiroto
Yoshiaki Yatsu
Kozo Takeda
Yoji Anjo
Kazuki Okubo
Minoru Fujita
Kazushi Sakuraba
Yoshiaki Fujiwara
Hiromitsu Kanehara
Gran Hamada
Tachihikari
Akira Maeda
Hiromichi Fuyuki
Nobuhiko Takada
Ryuki Ueyama
Minoru Toyonaga
Gran Naniwa
Koki Kitahara
Antonio Inoki
Tsuyoshi Kosaka
Tiger Mask
3rd Tiger Mask
Daijiro Matsui
Ryushi Yanagisawa
Yukio Kubota
Animal Warrior
Hulk Hogan
Wanderlei Silva
Royce Gracie
Volk Han
Gilbert Yvel
Curry Man
Karl Gotch
Carlos Newton
Heath Herring
Quinton Rampage Jackson
Ken Shamrock
Terry Funk
Terry Gordy
Goldberg
Gary Albright
Gerard Gordeau
Andre the Giant
Jason DeLucia
Johnny Ace
Scott Steiner
Dynamite Kid
Dan Severn
Peter Aerts
Shota Chochishvili
Ric Flair
Dan Henderson
Hawk Warrior
Rickson Gracie
Kimo Leopoldo
Dory Funk Jr.
Bruiser Brody
Rick Steiner
Willy Williams
Frank Shamrock
Fritz Von Erich
Brian Clark
Brian Adams
Mike Bernardo
Gary Goodridge
Semmy Schilt
Renzo Gracie
Aliksandr Karelin
Ernesto Hoost
Jerome Le Banner
Bas Rutten
Tom Howard
Mark Hunt
Mark Coleman
Mark Kerr
Dos Caras
Dos Caras Jr.
Mil Mascaras
Tiger Jeet Singh
Mirko CroCop
The Monsterman (Everett Eddie)
Muhammad Ali
Ryan Gracie
Andrei Kopilov
Ricardo Arona
Igor Vovchanchyn
Willem Ruska
Kevin Nash
Renato "Babalu" Sobral
Wild Pegasus