Here is the full list of all the WWE 2K18 Preset Move-Sets & Fighting Styles available for selection in the Quick Edit menu of the WWE 2K18 Create-A-Moveset.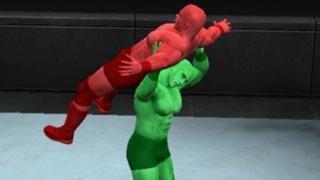 Full list of Preset Move-Sets in WWE 2K18:
The Ace of Japan: Hiroshi Tanahashi
American Dragon: Bryan Danielson
Backbreaker Specialist: Roderick Strong
Bucking Trends: The Young Bucks
Charisma Personified: Jeff Hardy
The Dude: Trent Barreta
Gold Standard: Shelton Benjamin
Jomo: John Morrison
The Monster: Brodus Clay
Panama Playboy: Adam Cole
The Shoot Fighter: Katsuyori Shibata
The Suplex Machine: Tazz
Tehran: Ezekiel Jackson
Wrestling Hero: Kurt Angle
WWE Legend 1: Eddie Guerrero
Quick Edit - WWE 2K18 Fighting Styles / Taunt Types:
The indicated fighting style is based on the corresponding wrestler:
Aerialist 1: Evan Bourne / Matt Sydal
Aerialist 2: RVD (Rob Van Dam)
Aerialist 3: Jeff Hardy
Aerialist 4: Sonjay Dutt
Brawler 1: Johnny Gargano
Brawler 2: Dana Brooke (?)
Brawler 3: Terry Funk
Brawler 4: J.T.G. (Cryme Tyme)
Giant 1: The Great Khali
Giant 2: King Kong Bundy
Giant 3: Andre The Giant (?)
Giant 4: Tensai
Powerhouse 1: Scott Steiner (?)
Powerhouse 2: Goldberg
Powerhouse 3: Roderick Strong
Powerhouse 4: Kenny Omega
Showboat 1: Dusty Rhodes
Showboat 2: Petey Williams
Showboat 3: M.V.P. (Montel Vontavious Porter)
Showboat 4: Scotty 2 Hotty
Striker 1: Yoshi Tatsu
Striker 2: Shinsuke Nakamura
Striker 3: Kassius Ohno / Chris Hero
Striker 4: Mike Tyson
Technician 1: Konnan
Technician 2: Colt Cobana
Technician 3: AJ Styles
Technician 4: Trent Barretta

For more WWE 2K18 Guides check out our WWE 2K18 Guides and Walkthroughs section!