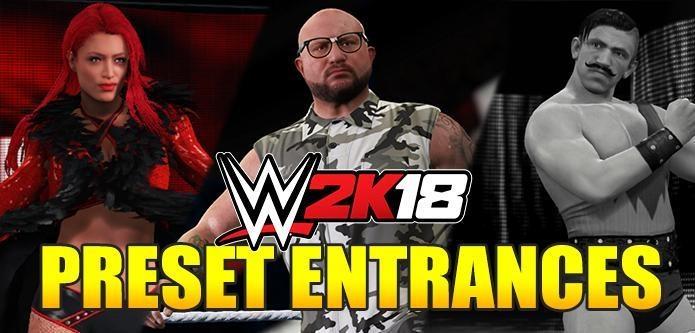 As we do every year, we bring to you the full list of all the Preset Entrance Motions available for selection in WWE 2K18 Create An Entrance, in addition to the entrances of all the in-game Superstars which are also at your disposal of course. The Preset Entrances List is divided between Single, Tag Teams and Trios Entrances.
WWE 2K18 Single Preset Entrances
All Red Everything 1 (Eva Marie 1)

FROM 2K17

All Red Everything 2 (Eva Marie 2)

FROM 2K17

Alpha Omega (Kenny Omega)

NEW

Belfast Brawler (Fit Finlay)
The Best Kept Secret (Buddy Murphy)

FROM 2K17

Boxer (Generic Boxer)

NEW

Business Suit (I.R.S)
Caribbean Sensation (Savio Vega)
The Colonel (Colonel Mustafa)
Corey Graves (Corey Graves)
The Dashing One (Cody Rhodes)
Disco Dancer (Disco Inferno)
Dukes Up (Simon Gotch)

FROM 2K17

ECW Legend (Mikey Whipwreck)
The Face of Terror (Haku)
Fearless (Pentagon Jr.)

NEW

Generic Superstar 1
Generic Superstar 2
Generic Superstar 3
Generic Superstar 4 (Kenny King)

NEW

Generic Superstar 5

NEW

Generic Superstar 6 (Eli Drake)

NEW

Generic Superstar 7 (Scorpio Sky)

NEW

Generic Superstar 8 (Austin Aries)

FROM 2K17

Girl Bye (Cameron)
Hall of Fame Inductee (Bob Backlund)

NEW

Happy Go Lucky (Crash Holly)

NEW

The Hardcore Extreme (Bubba Ray Dudley)

FROM 2K17

The Hardcore Reverend (D-Von Dudley)

FROM 2K17

HOF Celebrity Wing 1 (Terminator 1)
HOF Celebrity Wing 2 (Terminator 2 - Motorcycle)
HOF Celebrity Wing 3 (Mike Tyson)
Intellectual Idol (Damien Sandow)
International Sensation (Hiroshi Tanahashi)
The Living Legend (Bruno Sammartino)
The Lone Star Cowboy (Wesley Blake)

FROM 2K17



Loose Cannon 1 (Brian Pillman)

FROM 2K17

Loose Cannon 2 (Flyin' Brian Pillman)

FROM 2K17

The Low Down (D'Lo Brown)
Lucha Superstar (Generic Luchador)

NEW

Magic Monster (The Great Muta)
Martial Artist (Mike Bailey)

NEW

Masked Lucha (TJ Perkins CWC)

NEW

Milan Miracle (Santino Marella)
Monster D (Sonjay Dutt)

NEW

The Natural (Dustin Rhodes)
The Nexus Corre (Wade Barrett)
Nexus Original (Justin Gabriel)
The One and Only 1 (Billy Gunn 1)

FROM 2K17

The One and Only 2 (Billy Gunn 2)

FROM 2K17

Party Express (Adam Rose)
Princess (Madison Rayne)

NEW

Protective Agency (Ron Simmons APA)
Punjabi Giant (The Great Khali)
Repeat After Me (Jack Swagger)

FROM 2K17

Respect The Nation 1 (Faarooq N.O.D.)
Respect The Nation 2 (Kama Mustafa N.O.D.)
Shake, Rattle & Roll (Honky Tonk Man)
Shining Star (Santana Garrett)

NEW

Silverback 1 (Ryback 1)
Silverback 2 (Ryback 2)
Smooth C (Chuck Taylor)

NEW

Stand At Attention (Sgt. Slaughter)
Strickland (Shane Strickland / Killshot)

NEW

Super Hero (The Hurricane / Gregory Helms)

NEW

Ted DiBiase (Million Dollar Man Ted DiBiase)

NEW

The Top Enforcer (Arn Anderson)

FROM 2K17

Undead (Generic Zombie)

NEW
Note: The entrances for Ken Shamrock, AJ Lee, Layla, Damien Mizdow, Alberto Del Rio, Road Dogg and Stardust are no longer in the game.
Alternative Entrance Motions for In-Game Superstars
Asuka 2
Batista (Face/Machine Gun Entrance)

UPDATE 1.05

Batista 2 (Evolution)
Big E
Big E New Day 2
Bo Dallas 2
Bobby Roode 2 (NXT Takeover Brooklyn II)

NEW

Booker T 2
Braun Strowman 2
Bray Wyatt 2
Carmella 2
Cesaro 2
Cesaro 3
Charlotte 2
Chris Jericho 2
Daniel Bryan NO!
Darren Young 2
Dean Amborse Shield
Eddie Guerrero 2
Emma 2
Fandango 2
Finn Bálor 2
Finn Bálor 3
Finn Bálor Demon 1

NEW

Finn Bálor Demon 2
Finn Bálor Demon 3
Goldust 2
Hunter Hearst Helmsley
JBL 2
Kevin Owens 2
Kofi Kingston New Day 2
Naomi 2
Natalya 2
Neville 2
Neville 3
Paige 2
R-Truth 2
Randy Orton 2
Randy Orton Evolution
Roman Reigns 2
Roman Reigns Shield
Rusev 2
Sami Zayn 2
Seth Rollins Shield
Shinsuke Nakamura 2
Sin Cara 2
Stone Cold with Buggy
Tyson Kidd 2
Xavier Woods
Xavier Woods New Day 2

WWE 2K18 Title Motions / Champion Entrances
Batista Champion
Big Boss Man '99 Champion
Daniel Bryan Champion
Generic Champion 1
Generic Champion 2
Generic Champion 3
John Cena Champion 1
John Cena Champion 2
Kevin Owens Champion
Kurt Angle Champion
Mark Henry Champion
Paige Champion
Randy Orton Champion
The Rock Champion 1
The Rock Champion 2
Steve Austin Champion

WWE 2K18 Tag Team Preset Entrances
American Alpha 1
American Alpha 2

NEW

The Ascension
Authors Of Pain

NEW

The Bella Twins
Braun Strowman & Erick Rowan
Braun Strowman & Luke Harper
Breezango

NEW

Brock Lesnar with Paul Heyman
Brothers of Destruction 1
Brothers of Destruction 2
Brothers of Hardcore (The Dudley Boyz)

FROM 2K17

The Bushwhackers
The Club
The Colóns

NEW

D-Generation X
Darren Young with Manager (with Bob Backlund)

NEW

DDP & Cactus Jack

NEW

The Dream Team (Beefcake & Valentine)

NEW

Enzo Amore & Big Cass 1

EXCLUSIVE

*
Enzo Amore & Big Cass 2

EXCLUSIVE

*
The Fabulous Freebirds 1
The Fabulous Freebirds 2
The Funkadactyls (Cameron & Naomi)
Generic Tag 1 (The Nation of Domination)
Generic Tag 2 (The Great Muta w/Manager)
Generic Tag 3
Generic Tag 4
Generic Tag 5
Generic Tag 6
Generic Tag 7 (Women Tag Team)
Golden Truth

NEW

EXCLUSIVE

*
The Hardy Boyz

DLC

Heath Slater & Rhyno

NEW

The Hollywood Blonds
Hype Bros

NEW

Kane with Manager (with Paul Bearer)
Last Names Only (Blake & Murphy)

FROM 2K17

Los Matadores
The Lucha Dragons
Luke Harper & Erick Rowan
The Miz & Maryse

NEW

EXCLUSIVE

*
The Natural Disasters
The New Day Tag 1
The New Day Tag 2
The Outsiders
The Prime Time Players
The Revival
The Rock 'N' Roll Express

DLC

Rusev with Lana

EXCLUSIVE

*
SAnitY

NEW

The Shield
Strongmen & Gentlemen (The Vaudevillains)

FROM 2K17

TM-61

NEW

Tyson Kidd & Cesaro
The Undertaker with Manager 1 (with Paul Bearer)
The Undertaker with Manager 2 (with Paul Bearer)
The Usos 1
The Usos 2

NEW

The Von Erichs
The Wyatt Family (Bray Wyatt with Manager)
#DIY

NEW

WWE 2K18 Preset Entrances - Trio
Authors Of Pain (with Paul Ellering)
The Club
Evolution
The Fabulous Freebirds
Generic Trio 1 (The Nation of Domination)
Generic Trio 2
Enzo Amore, Big Cass & Carmella

EXCLUSIVE

*
The New Day 1
The New Day 2
SAnitY

NEW

The Shield
The Wyatt Family 1
The Wyatt Family 2
---
*EXCLUSIVE: Exclusive Entrances can only be selected when using those specific characters in a Stable. If you want to use an exclusive entrance for other characters, you can do the following workaround: first create a Stable with those specific characters and assign them the related exclusive entrance. Then, you can change the Stable members to any other characters you want, and the exclusive entrance will remain assigned.