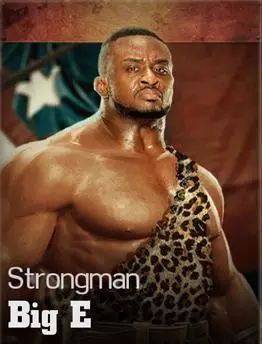 Big E (Strongman) is featured as a playable character in the WWE Immortals Roster.
PROFILE INFO
Strongman Big E (Bronze)
Release Date
Base Stats
Apr. 23, 2015 (Update 1.3)
Damage: 230 - Health: 230
Availability
Signature Moves
Store
1.

Strongman Crush


2.

Spinal Smasher


3.

Big Ending

Price
11,000
Special
Strength Training: When blocking attacks, Big E has a 10% chance to gain a buff that gives his attacks a 25% chance to be unblockable for 6 seconds.