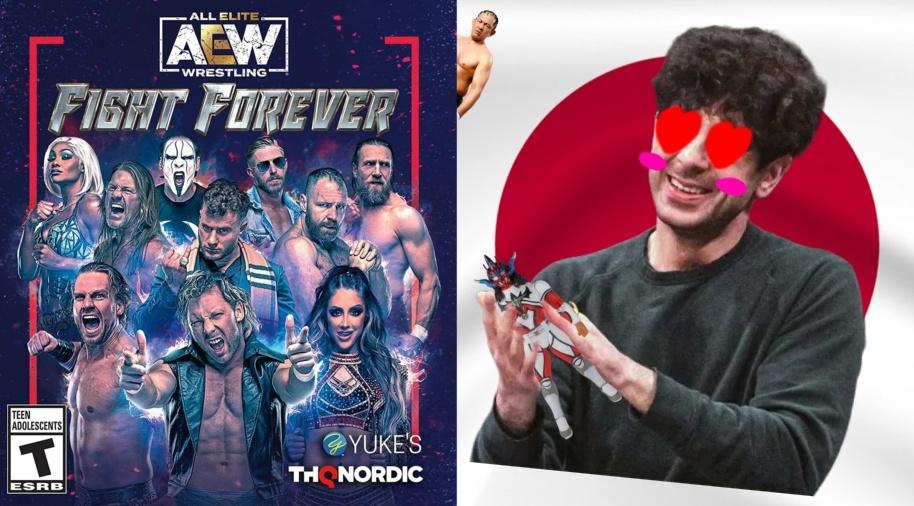 It's no secret that Tony Khan and the diehard fans that make up AEW love Japanese wrestling. Even if it's not universal throughout the whole fanbase, the connection has been acknowledged multiple times, with frequent appearances from wrestlers like Tomohiro Ishii, Minoru Suzuki, and in one extreme case, the Great Muta himself! With Fight Forever's roster (or DLC? - edit when reviewing) speculation heating up, one would have to imagine a collaboration of some sort would exist between AEW and the Japanese wrestling establishment, even a possible centered-on-Japan DLC? Using statistics and logistics, and perhaps a little Steiner Math, what are the odds of this even happening?
Feasibility for Japan DLC
Looking inward, Japanese wrestlers seem to have done quite well in AEW, with the Forbidden Door PPV ranked by Wrestling Observer Newsletter as 2022's Best Major Show. Despite the lack of silverware won by NJPW's elite, it has proven to be successful enough to warrant another upcoming PPV, something that may entice fans and the game's executives to consider future DLC.
Evidently, as well, the game is being created by none other than Yuke's, the Japan-based game company that made WWE's games for approximately two decades. While WWE almost never partnered with NJPW or AJPW to make content featuring the latter's wrestlers, this could be an avenue that AEW's game could tap into.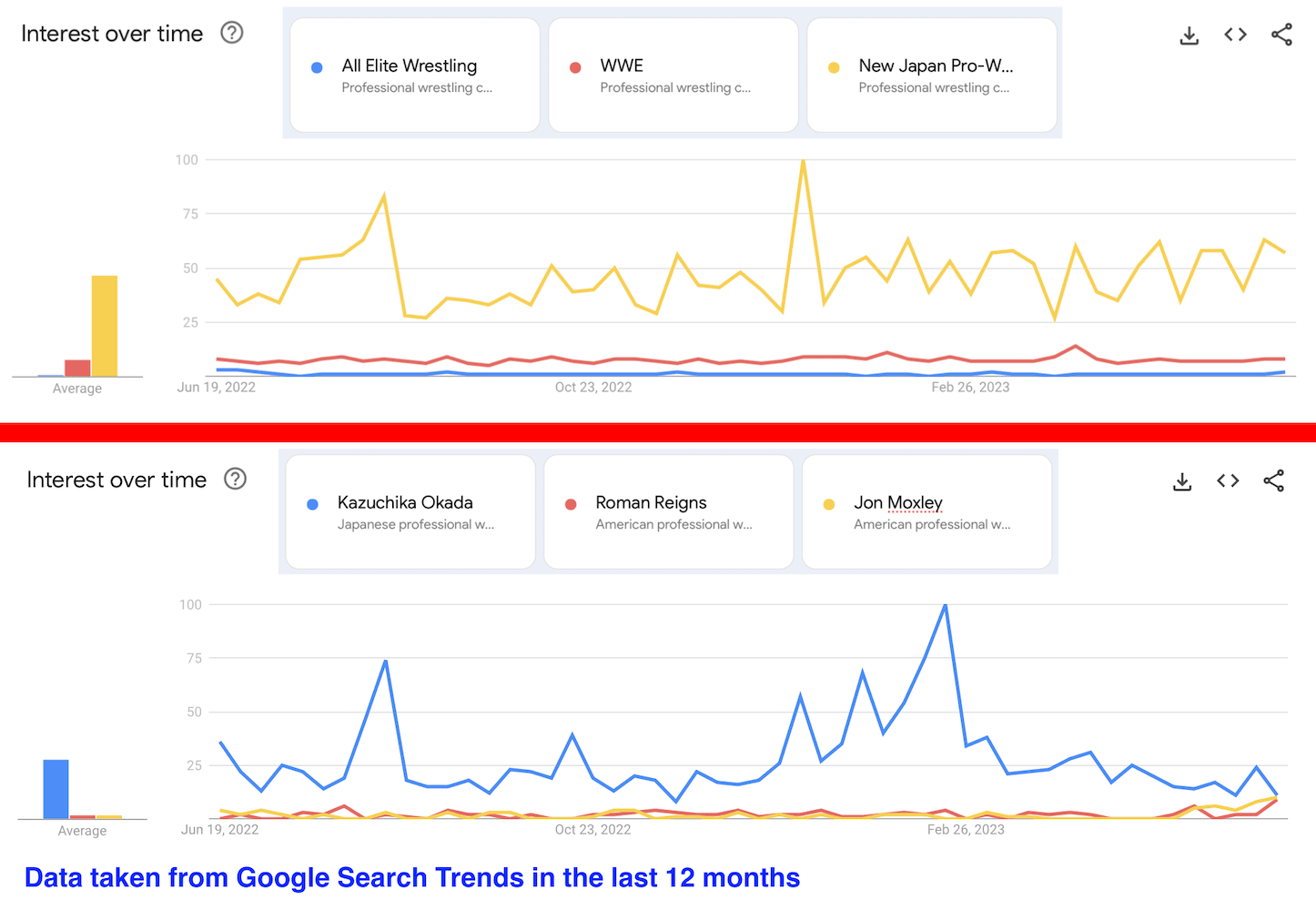 Despite this, skepticism still ought to be considered when looking at statistics. When looking at raw metrics on Google Trends, WWE is quite ahead of NJPW even in Japan itself, as the well-known and definitive global brand of pro wrestling. When comparing stars of both promotions, Kazuchika Okada appears to have the most success, with Jon Moxley and Roman Reigns a distant way behind them. These results are odd and should be taken with a grain of salt due to Google being quite vague, though perhaps is telling of how much interest there is across markets for both countries.
When considering all these variables, what would be the odds of all this happening in the first place? The best hope will likely be up to Kenny Omega's ambitions, who surprisingly enough even has citizenship in Japan, and is fluent in Japanese too. If Fight Forever becomes a success, don't count out the future motivations behind a man with such love for the country.
Potential Content
In some theoretical Japan DLC for Fight Forever, what would be AEW's main options for such a move? The inclusion of past wrestlers affiliated with them would likely be the most obvious move, such as Kazuchika Okada, Great-O-Khan/Jeff Cobb, and Hiroshi Tanahashi. While big cross-cultural names, and possibly even legends from Japan would be massive in terms of hype for the game outside the West, it might draw the ire of fans who wonder why current-roster members didn't make it in ahead.
To remedy that possibly, an arena or custom ring gear could be the trick, not too impractical to create, and (likely) less costly than making full-on models if money becomes a problem. There is precedent for this, seeing as for the past two decades, Jushin Thunder Liger's iconic ring gear has remained a part of WWE games, despite only ever wrestling one match for the company.

Other Outlandish Options
Beyond wrestlers, arenas, or custom attires for wrestlers, these other options may very well be considered:
Alternative box art (similar to these recently released ones)
Move animations
Entrance music
Weapon re-skins
Custom user icons/logos
Superstar heads (the classic feature from 2K14)
And lastly, though most unlikely, working with smaller Japanese companies like Dragon Gate, Stardom, or Noah
While Japanese wrestling isn't to everyone's taste, with the various ups and downs it's been taking over the years, it stands as a testament to the diversity of pro wrestling around the world. I may personally be antsy that there hasn't been a wrestling game with NJPW stars for years now (besides Fire Pro), but if anyone can bring it home, it's gotta be Omega or Khan to do so.
What do you think of this idea? A disaster waiting to happen, or a potential innovation for the upstart AEW series? Let us know in the comments below!