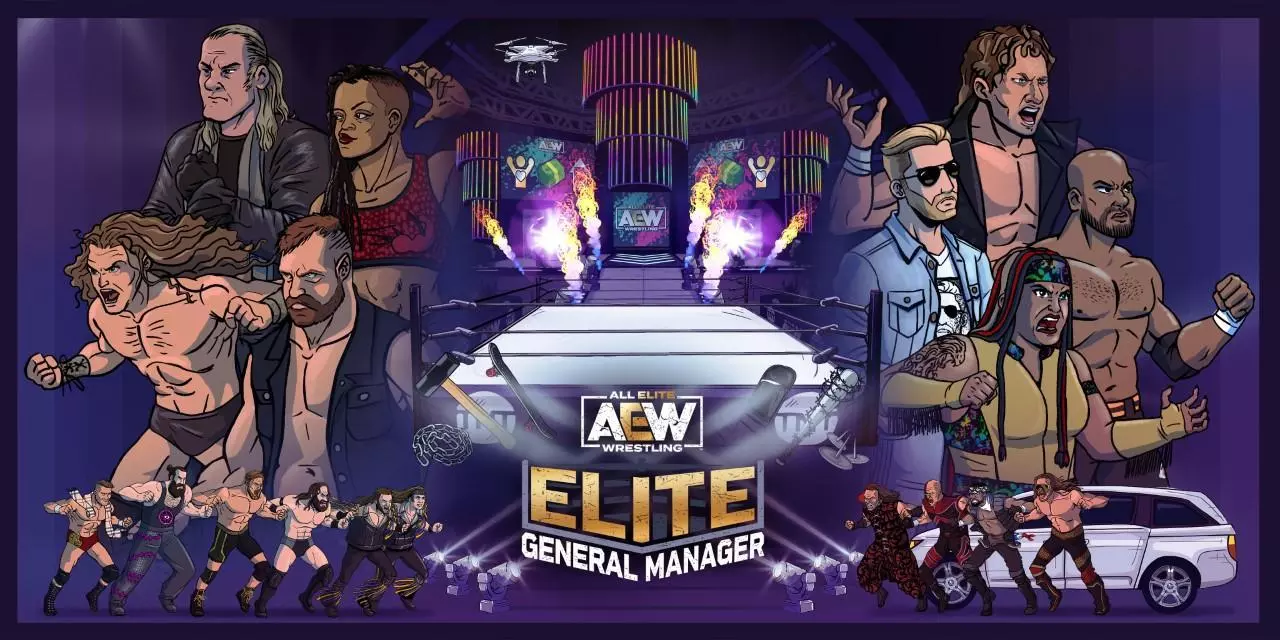 Just this week Episode 5 of the AEW Games 2.Show was released on Youtube.
The show hosted by Allie Bunny (with guests Aubrey Edwards and Evil Uno) had a lot of new information for both AEW Elite GM and the upcoming AEW console game.
In this article, we will be going over the new update coming to AEW Elite GM and an announcement regulating Twitch.
For anyone who wants to see the development update on the AEW console game, they can click here: AEW Console Game Development Update.
AEW Elite GM New Features
During the video, Allie and Aubrey revealed that Elite GM will receive a content update that will have the following features in the patch which will release on the week of September 14th:
A News and Event System to keep players updated on the game
New Wrestler Skin System (with new attires) for people's favorite AEW stars
New Storyline Missions for Players
New In-Game Challenges
New Avatars and Characters
New Finishers for Superstars
A Game Compendium which players can access to find out more about the AEW Superstars
New and Updated In-Game Segment Animations
One of the new In-Game Segments recently teased for the update was in a spa with AEW superstars relaxing in a hot tub.
AEW Elite GM New Update's Superstars
Also in the update, 13 new superstars will be added into the game for players to be able to draft to their rosters.
The superstars that will be added in this update are as followed:
Andrade El Idolo
Ryan Nemith
Malakai Black
Cezar Bononi
Brian Pillman Jr
JD Drake
Thunder Rosa
Wheeler Yuta
Shawn Dean
Julia Hart
Anthony Ogogo
Negative One
CM Punk
Ranked Multiplayer Mode
The game will also have a Ranked Multiplayer Mode where players can challenge other GMs online to see who can run the better wrestling show.
Every player will be given an Online rank which they are able to improve by defeating other players online.
The Ranks that players can earn are:
Steel
Copper
Silver
Gold
Platinum
Championship Belt System
Another new feature in the upcoming update will be a new Championship Belt System.
This system will allow the player to book championship matches by using in-game segments to set upcoming title matches.
This system will also allow new champions to be crowned in your game instead of the current champion only reflecting the current titleholder on TV.
New Wrestler Skin System
Going back to the Wrestler Skin System, Aubrey shared a screenshot showing off some of the new skins and attires that players can expect in the new update.
The screenshot that was shared, showed off 3 new attires for Brit Baker, Cody Rhodes, and Tay Conti.
Summer of Punk Season Pass
Along with all of these updates to Elite GM, Aubrey revealed a new season pass for the game centered around the recently debuted CM Punk.
This season pass is expected to be available to players around the same time the Elite GM update is released.
Unlike the other updates that will be free to all players, the CM Punk season pass players will need to purchase to have access to premium content.
The Season Pass includes for players who buy it the following:
A CM Punk Avatar
1 New Skin
1 New Finisher
1 New Gimmick (which Aubrey teased could be Ice-Cream related)
5 New Accessories
4 New Emotes
For anyone concerned that future stars may be locked behind paywalls, Aubrey stated that all of the AEW Superstars included in the game will be available to all players.
AEW Games Twitch Announcement
During the video, Allie and Aubrey were joined by the Dark Order's Evil Uno who had his own announcement to make to the fans.
The reveal was that AEW Games is going to have a joint channel on Twitch.tv that would include several of AEW's male and female superstars playing a wide variety of games.
This seems like a good idea to capitalize on a majorly of AEW's Superstars having separate Twitch channels with their own loyal fanbases.
Here is the video for anyone interested in taking a look for themselves
What do you guys think of the reveals at the AEW Games 2.Show Episode 5?
Leave your comments down below and thanks for checking into The Smackdown Hotel.