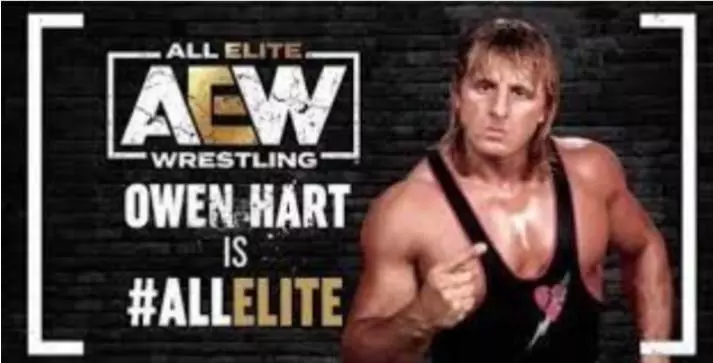 Over the years there are many wrestling superstars that fans want to be immortalized in modem wrestling video games. However, for one reason or another, they are never given this opportunity.
But AEW may have just hit the jackpot as news has come out a new star being signed to their legends roster.
So in this article, we will be going over who this new star is and why it is such as big deal.
Owen Hart Announced For Game's Legends Roster
The superstar in question turns out to be none other than the King of Harts himself Owen Hart who hasn't had a wrestling game appearance since Showdown Legends of Wrestling in 2004.
He also hasn't seen a WWE Games Appearance since WWF Attitude in 1999 where he had a special tribute in-game as he sadly passed away in May of the same year after falling from a harness attached to the roof in the Kemper Arena at the Over The Edge PPV.
Since then Owen's widow Martha Hart refused to let her husband appear in any future WWE video games or be inducted into the WWE Hall of Fame as she holds the company responsible for her husband's death and she doesn't want the WWE to profit off of his name or likeness.
AEW Signs Deal With The Owen Hart Foundation
Along with Owen being set to be in the AEW Console Game, the news would also come out from Gary Cassidy on Twitter that AEW had signed a deal with The Owen Hart Foundation where Gary's Tweet would say " #AEW has partnered with The Owen Hart Foundation to honor the legacy of the legendary Owen Hart - with an annual Owen Hart Cup Tournament launching within @AEW where the winner wins a called the Owen."
"The deal also includes merchandise/video game involvement."
This is definitely a huge deal for wrestling fans as many people have been asked for Owen to be featured in a Wrestling Game as they want to see his legacy celebrated and not just forgotten about.
But now Owen is set to make his first wrestling appearance in 17 years when he steps into the virtual wrestling ring of AEW.
However, this is also a huge deal for fans of the upcoming AEW Console Game as with the inclusion of Owen Hart, the game is looking to have one of the greatest wrestling game rosters of all time with the likes of CM Punk, Adam, Cole and Kenny Omega.
With this news, we also have a chance of seeing the whole Hart Foundation in the AEW Console Game as well since Bret Hart was on AEW TV to first reveal the AEW World Championship, and Brian Pillman Jr is currently receiving a small push up the card as of later.
This seems to be a good time for wrestling video games with this announcement and all 3 mainline wrestling games (WWE 2K22, The Wrestling Code, AEW Console Game) possibly on the horizon so wrestling game fans will definitely have a good amount of choice on which game they possibly would pour more hours into than the others.
What do you guys think of Owen Hart being announced for the AEW Console Game?
Leave your comments down below and thanks for checking into The SmackDown Hotel.