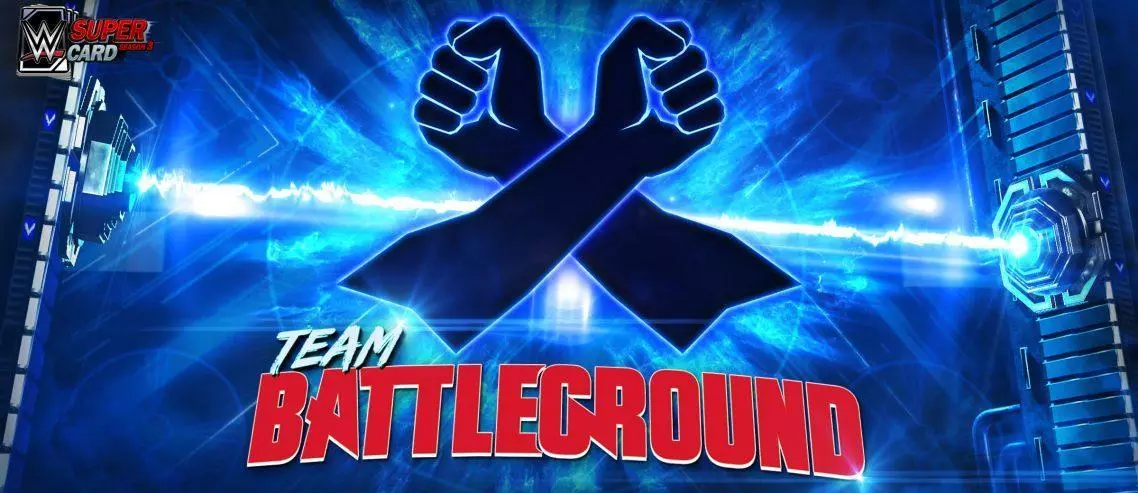 A new
WWE SuperCard Update
is now available for iOS and Android devices including the all-new
Team Battleground
(TBG) mode and the addition of
Packs
in the monthly log-in rewards. You can read all the official details below!
Team Battleground is a persistent mode that will let you battle team vs. team to earn awesome rewards and prove who has the best squad out there.

Getting Started
In TBG, team owners and generals can search for a battle whenever their teams are ready. Once two teams have been matched up, a random set of cards is drawn from the general pool. Each team uses a copy of that same set of cards for the battle, but the cards are distributed randomly among each member of the team until everyone has a deck of six
cards
.
As soon as the cards are dealt out, it's on to the 24-hour Prep Phase.
Prep Phase
During the Prep Phase, you need to strengthen your assigned cards by Charging them. Charge Cards function sort of like Energy cards in King of the Ring, but in TBG, when a Charge Card is applied, it permanently boosts a card's stats for the entire Attack Phase. You have a chance to get Charge Cards from any Draft Board (whenever you are actively in the Prep Phase of TBG) alongside your usual draft picks. Be sure to use them all, because unspent Charge Cards do not carry over between battles.
After the 24-hour Prep Phase to Charge your cards, it's on to the 24-hour Attack Phase.
Attack Phase
During the Attack Phase, your team will have to size up the opposing team to figure out who can take out whom based on the Charged-up strength of their cards (and yours!). Each opponent on the other team is worth different amounts of points, depending on the starting strength of their TBG decks (i.e. before Charging), and those points are earned for your team each time you defeat that opponent.
You can only attack any given opponent up to five times, and each team member has 15 total attacks in a battle. This means you and your teammates will need to strategize and maximize your attacks in order to take down the other team! The team that earns the most points wins the battle and some sweet, sweet rewards. Don't worry losers, you'll still get cool stuff too.
Rewards
Winning a battle will earn everyone on the team a Champion reward. Folks on the losing team get a Consolation reward based on the number of points they scored during the battle, so don't tap out early – even if you're behind! All rewards are based on your team's tier at the start of the battle and can include cards and Battle Points. Battle Points carry over between battles, so save them up to get even more cool stuff in the BP Store.
But Wait, There's More
In addition to Team Battleground mode, today's update includes updates to the player profile. Your PVP Stats, Ladder Rewards, Login Bonus, Cardbacks, and Attitudes are now in one spot for better convenience.
The Login Bonus rewards got some love, too! Starting in May, your monthly rewards will now include packs, which means more cards for everyone!
For more information on WWE SuperCard take a look at the Cards Catalog, Roster Page, and Guides & FAQs!