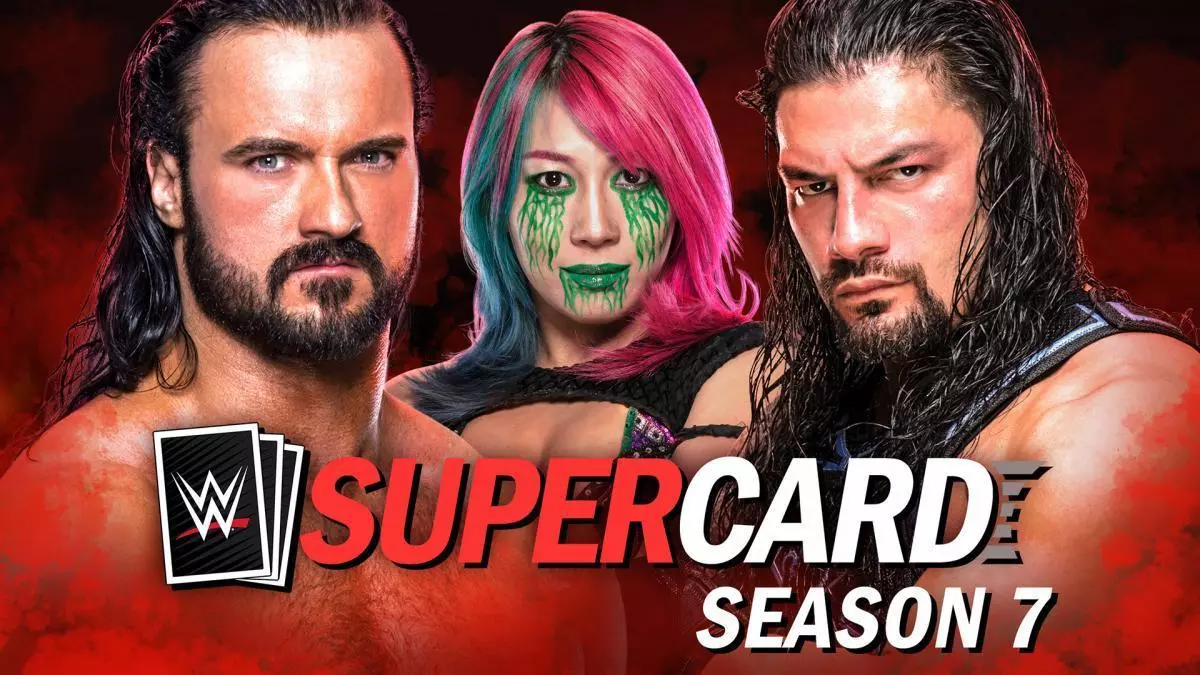 The Season 7 of WWE SuperCard is just around the corner and new details were revealed during the past several weeks. So in this article, we collect all available information about the upcoming Season 7. In general, the new season has two main vectors: updating the in-game progress system and improving gameplay mechanics.
Speaking of progress, the new season is going to re-establish the game's basic economy and achievements. Those are two spheres, that Cat Daddy Games didn't change much since the release back in 2014. But now we are looking forward to seeing a whole bunch of improvements that will be implemented with the new add-on.
WWE Supercard Season 7 will launch with 3 new Card Tiers: Bio-Mechanical tiers, Swarm and Behemoth. Also with the Season 7 release game modes are going to be connected with each other and success in one mode will help you to give you additional benefits in another.
And now let's talk about all features in detail!
Styles and Techniques in WWE SuperCard S7
Styles and Techniques are brand new and pretty crucial attributes of Season 7 cards. They bring a new layer of strategic gameplay into matches. SuperCard creators promise that those attributes can dramatically change the outcome of a given match-up, give increased value to cards sitting in the middle of the deck and provide additional customization.
What do you need to know about Styles?
Styles is a new Season 7 card attribute similar by its mechanic to Arrows Alignment
There are five total Styles: Grappler, Brawler, Striker, Highflyer, and Orator
Styles are constant characteristics predetermined for each superstar, not just cards. This fact means that Swarm and Behemoth Jeff Hardy will have the same Style.
Players cannot change the Styles of the card
Styles don't provide any improvement to the card by itself but it gives access to a unique set of techniques.
A card Style itself is predetermined and doesn't increase card stats. Every style has access to four different Techniques. Every card gets randomly one of those four Techniques.
But how it works and how it affects gameplay? Let's find out more about what Technique is!
What do you need to know about Techniques?
Technique is a new Season 7 card attribute. It works similarly to Signature.
Technique is not static and is rolled randomly when you receive a card.
It's possible to re-roll technique using credits similar to Equipment re-rolls
When you combine two cards with different Techniques, you will be able to choose one from those two Techniques.
Technique is an ability that can be triggered during the match.
There are six total Techniques: Chain, Overrun, Assist, Reversal, Inspire, and Defender.
Chain, Overrun, and Inspire trigger after card wins the game and provide different stat bonuses for your next card.
Assist triggers before the match and gain % of a stat from a random card in your deck.
Reversal triggers after loss and starts a different match-up instead of a lost one.
Defender triggers after the win and negates a portion of damage taken by cards in the next match-up.
Here's what Styles have access to what Techniques:
Grappler: Chain, Assist, Reversal, Inspire
Brawler: Chain, Overrun, Reversal, Defender
Striker: Chain, Overrun, Assist, Defender
Highflyer: Overrun, Assist, Reversal, Inspire
Orator: Assist, Reversal, Inspire, Defender
Super Moves in WWE SuperCard S7
Super Moves is another brand new gameplay mechanic, which can be pretty familiar to every experienced gamer. It is an extremely powerful ability that charges over a long time, explodes in the right spot, and likely to win you the game. Well, yeah, now we have Ultimates in WWE Supercard. Or Fatality, if you want so.
In the words of the in-game mechanic, Super Move is special additional Support. When it is charged you can wait till the right moment and use it before the match as the extra boost. Unlike Supports, this ability doesn't require special cards and is available for any player.
Super Moves gives a new field of strategy for casual and free-to-play players. Alongside Techniques and Styles, Super Moves make the deckbuilding process more interesting and deep.
What do you need to know about Super Moves?
Super Moves is a new mechanic, that works similarly to Supports.
During games in different game modes, the player will charge a Super Move meter.
The player can use Super Move in the next battle similar to the usage of Support.
Once the meter is full, Super Move activation gives +100% to all stats to the card(s) for the next battle.
Super Move may have different rules in different modes. In most cases, those rules dictate the number of cards affected by Super Move activation.
New SuperCoins Currency in SuperCard S7
Right now, while Season 6 is still relevant, WWE Supercard has a pretty sophisticated economy system with four different currencies, that can be obtained in different game modes and can be spent in four different stores to buy different cards including unique ones.
Season 7 is going to combine LP of PVP mode, BP of Team BattleGrounds, and Contracts of Money in the Bank into one currency called SuperCoins. LP, BP, and Contract stores also will be unified into a single store called SuperStore.
This fact means that player isn't forced to play pretty underwhelming Money in the Bank to get MITB event cards. Also, players without a team can obtain cards from the former Team BattleGround Store. Those changes give additional motivation for players to visit the game as soon as possible.
What do you need to know about SuperStore and SuperCoins?
PVP, MITB, and TBG modes will be rewarded with SuperCoins instead of previous currencies.
All of the player's LP, BP, and Contracts will be automatically removed and then mailed back to every player as SuperCoins with conversion specifics.
LP will be exchanged with a conversion ratio of 1:1, Contracts get a ratio of 2:1 and BP get a ratio of nearly 3:1
SuperStore is going to combine offers from TBG, PVP, and MITB stores.
Before the start of Season 7 every player can exchange LP, BP, and Contracts for SuperCoins with the additional chance of getting Summerslam '20 Battleground Promo card.
Ladder and Achievements System Updates
The Ladder and Achievements System is a pretty old part of the game. It was introduced a long time ago and barely changed throughout history. Usually, the new season adds only a few Top 8 Tier Achievements. The reward for new achievements is just 500 credits, which is just mediocre in the world of more than 1000 credit for any of the foundation packs.
Ladder objectives are all about "Play X games" with pretty absurd rewards, that was never relevant. For example, for playing 2000 games players will receive random Summerslam '18 female. Of course, everybody will be happy to get a Legacy card for such a tough challenge.
But now Cat Daddy Games realized the problems of the current system. With Season 7 they promise the total rework and improvement of that system Season 7. Let's take a closer look at all available information.
What do you need to know about the new Ladder and Achievements System?
Ladder and Achievements System will be seasonal and similar to Pass-type systems.
Ladder objectives will be focused on the games played over the season.
Achievements will be remastered and new ones will be added during the season. There is still no information about particular examples of Achievements objectives.
All existing Ladder and Achievements objectives will be reset with the Season 7 release.
All unclaimed rewards for Ladder and Achievements objectives will be lost after Season 7 debut.
Improving existing features in WWE SuperCard S7
Besides fundamental changes, Season 7 also brings us a lot of minor features, which are usual to every WWE Supercard season. It means the appearance of new card Tiers, new modes, new quests, and minor changes to existing formats:
WWE Supercard Season 7 will provide 3 new Card Tiers. Behemoth is confirmed to be the new Top Tier. It is followed by Swarm and Bio-Mechanical tiers.
With Season 7 release will have a Card Shakeup. That means that Season 4 cards (Beast, Monster, Titan, Wrestlemania 34, Goliath, and Summerslam '18) become Legacy and will not be allowed to use in all game modes except Wild and King of the Ring. Also, that means that Shattered will be the lowest tier available on the draft board and given to the new players, who successfully finished the tutorial.
Season 7 will also feature stat truncation, which was announced earlier this year. It means that all cards that break six digits will be shown in a short version. For example, a card with 110,124 POW will be shown as 110,1K, and a card with 2,348,329 CHA will be shown as 2.348M. Truncation does not mean that card stats will be reduced. You can always inspect the full number in Collection.
All PVP game modes now will be available On-Demand. In the PVP screen, the player will be able to choose their favorite PVP mode to play instead of being forced to play a particular one.
Starting with Season 7 draft board picks will be available in every game mode except King of the Ring.
Season 7 will introduce Collections. It is a new "Collect' em all" type of quest. Сollection is a set of up to six cards across a theme or tier. When all of them are collected, the player will get a reward.
All PVP modes will provide an Auto-play mechanic that will take control over the game in case of the player being inactive.
In late December new War Games and Women's War Games modes will be introduced.
Overview
WWE Supercard Season 7 should be really cool. Cat Daddy Games present a lot of improvements in card design, gameplay, and interface. New SuperStore and SuperCoins give access to more content for the casual player.
The remastered Ladder and achievements system is meant to attract players for daily visits. Styles and Techniques make deckbuilding more complex than just putting all your best cards into a pile. And Super Moves gives additional chance for synergy decks to be presented in meta.
But what about you? Are you looking forward to WWE Supercard Season 7? If so, what feature do you expect the most? Leave your impressions about the upcoming add-on in the comment section below!