From WWE.2K.com:
WWE 2K fans have always loved creating themselves, friends, and others in our creation modes. Last year, we made a giant leap in creation by introducing the ability to import custom images into WWE 2K15 for faces and logos via the WWE.2K.com Logo Manager. Now comes the next evolution with the WWE 2K16 Creation Studio app for iOS and Android mobile devices.
Using this free app, players will be able to take photos of their faces and easily upload the images to WWE 2K16. Once the image is in the game, it's easy to add the face to a created Superstar or Diva.
The app also works for any logo players would like to add for use on created Superstars, Divas, Arenas, Shows, and Championships.
The WWE 2K16 Creation Studio app will release shortly after the launch of WWE 2K16 on October 27th in North America, the 29th in Australia, and the 30th in Europe.
Check out a sneak peek of the app in action below and be sure to come back for a walkthrough of the app when it launches.
Fire up the app and choose to take a face or logo photo. Upload the image to the WWE 2K16 servers.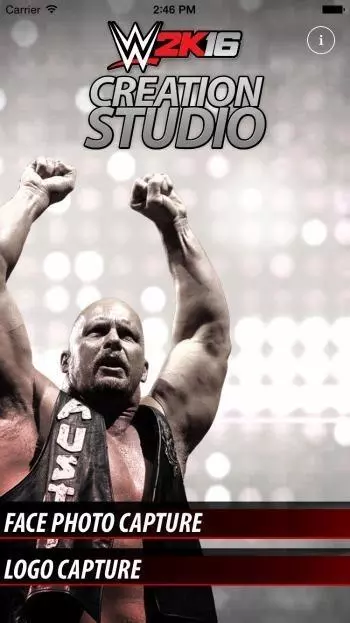 Download the image onto your console.
Start up a new custom Superstar or Diva and line up the face photo with the in-game markers.
Admire the results with your new custom Superstar or Diva!