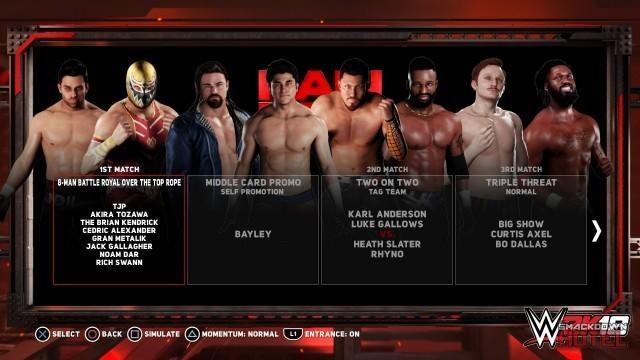 The first WWE 2K18 Patch (Update 1.03) has been released today on PlayStation 4, and is also coming soon to Xbox One and PC. Below you can find the patch notes and fixed issues. Please note that there have been more fixes than the ones officially announced by 2K, so we are updating this page as more fixes are discovered.
Create A Video / Highlight Reel
Added back the ability to choose from Cutscenes (like WWE 2K17), using the following: Entrance; Promo; Universe/Career. From these sub options you can choose the cast (wrestlers) for the video.
Fixed an issue where applying a filter on top of a video clip would make the editing options for that video clip become unresponsive (being unable to edit or delete the clip).
Gameplay
Fixed an issue where the referee fails to count pin falls or disqualifications in 8-man matches when entrances are enabled.
Fixed an issue where the referee doesn't count the pin in Tag Team matches when entrances are enabled.
Fixed the issue where the AI would climp the ropes, execute a Wake Up Taunt, but then not execute Diving moves.
Fixed an issue with the AI not using the Resiliency ability, and adjusted effectiveness of the Pin Escape attribute
Fixed an issue where commentators wouldn't call the "Hot Tag" correctly in Tag Team matches
Fixed issue with some moves not connecting properly, including Gargano's Corner Superkick, Sick Kick Combo, and Noam Dar's Running Enzuigiri.
WWE Universe Mode

Fixed the issue of not being able to add Women to stables in WWE Universe Mode
Fixed fatal crashes when starting a Promo in Universe.
Fixed crash that would occur when starting a user-created Self-Promotion Promo.
Fixed an exploit that allowed rivalries to occur between Superstars of different genders
Fixed not being able to select the "No Mercy" PPV theme when customizing a PPV.
Fixed Royal Rumble winners being booked into title matches for the World Title of both co-hosting shows at WrestleMania.
Fixed some cases where rivalries would break and lead to continuous One-on-One and Two-on-Two matches between the rivals (note: this patch will not retroactively fix a broken rivalry).
Fixed cutscenes where the wrong Superstars are shown, or where Superstars are swapped.
Reduced chances of Falls Count Anywhere matches being booked on Major Shows.
Increased chances of rivalries occurring that involve a champion; this should lead to more title matches occurring overall.
The Duration of naturally-occurring rivalries will now vary.

Non-title rivalries will be randomized between Short and Medium durations.
Title rivalries will be randomized between Medium and Long durations.
Road to Glory Fixes
Fixed issue where a MyPLAYER's qualification progress was reset in bad networking situations in Road to Glory.
Fixed issue with PSN wait time and matchmaking times in Road to Glory.
Miscellaneous
Fixed issue where Victory Scenes wouldn't work correctly when superstars had Alternative Attires
Fixed issue where Cesaro & Sheamus wouldn't enter together with their Tag Entrance when using Alternative Attires
Fixed issue with not being able to add a mask to Primo and Epico in when editing a WWE Superstar.
Fixed issue where player's Incoming Logos from Community Creations would not get removed from the server after being downloaded by the player.
The "Hell's Gate 2" move that was accidentally removed has now been added back to the game.
More miscellaneous fixes.
The DLC Entrance Motions, Movies and Music from the upcoming "NXT Generation" DLC Pack have been (accidentally?) added to the game.
Let us know in the comments if you find anything else that was fixed or if you have any other issues with the game.