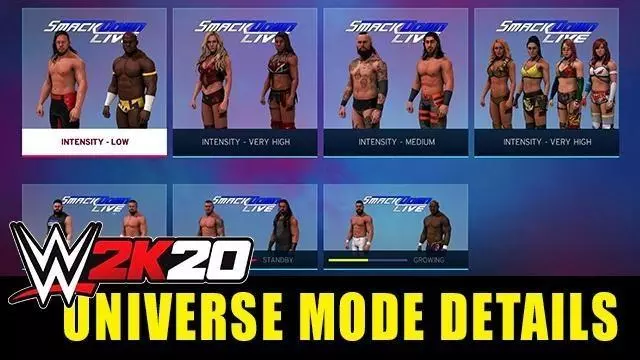 With less than a month to go to the release of WWE 2K20, finally the reveal of information has started to pick up!
After yesterday's announcement about Online Lobbies making a return to WWE Games, today we get details on the improvements that have been made to WWE Universe Mode in WWE 2K20.
WWE Universe is the game mode that gives players the freedom to create and manage their own company and shows, which has been a stable of the series since WWE SmackDown vs. Raw 2011.
List of WWE Universe Mode Improvements in WWE 2K20
Below you find the full list of new features and updates that 2K has added for WWE 2K20's Universe Mode:
The match limit for major and minor shows has increased from 7 to 9.
The match limit for Pay-Per-Views has doubled from 7 to 14.
The number of championship titles per major show has increased from 6 to 7.
Simultaneous rivalries on major shows have increased from 3 to 4.
Pay-Per-Views can be co-hosted by up to 3 major shows versus the previous 2.
Players have more freedom to delete and add promos and matches.
50 of the most-used cutscenes have been reshot with female mocap actors to look more authentic when female Superstars are used.
25 new cutscenes have been added.
3,040 new promo lines are in the game.
Custom Matches can now be included in Match Tables, along with new Mixed Tag Matches.
New Championship Match setting in Match Tables can be used to make certain matches a title match.
Main Event matches in Match Tables have been tweaked so that those match types are more likely to occur on the show (Example: Royal Rumble match at the Royal Rumble Pay-Per-View).
New rivalry content includes options such as low-intensity enemies making peace after a single Pay-Per-View or low to mid-intensity allies slowly falling out over several weeks instead of a sudden turn.
The overall menu flow has been streamlined to make it more accessible to those new to Universe Mode. All deeper options are still available for experienced players.
While these changes don't seem to be groundbreaking or game-changing, they're all nice additional touches to give players a bit more freedom to create their Universe.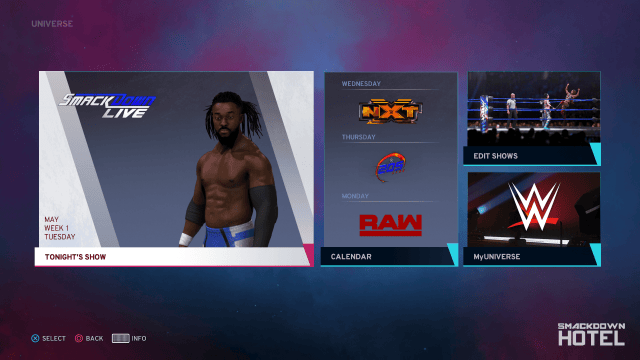 Is there a Draft Mode in WWE 2K20 Universe?
By looking at the details revealed by 2K, unfortunately, it looks like the Draft will not be a feature in WWE 2K20 Universe mode.
We are surprised to still not see the re-introduction of a proper Draft System in WWE Universe, considering that the Draft and Superstar Shake-ups have become prominent again in WWE programming in the past few years, and it's been a very requested feature by the players.
We hope to see the Draft come back soon in the series! However, for now, you can always manually reshuffle your WWE Universe rosters at anytime.
Is GM Mode in WWE 2K20?
There will still be no GM Mode in WWE 2K20. The General Manager Mode from previous SmackDown vs. Raw games is always a very requested feature from the community, but unfortunately it did not make the game this year either.
It also looks that WWE 2K20 Universe will not feature any other elements that were part of the GM Mode in the past, such as a Match Rating system or Show Ratings.
We think these GM Mode elements, along with a Draft/Exchange Superstar feature, could be implemented in WWE Universe Mode without the need of having a separate mode. After all, the other tools, logic, world simulation and storyline progression aspects are all already there in Universe.
Universe could then simply offer to the player the optional choice to control only one Brand, essentially making it become a GM Mode where you can compete against other brands.
We suggested this idea to 2K in the past and we hope to see it happen in the future.
New Roster Confirmations for WWE 2K20
In addition to the details on the WWE 2K20 Universe Mode, new Superstars and Women have been confirmed for the WWE 2K20 Roster from today's screenshots.
Here is the list of the newly confirmed characters:
Ali
Apollo Crews
Ember Moon
Kairi Sane
Kofi Kingston
Shelton Benjamin
Shinsuke Nakamura
Sonya Deville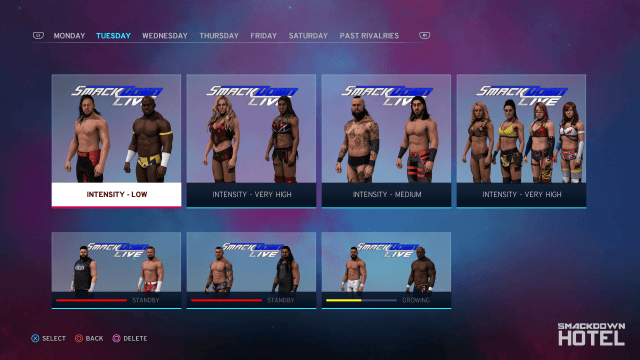 ---
For all the information on WWE 2K20 check out the WWE 2K20 News Section, and for an updated list of all the confirmed Superstars for the game, you can visit the full WWE 2K20 Roster Page.
WWE 2K20 will be released on October 22, 2019, for PlayStation 4, Xbox One and Windows PC.