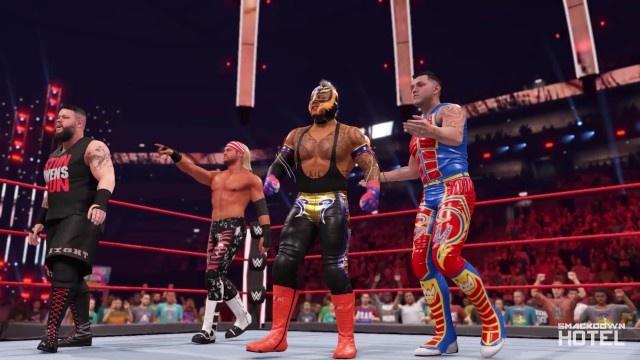 While we are gearing up for more official details from 2K regarding WWE 2K22 since the Hit List trailer looked promising.
One new game mode that was rumored for months which was confirmed in the trailer was the addition of MyFaction mode.
This mode was compared to the NBA 2Ks MyTeam mode, where players would try and build the best basketball team they could.
But since the Hit List trailer, people have been wondering what the MyFaction mode will be like and would it include microtransactions.
Recently a representative from 2K has come out with more details about the new mode and if any microtransactions will be included in the new MyFaction mode.
So in this article, we will be going over all of the confirmed details about MyFaction including if it will have microtransactions.
MyFaction Offical Details
As said before, the new MyFaction game mode was announced during the WWE 2K22 Hit List Trailer.
This seems to be WWE 2K's take on the popular NBA 2K's game mode MyTeam mode which centered around buying cards to build their all-star NBA team.
MyFaction seems to be going in the same direction as players are tasked to build their ultimate wrestling factions that can rival the likes of the NWO, the Hart Foundation, D Generation X, The Four Horsemen, and the New Day.
As part of this new mode, players will be able to collect, manage, and upgrade superstars from every era of WWE, where they are then able to take them into battle in a host of brand new game modes and challenges.
With the known ability to be able to upgrade your superstars, this does mean that players won't need to specifically search for the top-rated superstars to build a dominant faction, as players could easily take their favorite low-level superstar and upgrade them over time to the level of a Roman Reigns or Brock Lesnar.
As for the way that players can upgrade their superstars by playing matches, they can earn what is being called MyFaction Points, which is the currency used to purchase items in the game mode.
2K has also revealed that they have plans to host weekly events for players to get additional rewards and also to keep the mode updated as they want to have the mode be up-to-date all year long.
This could lead to new superstars added to the mode, additional attires for existing or new superstars, or maybe even new creation parts like the ones offered as rewards in Road To Glory.
Will MyFaction Include Microtransactions?
While this new mode does sound promising, some people are questioning the mode about if it is more towards players having to buy VC rather than playing matches.
However, this is something that 2K have said isn't the case at all as during a media call before the release of the Hit List Trailer, a representative of 2K Sports revealed that:
"MyFaction exists as a single-player game mode, it's also the only mode in WWE 2K22 where purchasable Virtual Currency or VC will come into play."
"It's super important to note that VC does not offer any sort of competitive advantage or put players in a play-to-win situation."
"The items you purchase with VC can also be purchased with MyFaction Points earned via gameplay."
This is actually an interesting note as if the VC doesn't offer players any kind of competitive edge of affecting the other players, then this points to it being an offline mode just facing off against AIs.
To some people, the mode may not have the same appeal as if it was an online mode competing against other players around the world.
It's important to remember that at the moment, 2K hasn't confirmed whether MyFaction will be an on or offline mode as they have only said that it will be a single-player mode.
Another good thing from this is that the other game modes such as MyRise or MyGM won't include any paid VC which will help with people speculating that they would need to buy VC to boost their budget and give all players a level playing field.
At the minute, this does seem like a good move from 2K as some people were expecting the worst-case scenario when it came to microtransactions with the delayed development time and 2K21 getting canceled last year.
What do you guys of the new details about the MyFaction Mode?
Leave your comments down below and thanks for checking into The Smackdown Hotel.