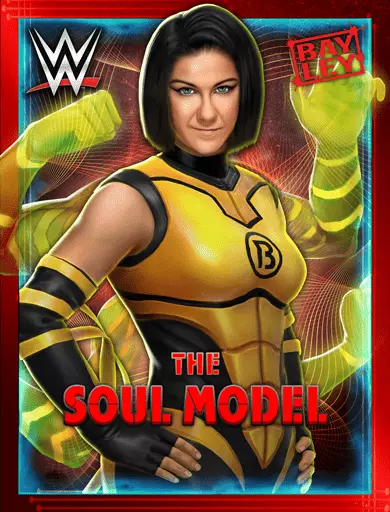 Bayley '21 is featured as a playable character in the WWE Champions Roster in the Modern Era.
Bayley '21 is classed as a Focused Powerhouse in the game.
PROFILE INFO
Gender

Female

Nickname / Version

The Soul Model

Era

Modern Era

Superstar Class

Powerhouse

Ability Style

Focused

Superstar Tier

A Tier

Promoter

Trainer

Alternative Versions

BayleyBayley '17Bayley '20

Real Life Profile

Bayley
In her new mutated state, Bayley's soul shines brighter than ever, manifested in powerful ethereal arms that are a living extension of her tenacity and fighting spirit (and they allow for even more hugs)! No longer content to be solely a Role Model, she has ascended to the role of Soul Model!
SPECIALS: Mutated Running Clothesline, Mutated Diving Double Axe Handle, Mutated Running Dropkick, Mutated Multi-Arm Bayley-to-Belly Suplex, Mutated Spinebuster, Mutated Running Clothesline
FINISHERS: Mutated Multi-Smash, Mutated Multi-Armbar
TAG LINKS: Modern Era, WWE Mutants, Bayley & John Cena, Women Superstars, WrestleMania 35, WrestleMania 36