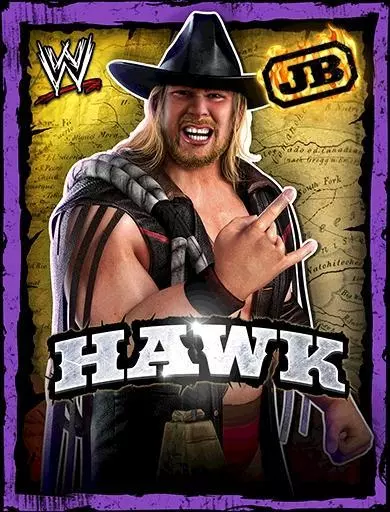 Justin Bradshaw '97 is featured as a playable character in the WWE Champions Roster in the Attitude Era.
Justin Bradshaw '97 is classed as a Chaotic Trickster in the game.
PROFILE INFO
The Superstar now known by the name JBL began his WWF career as the tough Cowboy Justin "Hawk" Bradshaw. Managed by Uncle Zebekiah, the two would brand fallen opponents with the letters "JB" after every match. Bradshaw would go on to become one of the WWF's greats, as he is the WWF's 10th Grand Slam Champion. The accomplishments don't stop in the ring though, as Bradshaw is a successful businessman that has published works on finance, runs a non profit organization, and has been a guest analyst on financially-focused TV shows. After retiring from sports entertainment, Bradshaw now sits at the announcers' table during SmackDown Live as color commentary.
SPECIALS: Last Call, Big Boot, Eye Poke, Flowing DDT, Elbow Drop, JBL Bomb
FINISHER: Clothesline From Hell
TAG LINKS: Attitude Era, Acolytes Protection Agency