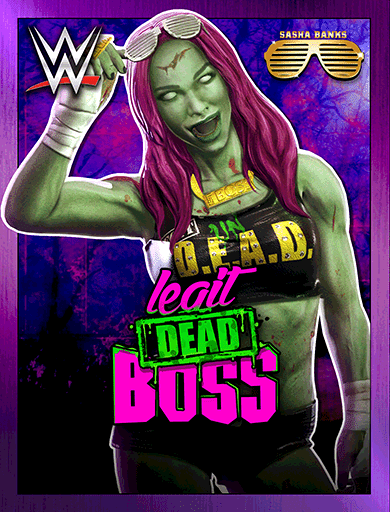 Sasha Banks '17 (Zombie) is featured as a playable character in the WWE Champions Roster in the Modern Era.
Sasha Banks '17 (Zombie) is classed as a Focused Trickster in the game.
PROFILE INFO
Gender

Female

Nickname / Version

Legit Dead Boss

Era

Modern Era

Superstar Class

Trickster

Ability Style

Focused

Alternative Versions

Sasha BanksSasha Banks '17Sasha Banks '19

Real Life Profile

Sasha Banks
Based off her WWE Zombies 2017 figure.
Throughout the WWE Universe, Sasha Banks is known as the legit BOSS and now, as she crosses over to the other world, she is the reigning BOSS supreme, legit zombie style.
SPECIALS: Snapped Bones Suplex, Putrid Forearm Smash, Gruesome Dropkick, Mausoleum Kick, Rotting Clothesline, Decapitation Takedown
FINISHER: Blood Bank Statement
TAG LINKS: Modern Era, Zombies, Zombies 2017-2018, Zombies 2018, Women Superstars, WrestleMania 35, WrestleMania 36