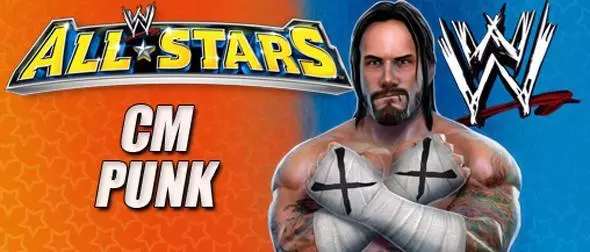 CM Punk is featured as a playable character in the WWE All Stars Roster, as part of the WWE Superstar roster.
PROFILE INFO
Gender

Male

Roster

WWE Superstar

Alternate Attire

Yellow & Black; Black & Orange

Real Life Profile

CM Punk
Height: 6-foot-1
Weight: 222 pounds
From: Chicago, Illinois
Signature Moves: Straight Edge Clothesline, Punch Kick Combo, Punch Knee Bulldog, Step Up Enzuigiri
Finisher: Go To Sleep
WWE All Stars Class: Brawler

The Straight Edge Superstar, CM Punk, is one of the most complex Brawlers in WWE All Stars and one of the most dangerous. Drawing on his Muay Thai background, Punk can string together an enormous variety of punch and kick combos, with each step of the chain having multiple branch points, making it very difficult for an opponent to know when the combo is over or where it can be interrupted. Add to this Punk's ability to chain his strike combos into a quick DDT or neckbreaker and you have a potent combination. The key to success with CM Punk is to not fall into repetition. Always change up the order of your strikes to keep the opponent guessing!
SCREENSHOTS
ENTRANCE & SIGNATURE MOVES