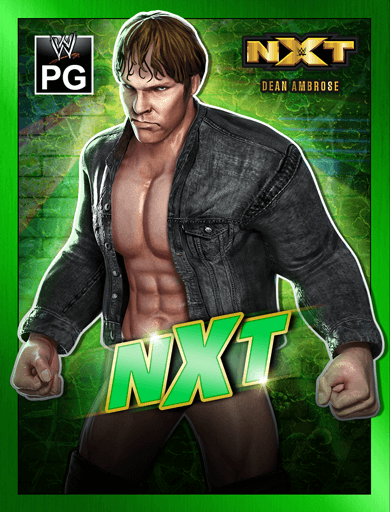 Gender

Male

Nickname / Version

NXT

Alternative Versions

Dean AmbroseDean Ambrose '13Dean Ambrose '16

Era

PG Era

Superstar Class

Technician

Ability Style

Defensive
Unpredictable, wily, and incredibly outspoken, Dean Ambrose is a competitor who stands out in NXT. Never afraid to take risks, Dean Ambrose uses his impulsive nature to keep his rivals in the ring guessing while risking his body to give the audience something they've never seen before. Already causing quite the stir in NXT, Dean Ambrose looks to take on all-comers in his quest to become one of the greatest WWE Superstars to ever lace up a pair of boots.
SPECIALS: Double Underhook Suplex, Tornado DDT, Spike Piledriver, Lou Thesz Press, Diving Elbow Drop, Midnight Special
FINISHER: Moxcutter
TAG LINKS: PG Era (Formerly Modern Era), NXT