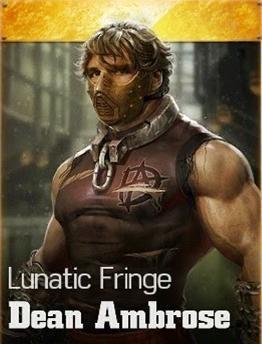 Dean Ambrose (Lunatic Fringe) is featured as a playable character in the WWE Immortals Roster.
PROFILE INFO
Gender

Male

How To Unlock

Challenge Reward

Superstar Tier

Gold

Alternative Versions

Dean Ambrose (Back Alley Brawler)

Real Life Profile

Jon Moxley / Dean Ambrose
Lunatic Fringe Dean Ambrose (Gold)
Release Date
Base Stats
June 19, 2015
Damage: 1,000 - Health: 950
Availability
Signature Moves
Challenge Reward
1. Furious Smackdown
2. Psycho Possession
3. Dirty Deeds
Price
-
Special
Lunatic Rage - When Ambrose drops below 30% HEALTH, he deals 300% increased DAMAGE and takes NO DAMAGE from basic attacks. This state lasts for 20 seconds. WARNING: While in this state, Ambrose cannot tag out.