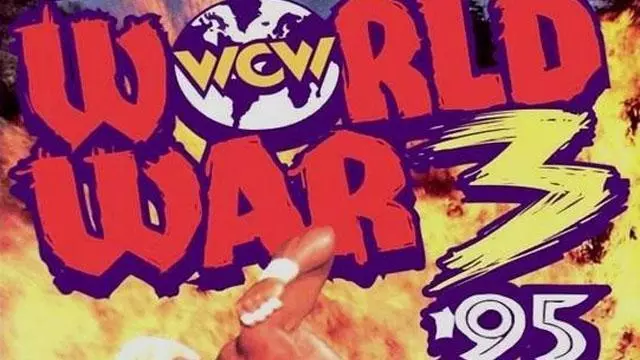 WCW World War 3 1995 was a Pay Per View event produced by World Championship Wrestling, which took place on November 26, 1995, at the Norfolk Scope in Norfolk, Virginia.
It's the inaugural edition of the World War 3 event series.
The event had an attendance of 12,000 fans. The main event of the show was 60-man World War 3 match.
Below you can find the full match card and results of WCW World War 3 1995, and more information about the event.
Event Info
WCW World War 3 1995 Results
WCW World Television Championship Johnny B. Badd (c) defeats Diamond Dallas Page to retain the title
Taped Fist Match Big Bubba Rogers defeats Jim Duggan
Bull Nakano & Akira Hokuto defeat Mayumi Ozaki & Cutie Suzuki

WCW United States Heavyweight Championship

Kensuke Sasaki (c) defeats Chris Benoit to retain the title
Lex Luger defeats Randy Savage
Sting defeats Ric Flair

WCW World Heavyweight Championship 60-man World War 3 Match

Winner: Randy Savage, who wins the vacant title
Participants: Sting, One Man Gang, Scott Armstrong, Steve Armstrong, Arn Anderson, Johnny B. Badd, Marcus Alexander Bagwell, Chris Benoit, Big Train Bart, Bunkhouse Buck, Cobra, Disco Inferno, Jim Duggan, Bobby Eaton, Ric Flair, The Giant, Eddie Guerrero, Hulk Hogan, Mr. JL, Chris Kanyon, Brian Knobbs, Kurasawa, Lex Luger, Joey Maggs, Meng, Hugh Morrus, Max Muscle, Scott Norton, Paul Orndorff, Diamond Dallas Page, Sgt. Buddy Lee Parker, Brian Pillman, Sgt. Craig Pittman, Lord Steven Regal, Scotty Riggs, Road Warrior Hawk, Big Bubba Rogers, Jerry Sags, Ricky Santana, Kensuke Sasaki, The Shark, Fidel Sierra, Dick Slater, Mark Starr, Stevie Ray, Sting, Dave Sullivan, The Taskmaster, Super Assassin #1, Super Assassin #2, Booker T, Squire David Taylor, Bobby Walker, VK Wallstreet, Pez Whatley, Mike Winner, Alex Wright, James Earl Wright, The Yeti, The Zodiac