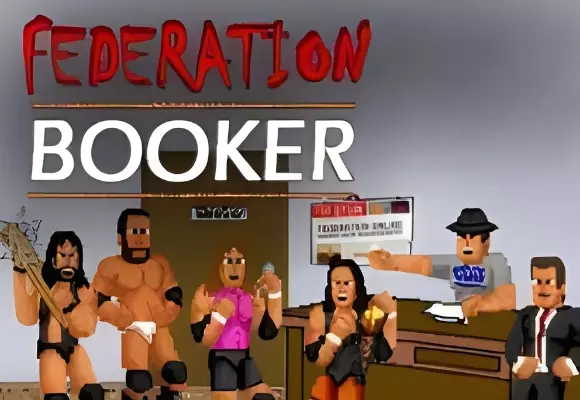 Ever Wanted To Run Your Own Wrestling Show? The Book Stops Here!
Following on from Federation Online, Federation Booker, MDickie's 3rd overall wrestling game allows players to book their own shows and matches, whilst still retaining many of the previous game's features. Featuring a large 250 character roster.
Exhibition
Preset can be Normal, Submission, Best of 3, Ironman, Street Fight, First Blood, Super Enforcement, Shoot Fight, Handicap, Triple Threat, Royal Brawl, 24/7 Challenge, Tag Team, War!, Team Confrontation, or Confrontation.
Up to 20 wrestlers & 5 Referees can appear on screen at once.
Aim can be First Fall Wins, Best of 3, Most in Time Limit, Elimination, Last Fall Wins, or Confrontation.
Rules can be Normal, Strict, or Hardcore.
Format can be Individuals, Teams, or Tag Teams.
Pins, Submissions, Knockouts, Bleeding, and Injuries are all optional ways to stop a match.
Championships can be Ignored, Acknowledged, Crown either a New World, New Tag, or New Inter Champion, or a New Booker, or you can fight for a $100,000 Prize, or even a Million Dollar Prize.
Time Limits can be None, or up to at maximum 60 minutes.
Cage and Blast & Gas Times are all optional.
Roster
Federation Online
Booker
Whack Oz
Whack Ax
Ackrite
Baby Bull
Chief Truro
Cody Savage
Bherlaine
Monica
Midwinter
Linm Neeson
Ewan Trust
Bob Orson
Woodrow
Miss Viola
Wild T.A.
Outlaw Eaton
Endon Sezzor
Shank
Menace
Acer
Merc
Gus Hardball
Dyny
Powermonger
Infinite Best
Widow
Cast
Mama Pearl
Stormer
Chamberlaine
Flick Thug
Especial
Referee (FO)
All American Wrestling
Gabriel
Edge
Monster Burns
Kyle Forns
Mad Rocker
Mad Crasher
The Hornet
Vincent Taylor
Steve Whats
Hard Hammer
Kirk Ranger
Brock Lazer
Bang Bang
Shannon Taylor
Sue Taylor
Menacing Mark
Kancer
Jerry Ko
General Bangor
Perry Class
Andy Aniston
Verne Barrett
Mr. Benjamins
Dominator
Brent Wishbone
Matt Hancock
Jay Hancock
Lola
Mike Shawshot
Tyrone Buck
Glitter Gaul
The Big Boom
Warchild
Dom Slater
Tracy Kildare
Drew Durham
Crispin Noir
Teddy Lust
Tawny
Mitch McNorris
Ernest Banner
Les Rosteen
Bobby Weiner
Referee (AAW)
United Kingdom of Wrestling
Scally
Shipwreck
Boomtown
Blunt
Hakk
Needles
Buddy Buchanan
Chicago Brunt
Shane Alexis
Driver 88
Jimmy Thames
Nikky Bold
Adrian Joel
Geno
Joe Scarman
Romano
Cody Flash
Moe Hardy
Full Force
Oli Danzer
Okey Sesame
Joey Thunder
Ian Duplex
Buster Gear
Billy Awful
Lance Bird
Shadow Runner
Her Dandi
Clayton Moore
Mavis O'Neil
Danny Smith
Lethal Grimshaw
Ali Bhuna
Referee (UKW)
Rising Sun Puroresu
Anshiro Inuri
Mutox
Master Chrome
Tower Misawa
Venom
Machine Muiro
Kappa Koji
Van Guard
Boe Slater
Gold Boulder
Hashiro
Clint Hardrock
Thunder Tiger
Grand Kensuke
King Luck
Blue Wonder
Dream Dragon
Huvi Gerrado
Helix
Libby Rator
Chico Santana
Stu Steinberg
Rock Steinberg
Stan Bassman
Turrican
Bloodlust
Gore
Kid Bowya
Yu Yu Shinobi
V Rama
Minnow Masira
Cyprio Warr
Dragon Kimuri
Mark Fantastic
Rojch Blade
Demento
Power Hawk
Referee (RSP)
Referee (Brown)
Wrestling Schools
Coach Emerson
Coach Wallace
Geoff Ulam
Benjo
Mark Jaxx
Stroobe
Lucy Dolittle
Neil Kristian
Sonne
Nickz
Hanzer Padune
Wilder Murtha
Riku Mikkonen
Gary Rennie
Westkid J
Chris Awesome
Nicola Mumby
Ricky Ellis
Dan H
Crimson Fury
Liam Peart
Nova Loaf
Destructive M
Damien Kross
Tommy Laurent
Pavel Castro
Danny Dreamer
Sol Tanson
Nightmare
Silk
Scott Banks
The Alex
Forsaken
Max Easton
Johnny Blaze
Luke Reeve
Dean Nair
Kip Sanders
Kev Vessey
Channy
Eddie Arnott
Leon O'Mahoney
Rico Suave
Brison Albright
Wally Gerrard
Kim Wallace
Corbin Winget
Mudpie Scorsese
Mike Texada
Kerry Balbero
Remo Bolster
Lost Angel
Chris Ballis
Rory Townsend
Den Marauder
Boston Blufly
Rip Gallant
Chris Caine
Austin Mitchell
Hardcore Gnome
Vince Haas
Billy Datam
Eddie Cagney
Blitz
Sonny Dearden
Hunter Grey
Karen Dippity
Hollywood
Brutus Bones
Rocko Metavira
Shep Duggan
Ryan Pippin
Governor Jay
Quincy
Mack Bison
Lynx
MDickie
Hollywood Agent
Asshole Ravine
Samantha Bust
Slam Shady
Pussy The Clown
Daddy Cool
Big Poppa
Sharif Dibley
Tim Crows
Silverstone
Barry Cuss
Ardel Schwartz
Bad Blubber
Vic Acevida
The Brute
Madman
Deceased
Texas Twister
Clive Hanson
Beau Bella
Oje
Baby Davey
Yo Han San
Giant Maurice
Cheats & Secrets
Press Ctrl and keys 1-6 (0 for Deceased) at match setup to use a different promotion!
Press Left ALT + X to trigger a random explosion
Press Ctrl + Q/W at the Calendar screen to change the week
Press Ctrl + A/S at the Calendar screen to change the month
Hold B throughout the news to block all random events
Press Ctrl + P on the production screen to automatically complete a production
Press BACKSPACE on the production screen to reset a production
Press Ctrl + A at the production screen to acquire ALL productions
Press U at the End of Night screen to stop your wrestlers moaning about not being used
Hold down Space whilst proceeding to the news to force an inter-promotional challenge.
Press E to unlock the Editor!!!
Press Ctrl + C over a fed at the Editing screen to reset all salaries to what they deserve to be (good for "means testing" after creating new rosters)
Press DEL after the final bell to restart a match!
Press LEFT SHIFT + T to turn the currently controlled wrestler face/heel
If you're part of the wrestling union then wrestlers from other feds can interfere in your matches!
At the UK and Japan Tour PPVs, if you're part of the wrestling union then wrestlers from those parts of the world may appear during your matches!
Whilst the full entertainment display is on hold down the Grave key for yet more data
Press Ctrl + E + A during a match to empty the arena...