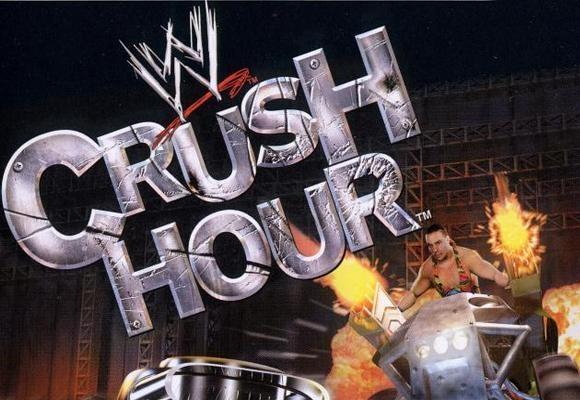 Game Series

WWE Games

Release Date

March 17, 2003

Platforms

PlayStation 2GameCube

Publisher

THQ

Developer

Pacific Coast Power & Light
WWE Crush Hour features more than 30 fantasy personalized superstar vehicles, including Hollywood Hulk Hogan's sports car, Big Show's big rig, the Rock's luxury sports car, and Stone Cold Steve Austin's jacked-up monster truck. Players will be able to compete in multiple match types, including ladder and hardcore matches modified for insane car combat.
World Wrestling Entertainment fans can also annihilate opponents with multiple weapons customized for each vehicle, or grab power-ups to really put the hurt on their foes. The driving physics allow quick 180-degree turns, strafing attacks, and pinpoint cornering.
World Wrestling Entertainment's very own Jim Ross gives on-the-fly commentary, and players will be able to taunt opposing drivers with signature phrases from their favorite superstars.
Main Features:
More than 30 WWE superstars bring their Super Cars to bring the pain to their opponents in the streets -- 12 dangerous areas filled with traps and obstacles

Multiple match types, like ladder and hardcore matches, specially modified for insane car combat

Annihilate your opponents with powerful customized weapons and incredible car combat physics

Fun on-the-fly commentary from the WWE's own Jim Ross

Roster:
The Big Show (Big Rig)
Billy Gunn (Concept Car)
Booker T (SUV-Pickup Truck Hybrid)
Brock Lesnar (Armored Truck)
Bubba Ray Dudley (Converted Pickup Truck)
Chris Benoit (Modified ATV)
Chris Jericho (Muscle Car)
Chuck Palumbo (Concept Car)
Edge (Futuristic Sports Car)
Jeff Hardy (Wood-Paneled Station Wagon)
Kane (Modified Muscle Car)
Kurt Angle (Patriotic SUV)
Matt Hardy (Wood-Paneled Station Wagon)
Rikishi (Steamroller)
Rob Van Dam (4-Wheel ATV)
The Rock (Luxury Sports Car)
Stacy Kiebler (Import Tuner)
Steve Austin (Monster Truck)
Test (Converted Pickup Truck)
Triple H (Armored ATV)
Trish Stratus (German Luxury Car)
The Undertaker (3-Wheel Chopper)
William Regal (British Roadster)
Unlockables:
Bradshaw (Armored Fire-Truck)
Christian (Futuristic Sports Car)
D-Von (Converted Pickup Truck)
Hulk Hogan (Sports Car)
Kevin Nash (Big Rig)
Lita (Racing Car)
Ric Flair (Sports Car)
Stephanie McMahon (German Luxury Car)
Vince McMahon (Super-Stretch Limousine)