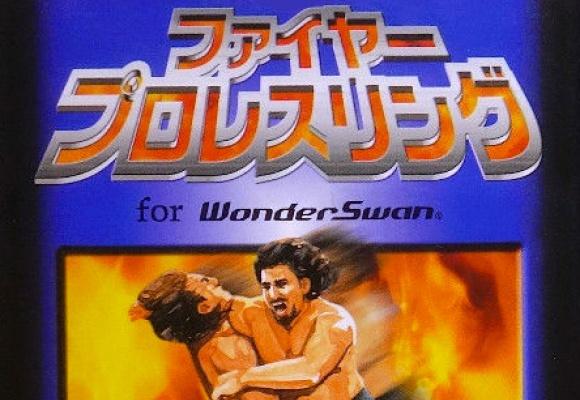 Game Series

Fire Pro Wrestling

Release Date

August 31, 2000

Platforms

WonderSwan

Publisher

Kaga Tech

Developer

Shimada Kikaku
Fire Pro Wrestling dropkicks into the WonderSwan! With a slew of modes and 132 playable characters at your disposal, Fire Pro seeks to push the WonderSwan to the limits!
Game Modes
Master of the Ring
This is Fire Pro's version of Create a PPV mode seen in the SmackDown games. Here, you organize events for the promotions that are in the game.
One Night Match
The Exhibition mode where you can create your 1v1 dream matches.
One Night Tournament
This allows up to 16 wrestlers to participate in a single elimination tournament.
Open League
Allows up to four wrestlers to compete in this Round Robin-style tournament.
Elimination Match
The 5v5 team match where the first team to defeat all 5 opponents wins.
Edit
The famous create a wrestler mode featuring 4 exclusive wrestlers.
Network Battle
Compete against a friend in local multiplayer, or fight against the world in online matches.
Roster (Real Names only)
New Japan Pro Wrestling
Tatsumi Fujinami
Shinya Hashimoto
Masahiro Chono
Keiji Mutoh
Kensuke Sasaki
Shiro Koshinaka
Kengo Kimura
Kazuo Yamazaki
Hiroyoshi Tenzan
Satoshi Kojima
Yuji Nagata
Manabu Nakanishi
AKIRA
Jushin Thunder Liger
El Samurai
Koji Kanemoto
Shinjiro Ohtani
Kendo Ka Shin
Tatsuhito Takaiwa
Osamu Kido
Dr. Wagner Jr.
All Japan Pro Wrestling
Mitsuharu Misawa
Kenta Kobashi
Toshiaki Kawada
Akira Taue
Jun Akiyama
Takao Omori
Yoshihiro Takayama
Stan Hansen
Big Van Vader
Johnny Ace
Mike Barton
Yoshinari Ogawa
Masahito Kakihara
Tsuyoshi Kikuchi
Hiroshi Hase
Masanobu Fuchi
Frontier Martial Arts Pro Wrestling
Hiromichi Fuyuki
H
Masato Tanaka
Mr. Gannosuke
Jado
Tetsuhiro Kuroda
Ricky Fuji
Gedo
Sabu
Tommy Dreamer
Michinoku Pro Wrestling
The Great Sasuke
Gran Hamada
Jinsei Shinzaki
Gran Naniwa
Tiger Mask IV
Mil Mascaras
Dos Caras
World Championship Wrestling
Bill Goldberg
Hulk Hogan
Sting
Rick Steiner
Scott Steiner
Scott Norton
Ric Flair
Kevin Nash
Bam Bam Bigelow
Bret Hart
Steve Williams
Wild Pegasus
World Wrestling Federation
Steve Austin
The Undertaker
The Rock
Road Warrior Hawk
Road Warrior Animal
Ken Shamrock
Vince McMahon
Big Show
Mankind
TAKA Michinoku
Fighting Network RINGS
Kiyoshi Tamura
Yoshihisa Yamamoto
Bitsadze Tariel
Volk Han
Dick Vrij
Pancrease
Masakatsu Funaki
Minoru Suzuki
Bas Rutten
Guy Mezger
Yuki Kondo
Dragon Gate
Kid Dragon
Magnum Tokyo
CIMA
Ultimo Dragon
Pride
Yuki Ishikawa
Alexander Otsuka
Daisuke Ikeda
Freelancers
Genichiro Tenryu
Atsushi Onita
Yoshiaki Fujiwara
Super Delfin
Dick Togo
Masao Orihara
Tarzan Goto
Mr. Pogo
Terry Funk
Dory Funk Jr.
Tiger Jeet Singh
Abdullah the Butcher
Battlarts
Nobuhiko Takada
Naoya Ogawa
Kazushi Sakuraba
Enson Inoue
Super Tiger
Yoji Anjoh
Rickson Gracie
Mark Kerr
Don Frye
Rumina Sato
Legends
Rikidozan
Giant Baba
Antonio Inoki
Jumbo Tsuruta
Riki Choshu
Akira Maeda
Masa Saito
Hiroshi Wajima
Tiger Mask
Karl Gotch
Lou Thesz
Bruiser Brody
Andre the Giant
Fritz Von Erich
Roland Bock
Dynamite Kid
Gary Albright
EDIT Exclusives
Seiji Sakaguchi
The Great Muta
Hayabusa
Unknown