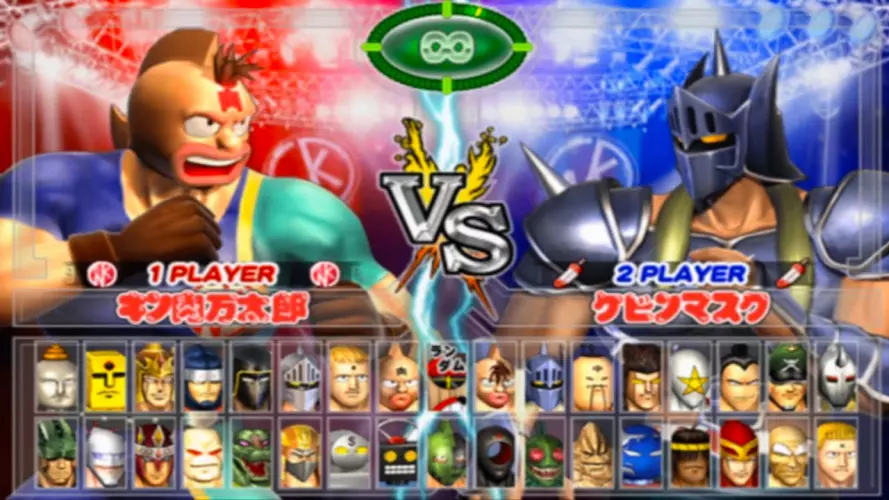 Published by Banpresto and Bandai Namco Games.
Kinnikuman: Muscle Grand Prix is an Action game, developed and published by Banpresto, which was released in Japan in 2006. The re-release, Kinnikuman Muscle Grand Prix Max is an Action game, developed by Aki Corp. and published by Bandai Namco Games, which was released in Japan in 2006.
Game Modes
ARCADE is the traditional fighting game-esque single player ladder mode where you face off against a series of opponents before facing the boss.
VERSUS is the 2-player head-to-head mode.
STORY is the 2-scenario mode where the player can play through the story of the manga. Completing this mode via fully reenacting the story will unlock the credits.
TOURNAMENT is a where you partake in a 4, 8, or 16 wrestler tournament
TEAM BATTLE allows up to 5 wrestlers to face off against another 5-man squad in 1v1 Single matches. Last team standing wins.
SURVIVAL has the player last as long as possible against an endless number of opponents.
Roster
Kinnikuman
Terryman / The 2nd Kinnikuman Great
Robin Mask
Warsman / Chloe
Ramenman / Mongolman
Brocken Jr.
Wolfman
Pentagon
Benkiman
Geronimo
Kinnikuman Soldier
Kinniku Mantaro
Kevin Mask
Terry the Kid
Jade
Scarface
Checkmate
Ilioukhine
Barrierfreeman
Buffaloman
Springman
Stecasse-King
Black Hole
The Mountain
Mister Khamen
Atlantis
Akuma Shogun / Goldman
Ashuraman
Sunshine
The Ninja
Junkman
Planetman
Snigator