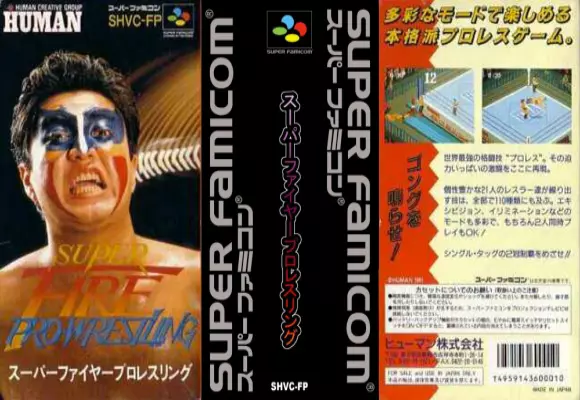 Fire Pro Wrestling enters a new generation on your Super Famicom (Super NES) and ascends to new heights! Enhanced graphics, bigger stars, more moves, and a redesigned engine made to accomidate the new hardware. Over 20 playable wrestlers compete for glory and strive to become a champion! Will it be you?
Modes of Play
World Championship
Take on the entire Super Fire Pro Wrestling Roster in either Singles or Tag divisions, using the point system. Score Pinfall & Submission victories to earn 5 points, whilst DQ & Countout victories will give you 4. Qualify by scoring as many points as you can, because should you fail to meet the requirements, it's game over. Of course you can create your own custom team for the first time. In Title Defense Mode, you don't have to worry about points, but you will face against the entire roster once again in harder matches, where after that, you'll face the boss(es). Defeat the boss(es) and you win!
You can play as the bosses in World Championship mode by hovering over the third mode in the main menu, that being Elimination Mode, and holding L whilst pressing A, B, or Start. After that, whilst still holding L, press the Y button to exit the window and return to the main menu. The cursor will highlight the World Championship mode, so press A, B, or Start, and then once you enter the Wrestler Select screen, you'll see the bosses now available. If you wish to play as them in Exhibition, Open League, or Elimination modes, simply hold L and press A, B, or Start whilst the cursor is highlighting the mode of your choice, the bosses will be available for selection.
Exhibition Match
Here, you can play Singles & Tag Matches. You can also adjust the Time Limit from 5 minutes, all the way up to an hour; have 1 or 2 Rounds; and allow Ring Outs to be turned on or off. If turned off, the match turns into a "Lumberjack" match.
Elimination Match
The 5-on-5 Elimination Tag Team match returns once again. You can either select any of the 8 quintets available, or you can create your own.
Open League
New to the series is the Open League mode, which works like your traditional league and implements the point system seen in World Championship mode. The wrestler with the most points is declared the winner.
Tutorial
Also new to the series is the Tutorial, where you play through 5 levels whilst you learn the controls of the game.
Password
One more new addition to the game is the Password system, which can be used to resume your saved progress in the World Championship & Open League modes.
Roster
Akira Maeda (Akira Saeha) [UWF]
Antonio Inoki (Victory Musashi) [NJPW]
Bad News Brown (Bloody Allen) [NJPW]
Big Van Vader (Hitman Saber) [NJPW]
Bruiser Brody (B.G. Bull) [AJPW]
Genichiro Tenryu (Thunder Ryu) [SWS]
Giant Baba (Great Shiba) [AJPW]
The Great Muta (Blade Musha) [NJPW]
Hulk Hogan (Axe Duggan) [WWF]
Jumbo Tsuruta (Tommy Bomber) [AJPW]
Jushin Thunder Liger (Super Kaiser) [NJPW]
Kotetsu Yamamoto (Ittetsu Wakamoto) [NJPW]
Masakatsu Funaki (Masakatsu Higaki) [UWF]
Mitsuharu Misawa (Mitsuhide Hikawa) [AJPW]
Pegasus Kid (Phantom Guy) [NJPW]
Riki Choshu (Hurricane Rikimaru) [NJPW]
Rikidozan (Rikiouzan) [JWA]
Road Warrior Animal (Iron Blaster) [AJPW]
Road Warrior Hawk (Knight Blaster) [AJPW]
Shinya Hashimoto (Shinya Hatamoto) [NJPW]
Stan Hansen (Star Bison) [AJPW]
Tiger Jeet Singh (Mad Tiger) [AJPW]
Ultimate Warrior (Astro Blaster) [WWF]
Yoshiaki Fujiwara (Takashi Fudahara) [UWF]