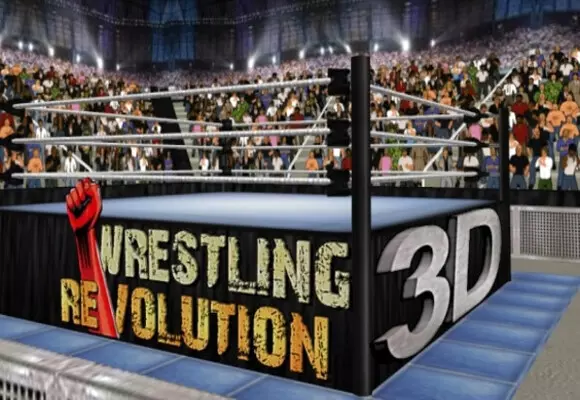 The theme song for the game is "Broke" by Sick Logic.
The Wrestling Revolution rumbles into a whole other dimension where it now reigns as the biggest 3D sim on mobiles & desktop - featuring 300 characters across 9 rosters, and up to 20 of them in the ring at once! This is also the first release to combine BOTH career modes in ONE shared universe.
A wrestling career challenges you to take shots in the ring, whereas a "booking" career allows you to call the shots backstage - promoting entertaining matches every week for ratings. Seeing each side of the curtain gives you an even better appreciation for the other, and ensures you'll never grow bored of wrestling again!
You can learn about controls and more here: http://www.mdickie.com/guides/wr3d_controls.htm
Features
The biggest wrestling sim on mobiles is even BIGGER on your desktop!
Over 300 characters spread across 9 different promotions - and as many of them in the ring as you can handle!
Different arenas and ring shapes - including TWO rings side-by-side for the first ever playable "War Games"!
Unique animation system allows any move to transition into any other at any moment for chain wrestling.
Enjoy the action from dozens of different camera angles (including affectionate tributes to classic wrestling games!).
Gaming's most detailed simulation of life as a wrestler - from contract negotiations to an endless calendar of matches.
The industry's most playable management sim, where you must act out entertaining matches for ratings.
Mix & match dozens of different rules to create your own matches.
Interactive tutorial makes wrestling easy to play but difficult to master.
Fully playable by controller - which also allows for multi-player action on a shared screen!
Files are available to be replaced or expanded upon to make the world your own.
Exhibition
Rules
PRESET can be One on One, Best of Three, Iron Man, Last Laugh, Submission, Last Man Standing, To The Death, First Blood, Fist Fight, Shoot Fight, Triple Threat, Handicap, Tag Team, Tag Elimination, Simultaneous, War, Elimination, Battle Royal, Countdown Battle Royal, Countdown Elimination, Escape To Victory, Furniture Smash, Sumo Contest, No Disqualification, Training Session, or Confrontation.
FORMAT can be Individuals, Teams, Tag Teams, or Intervals.
WRESTLERS is basically, how many wrestlers will be in the match.
RULES can be Strict, Hardcore, or Inside Ring.
REFEREES is similar to Wrestlers, you decide how many Referees will be officiating the match.
AIM can be First Fall Wins, Best of Three, Most Falls Wins, Last Falls Wins, Elimination, or Aimless.
TIME is how long you want the match to go on for...you can even turn it off. If Intervals is on, each entrant will enter after a selected time period expires. It's possible to make a Gauntlet match as well.
PINS can be turned on or off. Having them on allows pinfall wins.
SUBMISSIONS can be turned on or off. Having them on allows submission wins.
SMASHES can be turned on or off. Having them on lets you win when you send your opponent through something.
BLOOD can be turned on or off. Having this on lets you win by busting your opponent open.
COUNT OUTS can be Slow 10 Count, Ignore, Fast 10 Count, Elimination, or Victory.
KNOCK OUTS can be Ignore, 10 Count, or No Health.
REWARD can be Non-Title, Win any of the Titles in the game, Loser Leaves, or Hair vs Hair.
Arena
VENUE can be Stadium
DECOR can be Default
RING can be Square
SIZE lets you adjust the size of the ring. If it's small, the match will be a Claustrophobic match, but if it's large instead, it'll be a Giant Ring match.
ROPES can be Black
CAGE can be None
POSTS can be Black
PADS can be Black Logo
APRON can be Black
LOGO can be Promotion
TRIM can be turned on or off.
CANVAS can be White
MATTING can be Black
BARRIERS can be Metal
ATTENDANCE is basically, how much of the crowd you want to appear during the match. You can also fight in an Empty Arena if you prefer.
FURNITURE allows you to set how many furniture will appear and whether they'll be located Inside or Outside the ring.
WEAPONS works like Furniture, you set how many weapons appear, and whether they'll be Inside or Outside the ring.
Roster
All American Wrestling
Lance Monaco: Vince McMahon
Jim Sierra: John Cena
Les Miserable: The Miz
Nightshift: The Undertaker
Trojan Force: Roman Reigns
Brad White: Bray Wyatt
Fanny Monaco: Stephanie McMahon
Rory Awesome: Randy Orton
Hardback: Ryback
Mike Showshot: Shawn Michaels
Ronan Raw: Seth Rollins
Hairy Harass: Luke Harper
Ripper Ace: Triple H
Ralph Lipper: Dolph Ziggler
Slow-Mo: Big Show
Dragon Ryan: Daniel Bryan
Amber Lance: Dean Ambrose
Robin Nest: Erick Rowan
Mr. Benjamins: "Million Dollar Man" Ted DiBiase
Paper Cut: Irwin R. Schyster
Hanz Cuffs: Big Boss Man
Splinter: Mankind
General Genocide: Sgt. Slaughter
Mustard Gas: Col. Mustafa
Brother Sucka: Booker T.
Geek Chic: AJ Lee
Jessie Bell: Nikki Bella
Jigsaw Jeremy: "Hacksaw" Jim Duggan
Cabal: Kane
Tom Stone: Paul Bearer
Road Hog: Road Dogg Jesse James
Stunner Stu: Bad Ass Billy Gunn
Majesty: Jerry "The King" Lawler
Bubby Cue: Jim Ross
Sean Monaco: Shane McMahon
Errol Hathaway: Earl Hebner
Rising Sun Puroresu
Anton Chinoki: Antonio Inoki
Machine Miuri: Mitsuharu Misawa
Thunder Tiger: Jushin "Thunder" Liger
Ken Ryu: Genichiro Tenryu
Reign Maker: Kazuchika Okada
Tower Misawa: Giant Baba
Tanned Heihachi: Hiroshi Tanahashi
Killer Karado: Toshiaki Kawada
Snake Suzuki: The Great Sasuke
Butter Monk: Riki Choshu
Gree Ciabata: Katsuyori Shibata
Ultra-Bull: Big Van Vader
Nico Moron: Shinsuke Nakamura
Bash Nagata: Kenta Kobashi
Mutox: The Great Muta
Master Chrome: Masahiro Chono
High Yakuza: Hayabusa
Canado: Tetsuya Naito
Jumbo Akira: Jun Akiyama
Gill Otine: Doc Gallows
Andy Sun: Karl Anderson
Sam Handsome: Stan Hansen
Bobby Southside: Terry Funk
Tug Jaffazero: Danny Spivey
Sumorai: Yokozuna
Chang Mynami: KENTA
Tenryu Mist: Taka Michinoku
Eugene Yamato: Yuji Nagata
Uri Yakuza: Keiji Mutoh
Zanzi Budokan: Hiroshi Tenzan
Prince David: Finn Balor
Motorola Chan: Red Shoes Unno
Maple Leaf Grappling
Rusty Rose: Dusty Rhodes
Brad Goodman: Bret Hart
Perfect Sean: Curt Hennig
Crispin Noir: Chris Benoit
Aftershock: Earthquake
Gabriel: Christian
Perry Class; Ric Flair
Ned Heart: Jim Neidhart
Slick Dude: Rick Rude
Dan Maverick: Dean Malenko
Max Mullet: Lex Luger
Union Jack: Davey Boy Smith
Andy Aniston: Arn Anderson
Oje Goodman: Owen Hart
Obelisk: Andre The Giant
Tidal Wave: Typhoon
Enigma: Edge
Super Stan: "Superstar" Billy Graham
Luke Cannon: "Flyin" Brian Pillman
Teddy Big: Big John Studd
Manny Quinn: Rick "The Model" Martel
High Note: Honky Tonk Man
Low Road: Cody Rhodes
David Hybrow: Damian Sandow
Gorilla Grundy: King Kong Bundy
Steve Engine: Ricky "The Dragon" Steamboat
Drew Durham: Lance Storm
Duke Miniman: The Mountie
Theo Sultana: Tito Santana
Charlie Grace: Harley Race
Sally Stride: Trish Stratus
Gary Mallet: Greg "The Hammer" Valentine
Vito Soprano: Dino Bravo
Bubba Hyena: Bobby "The Brain" Heenan
United Kingdom Wrestling
Hustle Hayes: Paul Heyman
Vulture: Raven
Jerry Buckler: Jeff Jarrett
Meg Knight: Paige
Wayne Barrage: Wade Barrett
Anton Apex: Austin Aries
Agent Kyle: AJ Styles
Bloody Lee: Bubba Ray Dudley
Buddy Brew: Bobby Roode
Gravitas: PAC
Shane Asterix: Sheamus
Abysmal: Abyss
Angel Dust: Christopher Daniels
Blood Brother: D-Von Dudley
Ethan McCloud: James Storm
Dominator: Rob Van Dam
Mac Donald: Drew McIntyre
Chi Guy: CM Punk (ROH)
Judgment Dave: Sid Justice
Monty Python: Jake "The Snake" Roberts
Demento: Sabu
Tony Screamer: Tommy Dreamer
Jake Obscene: Justin Credible
Dean Cutlas: "The Franchise" Shane Douglas
Mutha Forker: Abdullah The Butcher
Prime Time: M.V.P.
Brutus Long: Brodus Clay
Ryan Hero: Rhyno
Ghetto Child: Taz
Bang-Bang: Cactus Jack
Ian tense: Test
Beckie Lane: Mickie James
Keith Dewback: Jerry Lynn
Silk Siren: Velvet Sky
Super Lucha Libre
Dirk Switchoff: Eric Bischoff
Venom: Sting (WCW)
Bullfrog: Demolition Smash
Joel Hardon: Jeff Hardy
Emil Tequila: Konnan
Machismo: Scott Hall
Essa Carreera: Eddie Guerrero
Red Eagle: Road Warrior Hawk
Headsore: Demolition Ax
Miles Hardon: Matt Hardy
King Bombard: Rey Mysterio
Heavy Snatch: Kevin Nash
Pedro De Niro: Alberto Del Rio
Red Gator: Road Warrior Animal
Maskara: Sin Cara
Lola: Lita
Jordan Hangtime: Billy Kidman
Helix: X-Pac
Voodoo: Papa Shango
Super Safari: "Superfly" Jimmy Snuka
Zulu: Kamala
Crash Cougar: Headbanger Thrasher
Glittery Arty: Goldust
Dream Hornet: Ultimo Dragon
El Giantina: El Gigante
Sam Mower: Rikishi
False Hood: R-Truth
Mick Marvel: "Marvelous" Marc Mero
Lest At Macabre: Gangrel
Lost Boy: Vampiro
Hard Gainer: La Parka
Joey Morrissey: John Morrison
Cameron Cool: Kofi Kingston
El Dorado: El Matador Tito Santana
Grand Bhishma: The Great Khali
Strong Style Wrestling
Danny Might: Dana White
Hooker Hudson: Ken Shamrock
Emma Roused: Ronda Rousey
Tundra: Rusev
Ryan Schneider: Rick Steiner
Mo Qi: Low-Ki
Brook Laser: Brock Lesnar
Gold Boulder: Goldberg
Ryan Pippin: "Rowdy" Roddy Piper
Iguana: Lana
Frank Incensed: Scott Steiner
Bruiser O'Lay: Samoa Joe
Armstrong: Mark Henry
Boar Miller: Bob Sapp
Ruthless Rufus: Bruiser Brody
Ethan Asia: "Dr. Death" Steve Williams
Bro Bones: Jon "Bones" Jones
Al Pine: Cesaro
Upside Frown: Bad News Allen
Gross Antonio: Giant Antonio
Outback: Bushwhacker Butch
Julian Damn: Ron Simmons
Paul Street: John "Bradshaw" Layfield
Bud Harley: Bob Holly
Ewan Trust: Steve Blackman
Cracker: Dan Severn
Minotaur Spuki: Minoru Suzuki
Rick Dawson: Josh Barnett
Gruesome Sharon: Luna Vachon
Hollywood

Hank Slogan: Hulk Hogan
Scarecrow: Sting (TNA)
Li Xiao Long: Bruce Lee
Slam Dunk: CM Punk (WWE)
Block Buster: The Rock
God of War: The Ultimate Warrior
Libby Rator: Chyna
Beast Eater: Batista
Jay Enrico: Chris Jericho
Redneck Rosteen: "Stone Cold" Steve Austin
Mat Showman: "Macho Man" Randy Savage
Mack Bison: Mike Tyson
Yogi Beard: Diamond Dallas Page
Hollywood Hank: "Hollywood" Hulk Hogan