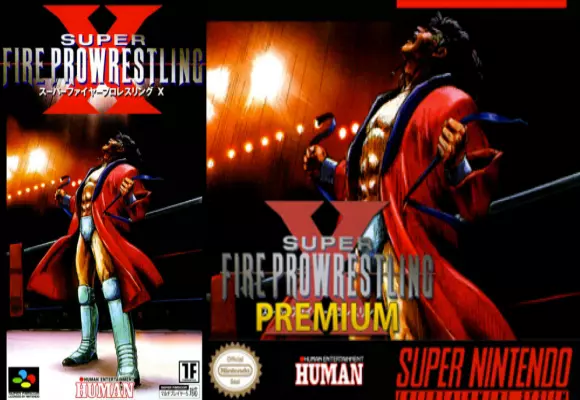 As we enter into a new generation of gaming, Fire Pro Wrestling gives the Super Famicom one last hurrah with this jam-packed installment of the series! Play with over 100 wrestlers from across the globe, including the entire Fire Pro Gaiden: Blazing Tornado roster! Many challenges await you on your road to the world championship, do you have what it takes to take on the ultimate challenge?
Game Modes
World Championship & Title Match
Here, you face 79 opponents from the HWA division in Singles, and 38 teams in Tag. Your objective to win is to beat everyone that's in your way to become champion. Once you beat them all in either Singles or Tag divisions, you'll unlock the Title Match. In Title Match, your objective is to win the Triple Crown in order to win the game. How? By defeating 16 wrestlers/10 teams in the HWGP division, and 9 wrestlers/4 teams in the NHC division. Good luck.
One Night Dream Match
This is the Exhibition Mode where Single, Tag, and Handicap matches can take place with customizable rules.
Exciting Tournament
This is the Tournament mode, where up to 16 wrestlers or teams can compete in a single-elimination bracket. The last man/team standing wins.
Mega Fight League
This is the League mode, where up to 32 wrestlers or teams can compete in a League. The wrestler/team with the most points after all the matches have played out will be the winner.
Elimination Match
The 5-on-5 Team match is back. To win, a quintet of wrestlers must defeat all 5 of their opponents.
Hyper Battle Royal
4 wrestlers compete in a battle royal, the last man standing will be the winner.
Edit
Of course, the Wrestler Edit mode returns and this time, you can save over 70 custom wrestlers, and numerous templates are available to you, all based off of actual wrestlers. Apperances, skills, moves, stats, and more can all be customized here. You'll find 56 exclusive wrestlers here.
Roster (Real Names only)
Tatsumi Fujinami [NJPW]
Riki Choshu [NJPW]
Shinya Hashimoto [NJPW]
Masahiro Chono [NJPW]
Keiji Muto [NJPW]
Hiroshi Hase [NJPW]
Kensuke Sasaki [NJPW]
Hiroyoshi Tenzan [NJPW]
Osamu Kido [NJPW]
Jushin Thunder Liger [NJPW]
Wild Pegasus [NJPW]
Black Tiger [NJPW]
El Samurai [NJPW]
Norio Honaga [NJPW]
Koji Kanemoto [NJPW]
Shinjiro Ohtani [NJPW]
Hawk Warrior [NJPW]
Scott Norton [NJPW]
Sabu [NJPW]
Mitsuharu Misawa [AJPW]
Kenta Kobashi [AJPW]
Toshiaki Kawada [AJPW]
Akira Taue [AJPW]
Jumbo Tsuruta [AJPW]
Masanobu Fuchi [AJPW]
Jun Akiyama [AJPW]
Tsuyoshi Kikuchi [AJPW]
Stan Hansen [AJPW]
Steve Williams [AJPW]
Gary Albright [AJPW]
Johnny Ace [AJPW]
Atsushi Onita [FMW]
Mister Pogo [FMW]
Hayabusa [FMW]
Tarzan Goto [IWAJ]
Ricky Fuji [FMW]
Terry Gordy [IWAJ]
Tiger Jeet Singh [IWAJ]
Genichiro Tenryu [WAR]
Ashura Hara [WAR]
Hiromichi Fuyuki [WAR]
Jado [WAR]
Gedo [WAR]
Ultimo Dragon [WAR]
Masao Orihara [WAR]
The Great Sasuke [MPW]
Super Delfin [MPW]
Jinsei Shinzaki [MPW]
SATO [MPW]
TAKA Michinoku [MPW]
Shiro Koshinaka [NJPW]
Kengo Kimura [NJPW]
Tatsutoshi Goto [NJPW]
Kuniaki Kobayashi [NJPW]
The Great Kabuki [NJPW]
Hulk Hogan [WCW]
The Undertaker [WWF]
Big Van Vader [WCW]
The Great Muta [WCW]
Rick Steiner [WWF]
Scott Steiner [WWF]
Nobuhiko Takada [UWFI]
Kiyoshi Tamura [UWFI]
Masahito Kakihara [UWFI]
Akira Maeda [FNR]
Chris Dolman [FNR]
Dick Vrij [FNR]
Volk Han [FNR]
Bitsadze Tariel [FNR]
Yoshiaki Fujiwara [PWFG]
Masakatsu Funaki [HWP]
Minoru Suzuki [HWP]
Wayne Shamrock [HWP]
Bas Rutten [HWP]
Manabu Yamada [HWP]
Kazuo Yamazaki [UWFI]
Koji Kitao [BUKOH DOJO]
Rickson Gracie [UFC]
Maurice Smith [HWP]
Daijiro Zama (From Blazing Tornado) [HWF]
Eric Starback (From Blazing Tornado) [HWF]
Baron Freebird (From Blazing Tornado) [HWF]
John Bantline Saigo (From Blazing Tornado) [HWF]
Wolf McSchneider (From Blazing Tornado) [HWF]
Ho Yin-Long (From Blazing Tornado) [HWF]
Jailbreaker Bullnoi (From Blazing Tornado) [HWF]
HAYATE (From Blazing Tornado) [HWF]
Antonio Inoki [NJPW]
Seiji Sakaguchi [NJPW]
Tiger Mask [NJPW]
Dynamite Kid [NJPW]
Dory Funk Jr. [AJPW]
Bruiser Brody [AJPW]
Terry Funk [IWAJ]
Mil Mascaras [WAR]
Gran Hamada [MPW]
Ric Flair [WCW]
Animal Warrior [WWF]
Karl Gotch [NJPW]
Lou Thesz [NJPW]
Rikidozan [JWA]
Fritz Von Erich [AJPW]
Super Tiger [UWF]
Hizelshustat von Ludwig (From Blazing Tornado) [HWF]
EDIT Exclusives
Rusher Kimura
Roland Bock
The Convict
Black Tiger
Yuji Nagata
Tamon Honda
Benny Urquidez
2 Cold Scorpio
Abdullah the Butcher
Yoji Anjo
Shunji Takano
Umanosuke Ueda
Takao Omori
Kurosawa (Manabu Nakanishi)
Satoshi Kojima
Shiryu
Osamu Nishimura
Bret Hart
Great Zebra
Kendo Nagasaki
Yoshinari Ogawa
Akira Maeda (1980s version)
The Eagle
Patriot
Hercules Hernandez
Jimmy Snuka
The Gladiator
Jason DeLucia
Sting
Bam Bam Bigelow
Strong Kobayashi
Yoshihiro Takayama
Doug Furnas
Cactus Jack
Rick Rude
Dick Murdoch
Mitsuhiro Matsunaga
Yuki Ishikawa
Tatsuo Nakano
Negro Casas
Satoru Asako
Junji Hirata
Animal Hamaguchi
Dan Severn
The Head Hunters
Willy Williams
Gran Naniwa
Bob Backlund
Davey Boy Smith
Randy Savage
Tokimitsu Ishizawa (Kendo Kashin)
Killer Khan
Naoki Sano
Kenichi Yamamoto
Danny Kroffat
Lord Steven Regal