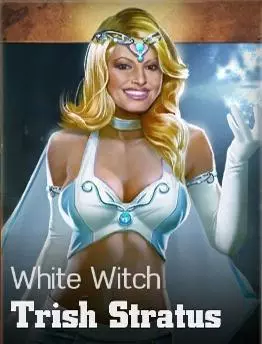 Trish Stratus (White Witch) is featured as a playable character in the WWE Immortals Roster.
PROFILE INFO
White Witch Trish Stratus (Bronze)
Release Date
Base Stats
Jan. 15, 2015 (Day 1)
Damage: 240 - Health: 220
Availability
Signature Moves
Store
1. Whiplash Headscissors
2. Air Stratus
3. Stratus faction
Price
11,000
Special
Stratusfying Management - Trish Stratus boosts the HEALTH of her male teammates by 5%.