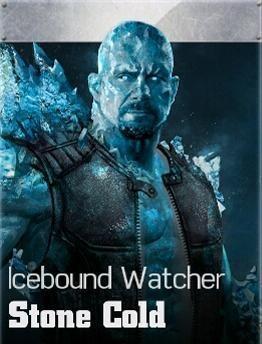 Stone Cold (Icebound Watcher) is featured as a playable character in the WWE Immortals Roster.
PROFILE INFO
Gender

Male

Superstar Tier

Silver

Alternative Versions

Stone Cold (Texas Rattlesnake)Stone Cold (Zombie)

Real Life Profile

Stone Cold Steve Austin
Icebound Watcher Stone Cold (Silver)
Release Date
Base Stats
Mar. 26, 2015 (Update 1.2)
Damage: 350 - Health: 500
Availability
Signature Moves
Store
1. One for the Road
2. Ice Cold Strike
3. Stone Cold Stunner
Price
47,000
Special
Ice Cold Vengeance: When Stone Cold's Health drops below 50%,he gains a Vengeance Buff. This buff grants him 50% life steal on his next signature attack.