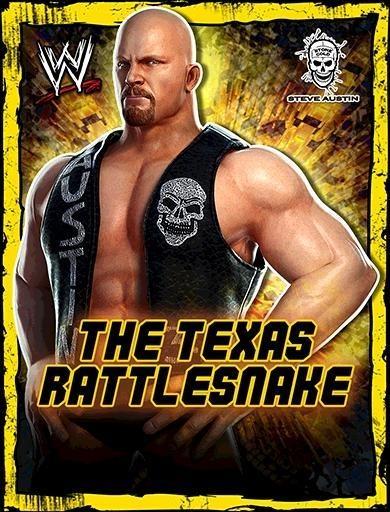 Gender

Male

Nickname / Version

The Texas Rattlesnake

Alternative Versions

Steve Austin '03Steve Austin '09Steve Austin '17Steve Austin '19 Steve Austin '21 Steve Austin '92Steve Austin '97

Era

Attitude Era

Superstar Class

Showboat

Ability Style

Focused

Alternate Gear

The X-Mas Rattlesnake
Proudly raising his middle fingers in the faces of everyone who dared oppose him, Stone Cold Steve Austin was the blue-collar warrior for the common man. Clad in jeans and a black leather vest, Austin was defiant and dared anyone to try and tell him what to do. When the signature sound of shattering glass erupted throughout the arena, everyone there knew that it was time for Stone Cold to raise hell. And if you happened to be on the receiving end, well, you have our sympathies.
SPECIALS: Mudhole Stomp, Reversal, Lou Thesz Press, Suplex
FINISHERS: Stone Cold Stunner, Million Dollar Dream, Diving Pointed Elbow Drop
TAG LINKS: Attitude Era, Alliance, Million Dollar Corporation, Dude Love & Stone Cold Steve Austin, Two Man Power-Trip