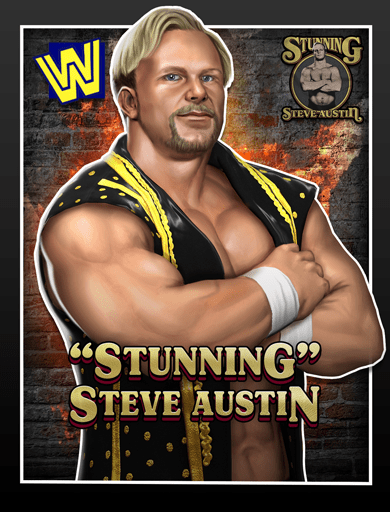 Gender

Male

Nickname / Version

Stunning

Alternative Versions

Steve AustinSteve Austin '03Steve Austin '09Steve Austin '17Steve Austin '19 Steve Austin '21Steve Austin '97

Era

New Generation

Superstar Class

Striker

Ability Style

Focused
Trained by "Gentleman" Chris Adams, Steve Austin broke into the wrestling business in Texas in 1990, as part of the USWA. After a year, he moved on to WCW, where he won the WCW Television Championship under the name "Stunning" Steve Austin. An elbow injury led to his firing from WCW, but Austin found a lifeboat in ECW, and, with the freedom afforded him by Paul Heyman, began crafting a voice that would lead to superstardom in WWF.
SPECIALS: Running Knee Lift, Piledriver, Eye Poke, Knee Drop, Stunning DDT
FINISHERS: Stun Gun, That's a Wrap
TAG LINKS: New Generation, Best of 2021