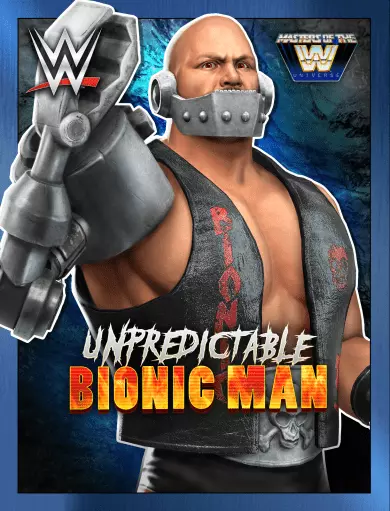 Steve Austin '21 is featured as a playable character in the WWE Champions Roster in the Modern Era.
Steve Austin '21 is classed as a Chaotic Acrobat in the game.
PROFILE INFO
Based off of his Masters of the WWE Universe figure.
The original Texas Rattlesnake has shed his earthly skin... well some of it anyway, and he's traded it in for a brand new mechanical claw and other strange enhancements; the true wild card of WWEternia, who knows what chaos the Unpredictable Bionic Man will bring?
SPECIALS: Unpredictable Bionic Press, Unpredictable Bionic Spinebuster, Unpredictable Bionic Stun Gun, Unpredictable Bionic Diving Elbow, Unpredictable Bionic Stomps, Unpredictable Bionic Guillotine
FINISHER: Unpredictable Bionic Stunner
TAG LINKS: Modern Era, Masters of the WWE Universe