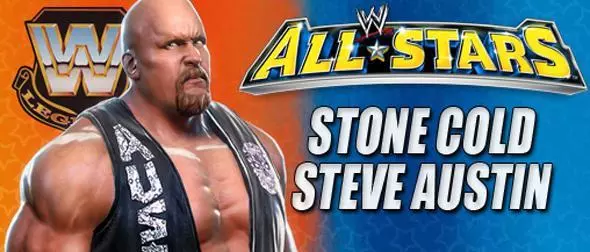 Steve Austin is featured as a playable character in the WWE All Stars Roster, as part of the Legend roster.
PROFILE INFO
Gender

Male

Roster

Legend

Alternate Attire

Normal; WHAT T-Shirt

Real Life Profile

Stone Cold Steve Austin
Height: 6-foot-2
Weight: 252 pounds
From: Victoria, Texas
Signature Moves: Stone Cold Stunner; Stun Gun; Lou Thesz Press
WWE All Stars Class: Brawler


Stone Cold Steve Austin is one of the most efficient Brawlers in WWE All Stars, with fast strike combos and strong attacks that can stun an opponent when they are least expecting it. His charged strike knocks opponents back into the corner, setting them up for a brutal mod hole stomp. Austin is also one of the only Brawlers in the game who can perform a combo out of a counter.
SCREENSHOTS
ENTRANCE & SIGNATURE MOVES