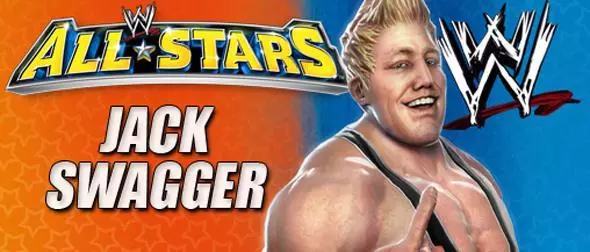 Jack Swagger is featured as a playable character in the WWE All Stars Roster, as part of the WWE Superstar roster.
PROFILE INFO
Gender

Male

Roster

WWE Superstar

Alternate Attire

Black & Gold; Red; White & Blue

Real Life Profile

Jake Hager / Jack Swagger
Height: 6-foot-6
Weight: 263 pounds
From: Perry, Oklahoma
Signature Moves: Ankle Lock; Gutwrench Powerbomb; Belly To Belly Suplex
WWE All Stars Class: Grappler


The All American American, Jack Swagger is a pure grappler, relying more on his collegiate wrestling background to grab and slam opponents then on technical grappling like Bret Hart or Mr. Perfect. Swagger has some of the deepest grapple chains in the game. Try to time the chains just as the opponent is slammed to the mat and don't forget that some chains can be started against opponents already on the ground. Distance is Swagger's enemy so play aggressively and try to stay locked up for as much of the game as possible. Becoming good at reversal counters is key to getting to the end of Swagger's grapple chains.
SCREENSHOTS
ENTRANCE & SIGNATURE MOVES