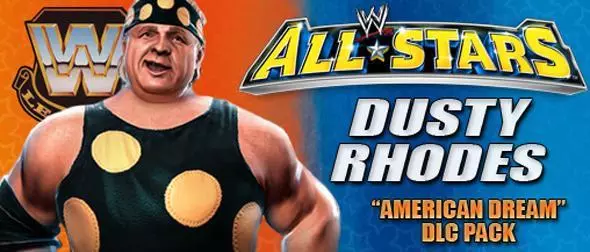 Dusty Rhodes is featured as a playable character in the WWE All Stars Roster.
He is a DLC Character.
PROFILE INFO
Gender

Male

Alternate Attire

Black and Yellow Polka Dots

Real Life Profile

Dusty Rhodes
Height: 6-foot-2
Weight: 302 pounds
From: Austin, Texas
Signature Moves: Bionic Elbow; Figure 4 Leg Lock; DDT; Gorilla Press
WWE All Stars Class: Brawler


Dusty Rhodes is a Brawler specializing in close range combat. His strike combos combine a dizzying array of punches, kicks, and of course, elbow strikes. The key to success with Dusty is to get in close, keep up the pressure and constantly change up the order of your strike combos. Dusty's Charged Bionic Elbow strike is hard to predict and you can often abort the attack and catch an opponent unawares. Dusty's signature moves primarily come from a standing position but he also has a spectacular Gorilla Press that can be performed against opponents who are slumped against the turnbuckle.
SCREENSHOTS
ENTRANCE & SIGNATURE MOVES